My Love Lies Over the Mountains / Dance Romanesque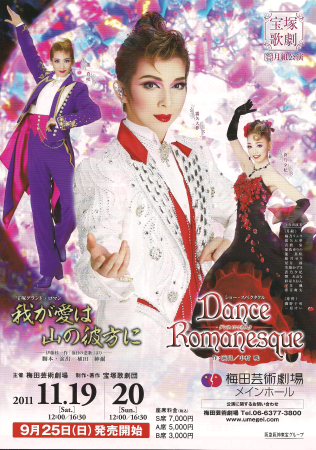 Picture Credit: Zaraphena
English Title:
My Love Lies Over the Mountains / Dance Romanesque
Japanese Title:
我が愛は山の彼方に / Dance Romanesque
Romanized Title:
Wa ga Ai wa Yama no Kanata ni / Dansu Romanesuku
Troupe:
Moon
Year:
2011
Performances:
National Tour, 11/19 - 12/11
My Love Lies Over the Mountains
Based On:
Itou Keiichi's novel
Rakujitsu no Hika
(Sunset Elegy)
Adaptor/Director:
Ueda Shinji
Composer:
Terada Takio
,
Yoshida Yuuko
Choreography:
Hayama Kiyomi
,
Wakao Risa
Dance Romanesque:
Author/Director:
Nakamura Satoru
Composer:
Nishimura Kouji
,
Kuratomi Shinichi
,
Teshima Kyouko
,
Aoki Tomoko
Choreographer:
Miori Yumino
,
Wakao Risa
,
Hirasawa Satoshi
,
ANJU
Available on DVD:
Yes (
release date 02/10/12
)
DVD Scene/Music Cuts:
none
Other Cast:
Kagetsu Miyako
,
Mishou Kazuki
,
Hibiki Reona
,
Ayahoshi Rion
,
Uzuki Hayate
,
Shirayuki Sachika
,
Chinami Karan
,
Akizuki Saya
,
Fuuri Mizuka
,
Hanahi Mira
,
Marin Kanna
,
Hoshiki Tsubasa
,
Sana Yuzuha
,
Hoshina Yutaka
,
Shouga Tsubaki
,
Hayami Sei
,
Amato Riira
,
Kousaki Ran
,
Kirami Ruise
,
Mizumi Rei
,
Asami Jun
,
Samomo Satsuki
,
Misato Yumeno
,
Reina Yuu
,
Harumi Yuu
,
Kanoha Toki
WARNING!! MAY CONTAIN SPOILERS!!
My Love Lies Over the Mountains
The 10th century. Boku Shuumin's fiancee Manhime is captured during a raid following a battle between the Goryeo people (of the modern-day Korean Peninsula) and the Jurchen people (of Manchuria). She is carried away to Jurchen. There the Jurchen commander, Chamuga, is unfailingly courteous to her. He swears to see her returned to Goryeo. However, because she has been captured, she no longer sees herself as worthy of Shuumin. After a long time has passed, Chamuga returns her to Goryeo at last as his forces attack. However, she feels alienated. She realizes that she is wife in spirit to Chamuga, even though he believes he must see her returned to Shuumin. On the battlefield, Shuumin and Chamuga are locked in combat. Chamuga is defeated, and tells Shuumin that Manhime has always thought of herself as his (Shuumin's wife) in an attempt to reconcile the two. However, Manhime arrives after Chamuga has died and follows him into death....
---
Dance Romanesque
Energetic group dancing, dramatic story dancing and romantic duets: This show is composed of variety of dance scenes with the theme that dance can transform a moment into an eternity. The charm of the Moon Troupe, which brims with power, explodes on the stage.
Part One // Prologue Dance Romanesque
A stage projecting the kaleidoscope of the world. Riding on a rock theme, the scene unfolds through solos, duets, and formation dances. Beginning quietly with the entrance of Romantic Man S, it explodes with energy through the otokoyaku formation dance and entire group numbers to the very end.
Romantic Man S:
Kiriya Hiromu
Romantic Woman S:
Aono Yuki
Romantic Man A:
Ryuu Masaki
,
Aoki Izumi
Leo and Millie, who have lost their way, enter an uninhabited mansion and fall asleep. When Leo comes to, he can't find Millie. Then the master of the mansion, Count Blood, appears and uses his magic stick to draw out and force imprisoned men and women to dance. Leo spots Millie amongst them and fights Count Blood to save her. At first he appears to have also become ensorcelled, but the talisman that Millie gave him when the chain broke protects him and he manages to defeat the count.
Leo:
Ryuu Masaki
Millie:
Kanoha Toki
Romantic Storyteller Man:
Ayazuki Seri
Romantic Storyteller Woman:
Shirayuki Sachika
Count Blood:
Aoki Izumi
Egor:
Mishou Kazuki
Max:
Akizuki Saya
Imprisoned Young Men:
Imprisoned Young Women:
Part Three // Notre Dame de Paris
Quasimodo is the bellman of Notre Dame Cathedral. He sings that someday he will perhaps understand the reason he was born, despite his deformation. While Quasimodo watches the gypsy woman Esmeralda dance, Captain Phoebus appears. When Phoebus sees Quasimodo's beloved Esmeralda and wants to make her his possession. In order to save Esmeralda, Quasimodo fights Phoebus. Both men die in the sword fight, but Quasimodo ascends to heaven, freed at last from the defects of his birth.
Quasimodo:
Kiriya Hiromu
Esmeralda:
Aono Yuki
Phoebus:
Koshino Ryuu
Gypsy Man S:
Uzuki Hayate
Gypsy Singer:
Ayahoshi Rion
Soldiers:
Gypsy Men:
Gypsy Women:
Part Four // Beautiful Men Under the Moon (Gekka Binan)
MASAKI:
Ryuu Masaki
HAYATE:
Uzuki Hayate
KARAN:
Chinami Karan
SAYA:
Akizuki Saya
YU-MING:
Hayami Sei
RI-RA:
Amato Riira
JUN:
Asami Jun
Part Five // Baila! Dance
A standard dance number with a Latin arrangement.
Baila Man S:
Kiriya Hiromu
Baila Woman S:
Aono Yuki
Baila Man A:
Ryuu Masaki
In search of some nameless thing that calls to them, Albin the seagull takes flight over oceans never before seen. Caught up in the desire for this thing, other seagulls join him, one by one, beginning with Ell. A terrible storm batters the seagulls. At the end of their strength, the seagulls no longer have the energy to take flight. But when Albin and Ell take heart and begin to fly, they are encouraged once more to join them in soaring across the sky.
Albin:
Kiriya Hiromu
Ell:
Aono Yuki
Seagull (Man) A:
Ryuu Masaki
Seagull Intro Storyteller:
Uzuki Hayate
Seagull Intro Duet:
Hayami Sei
,
Fuuri Mizuka
Part Seven // Finale A Song & Dance
The Finale Man appears and sings of the miracle of that instant of meeting, then the Finale Women appear and dance for that miracle of life and wonder.
Finale Man (Singer):
Ryuu Masaki
Finale Woman S:
Aono Yuki
Finale Women:
Part Eight // Finale B Bolero
Otokoyaku in tail-coats appear. They dance in formation to a bolero, with Bolero Man S at their center.
Bolero Man S:
Kiriya Hiromu
Bolero Man A:
Ryuu Masaki
,
Aoki Izumi
Part Nine // Finale C Duet Dance
Duet Man S and Duet Woman S dance a duet dance of a dream world upon beautiful music.
Duet Man S:
Kiriya Hiromu
Duet Woman S:
Aono Yuki
Part Ten // Finale D Grand Parade
Etoile:
Ayahoshi Rion
Final performance for Marin Kanna.
My Love Lies Over the Mountains was first performed in 1971 by Star Troupe. It was performed again in 1984 (also by Star Troupe) as the official 70th anniversary performance of the company. It was revived for a third time in 1999-2000 by Star Troupe.
Tour Schedule

Date
Location
11/19 - 11/20
Umeda Arts Theater (Osaka)
11/22 - 11/23
Chukyo Univ. Cultural Civic Hall Aurora (Nagoya, Aichi)
11/25
Kawaguchi Culture Center (Kawaguchi, Saitama)
11/26 - 11/27
Kanagawa Prefectural Hall (Yokohama, Kanagawa)
11/29
Niigata Prefectural Meeting Hall (Niigata)
12/01
Hiroshima Cultural Exchange Hall (Hiroshima)
12/03 - 12/4
Fukuoka Civic Hall (Fukuoka)
12/05
Kitakyushu Soliel Hall (Kitakyushu, Fukuoka)
12/07
Saga City Cultural Hall (Saga)
12/08
Sojo University City Hall (Kumamoto)
12/10 - 12/11
Houzan Hall (Kagoshima)
None yet.
| | | | |
| --- | --- | --- | --- |
| Poster | DVD | VHS | CD |
| None Yet | None Yet | None Yet | None Yet |