Jumping! / The New Tale of Genji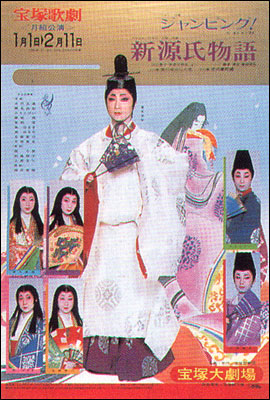 Picture Credit: Caithion
English Title:
Jumping! / The New Tale of Genji
Japanese Title:
ジャンピング! / 新源氏物語
Romanized Title:
Janpingu! / Shin Genji Monogatari
Troupe:
Moon
Year:
1981
Performances:
Takarazuka Grand Theater, 1/1 - 2/11; Tokyo Takarazuka Theater, 4/3 - 4/29
Jumping!:
Author/Director:
Murakami Nobuo
Composer:
Yoshizaki Kenji
,
Takahashi Kuni
Choreographer:
Tsukasa Konomi
Conductor (Takarazuka):
Hashimoto Kazuaki
Conductor (Tokyo):
The New Tale of Genji:
Based On:
Tanabe Seiko's
The New Tale of Genji
Author/Director:
Shibata Yukihiro
Composer:
Terada Takio
,
Irie Kaoru
,
Nakamoto Kiyozumi
,
Yoshizaki Kenji
Choreographer:
Nishikawa Ritefu
Conductor (Takarazuka):
Nomura Youji
Conductor (Tokyo):
Shinjin Kouen Director:
Available on DVD:
No
†
Kizuki Miho
made a special appearance while still a member of Snow Troupe.
Other Cast:
Yasato Gou
,
Hinotori Mina
,
Ookawa Reo
,
Masaki Kou
,
Ibuki Ai
,
Chihaya Hiromi
,
Mineshiro Towa
,
Ou Natsuki
,
Gou Mayuka
,
Kou Kazuki
,
Yakumo Akemi
,
Kurenai Hitomi
,
Kyou Misa
,
Kuni Natsuki
,
Narumi Yuki
,
Iku Katsumi
,
Ran Konomi
,
Nobara Akemi
,
Nozomi Yuuko
,
Mayu Natsumi
,
Miyo Kaori
,
Fuji Yayoi
,
Nishina Yuri
,
Aoi Miya
,
Shirakawa Aki
,
Ao Moyuru
,
Yamato Natsuki
,
Erina Jun
,
Yugu Arisa
,
Mirei Tsukushi
,
Wakakusa Kaoru
,
Yuunagi Shiho
,
Nonomiya Aki
,
Saezuki Miwa
,
Asaoka Mai
,
Ayaka Yui
,
Hanaya Keiko
,
Misaki Ayumi
,
Hinoki Seira
,
Machida Nana
,
Kodama Ai
,
Kozue Manami
,
Harukaze Hitomi
WARNING!! MAY CONTAIN SPOILERS!!
Jumping!
The stage is decorated with many colorful flowers in full bloom. The gorgeous atmosphere is an appropriate setting for the singing and dancing Takarazuka stars.
Singing Fairy:
Ushio Haruka
Fantastic Star:
Daichi Mao
Fantastic Boys:
Ema Chiaki
,
Seri Machika
,
Tsurugi Miyuki
Fantastic Singers:
Yuu Hikaru
,
Arata Chihiro
Duet Dancers:
Daichi Mao
,
Seri Machika
,
Wakakusa Kaoru
,
Gou Mayuka
A wild Takarazuka fan runs up onto the stage. She chases the Takarazuka stars but her idols ignore her and she is left alone on stage.
Takarazuka Fan:
Daichi Mao
A star makes some quick costume changes. The costumes range from that of a Spanish dancer to a modern dance artist.
Super Star:
Daichi Mao
Singer:
Ushio Haruka
Dancers:
Tsurugi Miyuki
,
Yasato Gou
,
Ou Natsuki
Black Panthers:
Ema Chiaki
,
Seri Machika
Policemen:
Hida Midori
,
Hinami Reika
Prison Breakers:
Misa Noeru
,
Yasato Gou
Nurse:
Natori Rei
A boy acts out a humorous pantomime.
Singer:
Daichi Mao
A young man sings his prayer for a new day of happiness. The spirits of sunbeams dance for the joy of life.
Star:
Daichi Mao
The sunbeam spirits dance gaily in hope that 1981 will be a year of happiness.
Star:
Daichi Mao
---
A Tale of the Genji
Hikaru Genji was a son of the emperor, Kiritsubo-tei.
Hikaru Genji yearned for Fujitsubo for a long time even though she was his father's lover. Fujitsubo bears a remarkable resemblance to Genji's mother, Kiritsubo no Koi, who died shortly after his birth. Unable to control his feelings, Genji finally makes love with Fujitsubo. A son, Reizei-tei is born, but after the fact becomes known the lovers are not permited to meet again.
Hikaru Genji finds an outlet for his frustrated love with other girls. He becomes infatuated with the Rokujo Consort. During the course of this love affair Genji travels to Kitayama where he meets the beautiful little princess, Wakamurasaki, who is the image of Fujitsubo. He decides to take care of her up-bringing and to raise her as his ideal woman.
In his youth Genji had been forced by his parents to marry Aoi no Ue. His wife is strong-minded and they do not have a happy relationship. This is one reason why he continues to take one lover after another.
At the Kamo Festival the retainers of Aoi no Ue, his wife, clash with the retainers of the Rokujo Consort, his mistress, on the Ichijou main thoroughfare. Enraged, Rokujo curses her rival. Troubled daily by the the curse, Aoi no Ue grows frail.
After giving birth to Yugiri, Hikaru Gennji's child, she dies. Shocked by the news of the death Rokujo shuns Genji and decides to enter the service of the Ise Shrine with her daughter.
Genji's father, the Emperor retires and Suzaku-tei assumes the imperial power. Udaijin, a member of the new court, tests his increased power against Genji.
Udaijin hears that Genji and Oborozukiyo, a lady in Suzaku-tei's court, meet secretly one night and he tries to have Genji exiled from the court. Genji flees to Akashi and enjoys the hospitality and protection of the powerful Akashi-Nyudo Clan. While living in Akashi he falls in love with Akashi no Ue, the daughter of the clan head. After two years Genji is granted permission by the new Emperor to return to Kyoto.
The following year Suzaku-tei retires and Genji's son Reizei-tei ascends the throne. Genji is appointed Dajo-Daijin, guardian of Reizei-tei, and he finally has great political power.
Yugiri, the son of Aoi no Ue and Genji, falls in love with To no Chujo's daughter, Kumoi no Kari. The father intends to have his daughter enter the court and forbids the match.
Hikaru Genji marries again. Onna San no Miya, the third princess of Suzaku-in becomes Genji's wife. But the princess loves the son of To no Chujo, Kashiwagi, and is carrying his child. When Genji learns of their love he understands at last the sinful nature of his love for Fujitsubo. Moreover, in terror, he suspects his father knew of his secret love during his life.
None yet.
| | | | |
| --- | --- | --- | --- |
| Poster | DVD | VHS | CD |
| None Yet | None Yet | None Yet | None Yet |