JIN / Gold Spark!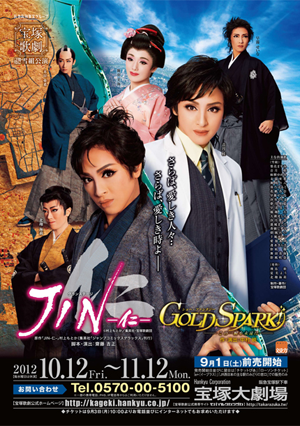 Picture Credit: filante
English Title:
JIN / Gold Spark! -This Moment, Forever-
Japanese Title:
JIN-仁-/GOLD SPARK!-この一瞬を永遠に-
Romanized Title:
JIN -Jin- / Gold Spark! -Kono Isshun o Eien ni-
Troupe:
Snow
Year:
2012
Performances:
Takarazuka Grand Theater, 10/12 - 11/12; Tokyo Takarazuka Theater, 11/23 - 12/24
Shinjin Kouen Performances:
Takarazuka Grand Theater, 10/30; Tokyo Takarazuka Theater, 12/6
JIN:
Based On:
the manga of the same name by Murakami Motoka
Author / Director:
Saitou Yoshimasa
Composer:
Aoki Tomoko
,
Teshima Kyouko
Choreographer:
Hanayagi Juraku
,
AYAKO
Conductor (Takarazuka):
Conductor (Tokyo):
Terashima Masao
Shinjin Kouen Director:
Saitou Yoshimasa
Gold Spark!
Director:
Nakamura Satoru
Composer:
Nishimura Kouji
,
Kuratomi Shinichi
,
Teshima Kyouko
,
Aoki Tomoko
Choreographer:
Miori Yumino
,
Wakao Risa
,
Hirasawa Satoshi
,
ANJU
Conductor (Takarazuka):
Conductor (Tokyo):
Kiyokawa Tomomi
Available on DVD:
Yes (
release date 12/14/12
)
DVD Scene/Music Cuts:
No
Other Cast (98th Class Group A):
Akatsuki Chisei
,
Haruha Rara
,
Junna Subaru
,
Homare Seri
,
Urara Senri
,
Souma Seren
,
Hanayuki Rira
,
Kanami Sena
,
Senami Haya
,
Ouka Rina
WARNING!! MAY CONTAIN SPOILERS!!
JIN
It's Tokyo in 2012, and Jin Minakata, a brain surgeon at the Toto University Hospital, has earned a huge amount of respect from his patients and staff. They refer to him as "the surgeon with the hands of God" for how his advanced surgical skills have saved many lives. But Jin no longer harbors any hopes for his own future, due to the heartbreak he has suffered after the love of his life, Yume, passed away from a disease outside his area of expertise. One day, the doctor heads an operation on an emergency patient, whose identity is unknown, suffering from a laceration on his scalp. The operation is a success, and he regains consciousness. The moment Jin hears the emergency patient utter the mysterious words "I am you," a bolt of lightning flashes, and the doctor tumbles down a spiral staircase. The patient, however, has fled the hospital.
Jin wakes up in unfamiliar grassy area where countless fireflies dance in the sky. As he struggles to comprehend what has just happened to him, he witnesses something shocking: a clashing of swords between Samurai. Jin seems to have experienced a time slip, going back in time to over 150 years ago to the Edo Era, in 1862 during the final stages of the Tokugawa Shogunate. Jin impulsively jumps in to try to stop the fight, without first grasping the situation. A young man has been attacked by an assassin and sustains a deep cut to his head. Jin's medical instincts kick in. He enlists the assistance of Rintaro Katsu (Kaishu), one of the Shogun's vassals who has rushed to the scene after hearing the disturbance. They carry the young man, who goes by the name of Kyotaro Tachibana, to his estate in a bid to save his life. Coming out to meet them is Kyotaro's sister, Saki, and when Jin sees her face, his breath is taken away: Saki and Yume are two peas in a pod. Jin is dumbfounded by the sight of Saki, but manages to come to his senses. He uses a suturing kit that he carried with him through time to conduct a craniotomy, cutting through Kyotaro's skull. The young man's life is saved. Based on what Kyotaro and Saki have been saying, Jin realizes the following day that he is now in the Edo Era, in the last days of the Tokugawa Shogunate. He lies to Saki when she asks about his hometown, saying he has suddenly lost his memory.
Jin, who has started living at the Tachibana residence on Saki's suggestion, becomes involved in treating cholera. The contagious disease has been spreading throughout Edo's urban areas. Watching Jin guide the patients toward recovery by using medical treatment, which is standard practice today but considered taboo at the time, Saki develops a yearning to become a highly esteemed doctor like Jin, for her father too had died from cholera.
After all the treatment finishes, a man appears before Saki and Jin, just as the doctor is taking a rest. This man, who could at any time slash Jin with his sword, is none other than Ryoma Sakamoto, whose name will become indelibly known to future generations as a hero during the final years of the Shogunate.
Jin starts to develop loving affection toward the warm-hearted people of Edo, even while he shudders at fact that he is no less changing the course of history by using modern medical treatment to save the lives of those who would otherwise succumb. As he continues to forge deep ties with various people while earnestly confronting his medical treatment, Jin eventually becomes caught up in the powerful tide of history.
---
GOLD SPARK! -This moment forever-
This show's enchantment bursts open even further in beauty and energy and with added radiance! The moment-by-moment radiance unleashed by top star Kei Otozuki will always remain engraved in your heart. Otozuki and a wave released by the energized dancers work as a single unit, while the stage sends a hot wind throughout the audience.
None yet.
| | | | |
| --- | --- | --- | --- |
| Poster | DVD | VHS | CD |
| None Yet | None Yet | None Yet | None Yet |