Elisabeth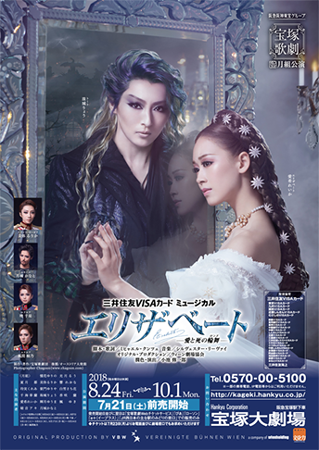 Picture Credit: coeuraubonheur | Official Chirashi
English Title:
Elisabeth -Rondo of Love and Death-
Japanese Title:
エリザベート-愛と死の輪舞-
Romanized Title:
Erizabeeto -Ai to Shi no Rondo-
Troupe:
Moon
Year:
2018
Performances:
Takarazuka Grand Theater, 08/24 - 10/01; Tokyo Takarazuka Theater, 10/19 - 11/18
Shinjin Kouen Performances:
Takarazuka Grand Theater, 09/11; Tokyo Takarazuka Theater, 11/08
Based On:
Author:
Michael Kunze
Composer:
Sylvester Levay
Adaption/Direction:
Koike Shuuichirou
Music Adaption:
Yoshida Yuuko
,
Kai Masato
,
Kuratomi Shinichi
Choreographer:
Hayama Kiyomi
,
Shou Sumire
,
Maeda Kiyomi
,
Miori Yumino
Conductor (Takarazuka):
Sasada Aiichirou
Conductor (Tokyo):
Shinjin Kouen Director:
Kashihata Aiko
Available on DVD:
Yes (
release date 11/15/18
)
Available on Blu-Ray:
Yes (
release date 11/15/18
)
DVD Scene/Music Cuts:
No
Role
Cast
Shinko Cast
Black Angels
Shinko Black Angels
Der Tod, Death, the Lord of Hades
Tamaki Ryou
Akatsuki Chisei
Yumena Rune
Amana Ruria
Elisabeth, Empress of Austro-Hungary
Manaki Reika
Misono Sakura
Asagiri Makoto
Hiiragi Ayato
Franz Joseph, Emperor of Austro-Hungary
Miya Rurika †
Kio Kanade
Souma Seren
Ayaji Yurika
Luigi Lucheni, Elisabeth's murderer
Tsukishiro Kanato †
Kazama Yuno
Kio Kanade
Haon Mika
Rudolph, Crown Prince of Austro-Hungary
Akatsuki Chisei (Cast A) †
Kazama Yuno (Cast B) †
Ayaoto Sena
Hanabusa Kaoto
Ruou Ria
Sophie, Queen Dowager, Franz Joseph's mother
Touka Yurino
Urara Senri
Ran Naoki
Amano Kaguya
Moritz Szeps, Editorial writer for a Vienna newspaper
Kouzuki Ruu
Ran Naoki
Amashi Juri
Mahiro Ren
Duchess Ludovika, Elisabeth's mother
Kagetsu Miyako
Kiyoka Ran
Ayaoto Sena
Baron Hübner
Hibiki Reona
Otokaze Seiya
Reika Haru
Mother of a Condemned Man
Remi Kurea
Hisumi Rin
Issei Kei
Count Grünne, Emperor's entourage
Shimon Yuriya
Souma Seren
Madame Wolf, owner of an elite brothel
Shirayuki Sachika
Ranze Keito
Cardinal Archbishop Rauscher, Emperor's entourage
Chinami Karan
Asahi Tsubasa
Countess Irma Sztáray, lady-in-waiting for Empress Elisabeth
Kousaki Ran
Hisumi Rin
Max (Maximilian von Wittelsbach), Duke of Bavaria, Elisabeth's father
Kizuki Yuuma
Suou Mahiro
Countess Liechtenstein, Mistress of the Robes
Harune Aki
Momoka Yuki
Court Ladies
Shinko Court Ladies
Gyula Andrássy, Hungarian revolutionist
Harumi Yuu
Issei Kei
Kaede Yuki
Natsukaze Kiki
Helene von Wittelsbach, Elisabeth's elder sister
Kanoha Toki
Amashi Juri
Himesaki Mirei
Hanatoki Maika
Governess, Elisabeth's governess
Sakurana Ai
Hiumi Arisa
Urara Senri
Yoshino Yurika
Prince Schwarzenberg, the state minister
Hayaki Yuuto
Ookusu Tera
Kiyoka Ran
Maya Yutaka
Elemer Batthyány, Hungarian revolutionist
Ren Tsukasa (Cast A) †
Akatsuki Chisei (Cast B) †
Reika Haru
Misono Sakura
Shirakawa Riri
Stephan Karolyi, Hungarian revolutionist
Kazama Yuno (Cast A) †
Ren Tsukasa (Cast B) †
Hanabusa Kaoto
Momoka Yuki
Manoa Mio
Windisch, woman in an asylum
Umino Mitsuki
-
Kempen, minister of police
Kashiro Aoi
Sorashiro Yuu
Voice of the Judge
Shinko Voice of the Judge
"Éljen" Singer
Suou Mahiro
-
Harumi Yuu
Prostitute
Kio Kanade
-
Prostitute
Hiumi Arisa
-
Madeleine, a prostitute
Amashi Juri
Yui Karen
Prostitute
Ayaoto Sena
-
Prostitute
Yui Karen
-
Prostitute
Amana Ruria
-
Beautician
Nanano Ari
Saaya Ichigo
Prostitute
Nanano Ari
-
Young Rudolph
Ranze Keito
Nanano Ari
Lady's Maid
Shirakawa Riri
Miumi Sora
Prostitute
Haon Mika
-
Prostitute
Amano Kaguya
-
Etoile
Misono Sakura
Other Cast:
Koumi Natsuho
,
Sou Yuuki
,
Mariya Sonata
,
Kiyora Haryuu
,
Ichihane Meru
,
Natsunagi Seia
,
Tsukino Daia
,
Tsubaki Koko
Cast Switch Schedule:
Grand Theater:
Cast A — 8/24~8/31; 9/7~9/16; 9/25~10/1
Cast B — 9/1~9/6; 9/17~9/24
Tokyo Takarazuka:
Cast A — 10/19~10/31; 11/13~11/18
Cast B — 11/1~11/11
WARNING!! MAY CONTAIN SPOILERS!!
Act 1
At the end of the nineteenth century, Empress Elisabeth of Austro-Hungary, reputed to be the prettiest woman in Europe, was murdered by Luigi Lucheni, an Italian anarchist. Lucheni later hanged himself in his cell.
The Purgatorial Court interrogates Lucheni although he committed the offence a hundred years ago. He justifies himself by insisting that Elisabeth and Death loved each other and that Elisabeth then wanted herself murdered. He conjures up his contemporaries as defense witnesses. Der Tod (Death) appears last in court and confesses that he loved her.
Back in 1853, Elisabeth, Princess of Bavaria, cheerfully enjoys her girlhood. One day, she tries to walk a tightrope. She falls off the rope and into a critical condition without gaining consciousness. She strays into Hades, where Der Tod falls in love with her at first glance. He gives her life back to her and determines to follow her in order to win her love. Thus, the first step is made in the circle dance of love and death.
At the Palace in Vienna, Franz Joseph, the young Emperor of Austria, is dealing with problems in his vast empire, advised by his mother, Queen Dowager Sophie. Sophie is planning to take him to Bad Ischl where he will meet his cousin Helene, the woman Sophie wants him to marry. However, at Bad Ischl, Franz Joseph falls instead for Elisabeth, Helene's younger sister who is accompanying Helene.
In 1854, the wedding of Franz Joseph and Elisabeth takes place in Vienna. At the wedding ball, the wedding guests are amazed at the childishness of the new empress and vent their disappointment. Count Max, Elisabeth's father, and Sophie forebode catastrophe for the marriage. Elisabeth and Franz Joseph happily waltz in ignorance of what the others think of them. Der Tod stares at them with jealousy and finally whispers in her ear that she will dance the last dance with him.
The marriage soon runs into difficulties. Sophie imposes lengthy court etiquette lessons on Elisabeth. She requires Elisabeth to respect the rigors of the Hapsburg court and perform the weighty duties of the Empress. Elisabeth runs to Franz Joseph for protection, but he casts her aside. Elisabeth is so dismayed that she picks up a knife to kill herself. However, after giving it a second thought, she rejects the seduction of Tod (Death), and is determined to live on by herself. Two years after the wedding, the first child is born. However, Sophie keeps the child out of Elisabeth's reach. Elisabeth's hatred for Sophie grows even stronger. Soon, Elisabeth realizes that her beauty will win her anything she wants.
In Hungary, the movement for independence has been growing stronger. However, when the Hungarian people see Elisabeth making efforts to understand Hungary, they start praising her instead of crying for independence. Der Tod tempts Elemer Batthyany and other Hungarian revolutionists to go to Vienna, where they will gather more revolutionists and secretly work out plans to bring down Austrian rule.
Austria on the verge of bankruptcy because of the successive wars is suffering from the rampant plague and is afraid of rebellions. Franz Joseph is exhausted. When he asks her for help, she urges him to choose between her and his mother. Again, Der Tod tries to seduce her but she turns him away once more, deciding that she will survive with her beauty as her weapon. She starts spending lavishly for her beauty care. In the streets, the poor complain of the shortage of milk and amass hatred against Elisabeth who is said to use milk everyday for her milk baths. Der Tod entices Lucheni to stir up the anger of the people. Elmer and his comrades take advantage of the people's hostility to prepare for the revolution against the House of Hapsburg.
Franz Joseph for once decides to accept all of Elisabeth's wishes. Now that Elisabeth has won the long conflict with Sophie, she declares that she belongs to her under the eyes of Der Tod.
Act 2
In 1867, as the coronation ceremony ends, Elisabeth becomes Queen Consort of Hungary. She is too busy to care for the young Archduke Rudolf. Der Tod approaches and comforts Rudolf who is spending desolate days.
As time passes, Rudolf finds more solace in the arms of Der Tod. When he is grown up, he goes in with Elmer's group of revolutionists and works for the independence movement. Franz Joseph discovers his son's plot to overthrow him and threatens to disown him. Rudolf begs Elisabeth to ask his father to forgive him, but she refuses. Rudolf is driven to despair and runs to Der Tod, who finally takes his life.
Before Rudolf's coffin, Elisabeth breaks down. For the first time, she asks Der Tod for help but he refuses. What Der Tod wants is not her life but her love.
Elisabeth continues traveling far and wide. Franz Joseph comes to visit her at Lake Leman where he begs her to return to Vienna. However, this visit cannot bring the couple any closer together.
In 1898, on a pier in Geneva, Lucheni attacks Elisabeth with the knife Der Tod has handed him. Elisabeth notices the presence of Der Tod and decides to accept his love, turning face-to-face toward Lucheni. The knife pierces her left breast. Tod, who has finally won Elisabeth's heart, passionately embrace her, and together they soar up to the heavens.
Final performance for top musumeyaku Manaki Reika and kumichou Touka Yurino.
Elisabeth has been performed many times by the Takarazuka Revue, beginning in 1996: List of all Elisabeth casts.
Performances on 09/04/2018, as well as the 3PM performance on 09/30/2018, were cancelled due to severe typhoons in the Kansai area.
Due to poor physical health, Miya Rurika was announced absent from September 22nd to September 25th. The performances on September 22nd were both delayed by 15 minutes. (See above for role substitutions).
None yet.
| | | | |
| --- | --- | --- | --- |
| Poster | DVD | VHS | CD |
| None Yet | None Yet | None Yet | None Yet |