Dark Brown Eyes / Rock On!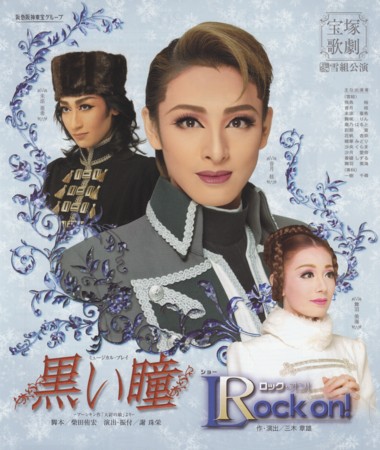 Picture Credit: official flier
English Title:
Dark Brown Eyes / Rock On!
Japanese Title:
黒い瞳 / ロック・オン!
Romanized Title:
Kuroi Hitomi / Rokku On!
Troupe:
Snow
Year:
2011
Performances:
National Tour, 04/23 - 05/22
Dark Brown Eyes:
Based On:
The Captain's Daughter
by Alexander S. Pushkin
Author:
Shibata Yukihiro
Director/Choreographer:
Sha Tamae
Rock On!:
Author/Director:
Miki Akio
Composer:
Choreographer:
Available on DVD:
Yes (
release date 07/08/11
)
DVD Scene/Music Cut:
No
Other Cast:
Anno Konomi
,
Meika Rara
,
Ai Sumire
,
Amatsuki Tsubasa
,
Shiramine Yuri
,
Hizakura Honori
,
Tachibana Kou
,
Aoi Miki
,
Machi Yuuka
,
Karen Emiri
WARNING!! MAY CONTAIN SPOILERS!!
Dark Brown Eyes
A.D. 1773, Czars ruled Russia. The vast land of Russia was under the rule of Empress Catherine II (Ekaterina II), known as Catherine the Great. The Cossacks, peasant soldiers, were waiting for a chance to revolt against the ruler to gain more freedom.
Nicolai's father buys him a position in a regiment out in the wilds of Russia, because his father believes he needs to build some character. On the way he gets caught out in a snowstorm with his servant and they can't see the road for the snow. A ragged Cossack comes stumbling upon them, and shows them the way to the nearest town. Nikolai's servant won't let him pay the man, so he gives him his nice fur coat. The man promises not to forget his kindness. Nicolai continues on to the Belogorsky fortress. There he falls in love with the captain's daughter, nicknamed Masha. His rival is the cynic Shvabrin, who sees no good in anyone and was exiled to the fort for killing a man in a duel. Masha won't have anything to do with Shvabrin, so he starts saying slanderous things about her. Nicolai challenges him to a duel, and gets wounded. Masha nurses him back to health and the two admit their love, but Masha says his parents will never accept her, because she doesn't even know who her true parents are.
Meanwhile, Catherine II rules Russia after her husband Pyotr II was assassinated. There is a rebellion brewing in the eastern wilds among the Cossacks. A man named Pugatchov has declared himself Pyotr III reborn, and is conquering all of the fortresses. Eventually, he attacks Belogorsky. The Russian officers are told to swear allegiance to Pugatchov, but they refuse and are hung. Just as it is Nicolai's turn his servant begs for his life. Pugatchov recognizes the annoying servant, and then recognizes Nicolai. It was Pugatchov who led them out of the snowstorm. He grants Nicolai his freedom. Masha's parents are killed, and she goes into hiding in the priest's house. Meanwihle, Shvabrin has been spying for Pugatchov, and is placed in charge of Belogorsky. Nicolai flees to the city of Orenburg to try to convince the general there to lead an attack and reclaim the fortress. He refuses.
Nicolai gets a letter from Maximich, a Cossack soldier who is a friend of Masha's servant. She is being held a prisoner by Shvabrin. He decides to go rescue her himself. On the way there he is captured by Pugatchov's men. When he explains the situation to Pugatchov (not mentioning that Masha was the daughter of the captain at Belogorsky), Pugatchov gets really upset that one of his men is stealing Nicolai's fiance, and storms off with him to rescue Masha. On the way there, Nicolai councils Pugatchov to stop now, before things get out of control. Pugatchov says things have already gone too far. The two men admit to their admiration tof each other, but their ideals and goals are too different. They arrive. Shvabrin, being the bastard he is, tries to stall, but when he loses, tells Pugatchov who Masha is. Nicolai asks Pugatchov what he would have done if he had told him who Masha was, and Pugatchov admits that he did the right thing. They say farewell.
Nicolai rejoins the army, because he wants to be there to see Pugatchov's final battle. After the fighting is over, Nicolai is put under arrest for fraternizing with the enemy. Shvabrin accuses him of being a spy for Pugatchov. Nicolai refuses to speak about why he went back to Belogorsky, because he doesn't want Masha's parentage to come to light, fearing she too might be accused of being a spy. When Masha hears about what's going on, she runs to St. Petersburg to beg the queen for Nicolai's life. The queen is convinced, and everyone lives happily ever after. Except Pugatchov.
Rock On!
Date
Place
04/23 - 04/24
Ichikawa Shi Bunka Kaikan (Chiba)
04/26
Fuchuu no Mori Arts Theater (Tokyo)
04/27
Kanagawa City Meeting Hall (Kanagawa)
04/29 - 05/01
Umeda Arts Theater (Osaka)
05/03 - 05/05
Fukuoka City Meeting Hall (Fukuoka)
05/07
Matsuyama City Meeting Hall (Ehime)
05/08
Saijou Culture Meeting Hall (Ehime)
05/10
Kurashiki Meeting Hall (Okayama)
05/12
Kitakyushuu Sunflower Hall (Fukuoka)
05/14
ALSO Hall (Hiroshima)
05/15
Shuunan Culture Meeting Hall (Yamaguchi)
05/17
Hikone Culture Plaza (Shiga)
05/19
Mie Prefectural Culture Meeting Hall (Mie)
05/21
Yokkaichi City Culture Hall (Mie)
05/22
Nisshin City Meeting Hall (Aichi)
None yet.
| | | | |
| --- | --- | --- | --- |
| Poster | DVD | VHS | CD |
| None Yet | None Yet | None Yet | None Yet |