A Small Flower Has Bloomed / Le Poison II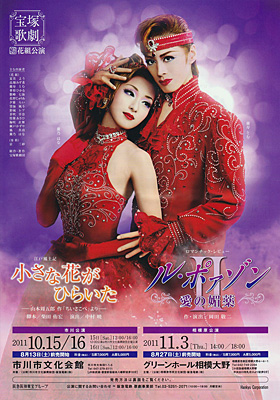 Picture Credit: official flyer
English Title:
A Small Flower Has Bloomed / Le Poison II
Japanese Title:
小さな花がひらいた / ル・ポァゾン 愛の媚薬 II
Romanized Title:
Chiisana Hana ga Hiraita / Le Potion - Ai no Biyaku II
Troupe:
Flower
Year:
2011
Performances:
National Tour, 10/15 - 11/13
A Small Flower Has Bloomed:
Based On:
"Chiisakobe", a novella by Yamamoto Shugoro (Shuugorou)
Author:
Shibata Yukihiro
Director:
Nakamura Satoru
Composer:
Terada Takio
,
Yoshida Yuuko
Choreographer:
Hanayagi Hagi
Le Poison II:
Director:
Okada Keiji
Composer:
Yoshizaki Kenji
,
Takahashi Kuni
,
Kai Masato
,
Maeda Kiyomi
,
Takahashi Megumi
Choreographer:
Hayama Kiyomi
,
Sha Tamae
,
Miori Yumino
,
Wakao Risa
Available on DVD:
Yes (
release date 12/25/11
)
DVD Scene/Music Cuts:
Yes
Vocals cut for scenes 15 and 16 of Le Poison II, "Un Amor" (Singers: Ranju Tomu, Hanagata Hikaru)
WARNING!! MAY CONTAIN SPOILERS!!
Summary Information here.
Tour Schedule

Date
Location
10/15 - 10/16
Ichikawa Shi Bunka Kaikan (Chiba)
10/18
Fuchuu no Mori Arts Theater (Tokyo)
10/20
Maebashi Municipal Cultural Hall (Gunma)
10/22 - 10/23
Umeda Arts Theater (Osaka)
10/25 - 10/26
ACT City Hamamatsu (Shizuoka)
10/27
Kouta Choumin Kaikan Sakura Hall (Aichi)
10/29
Matsumoto Performing Arts Centre (Nagano)
10/30
Hokuto Bunka Hall (Nagano)
11/01
Colany Culture Hall (Yamanashi)
11/03
Green Hall Sagami Oono (Kanagawa)
11/06
Okan Shimin Bunka Kaikan (Akita)
11/08
Aomori City Bunka Kaikan (Aomori)
11/10
Kitakami Sakura Hall (Iwate)
11/12 - 11/13
Nitori Bunka Hall (Hokkaido)
None yet.
| | | | |
| --- | --- | --- | --- |
| Poster | DVD | VHS | CD |
| None Yet | None Yet | None Yet | None Yet |