Boxman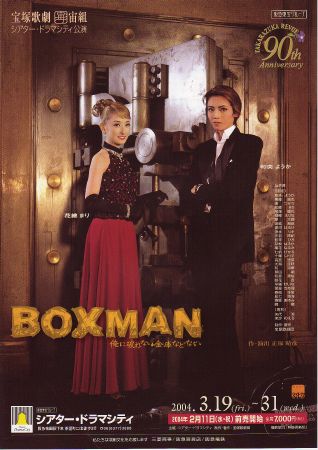 Picture Credit: rachpena
English Title:
Boxman ~There's No Safe I Can't Crack~
Japanese Title:
「BOXMAN~俺に破れない金庫などない」
Romanized Title:
Boxman -Ore ni Yaburenai Kinko Nado Nai-
Troupe:
Cosmos
Year:
2004
Performances:
Nippon Seinenkan Hall, 3/6 - 3/13; Theater Drama City; 3/19 - 3/31
Based On:
Author/Director:
Masatsuka Haruhiko
Composer:
Takahashi Kuni
,
Aoki Tomoko
Choreographer:
Iga Yuuko
,
Hirasawa Satoshi
Available on DVD:
Yes (
release date 6/10/04
) &
VHS
DVD Scene/Music Cut:
Yes
Parts of the Finale (otokoyaku dance / Hanafusa & otokoyaku dance) have the music replaced or are cut.
Others:
Kazune Miou
,
Hamuro Chiari
,
Harukaze Misato
,
Maiki Ayumi
,
Akatsuki Gou
WARNING!! MAY CONTAIN SPOILERS!!
Act I
Scene 1 - In a rich residence
The scene opens with a woman's voice saying "Are you ready? Let's begin." and starting a timer. We see a man cracking the code to a safe and opening it. As he does so, he recalls having met this model before.
Two of the household staff come in and take him for a burglar, but the lights come on and it turns out the owners of the residence are well aware of him. He is Kevin Randall, a salesman for a company that makes safes, and he has just demonstrated that his clients' current safe code can be cracked in under 5 minutes. He and his partner Dolly Page set out to persuade their clients that they need a new safe.
He claims that there is no perfect safe because there will always be someone out there who can break into it, but their company is at the forefront in developing new products and their aim is perfect security.
The two make a hard sale, putting pressure on the couple until they half-heartedly agree and sign a contract.
Scene 2 - At Safetybox Insurance
The boss of the company, Farman, greets Kevin and Dolly as his "ace team" and gives them the latest news. He has the plans for an entirely new and improved kind of safe, with a keypad instead of a dial, and is going to make a big investment in it. He wants to put Kevin and Dolly in charge of promoting it.
The creator of the safe, Roger, bursts in and tries to recover the plans, arguing that it is still an unfinished and imperfect product, but the boss brushes him off.
In his office, the boss puts his "best team" in charge of the project. Kevin looks unhappy and suggests that a little financial bonus might boost their motivation. The boss assures them that if the project succeeds they won't be disappointed. The company is hoping to sign a big contract with an insurance company.
The boss gets called away to deal with the unhappy Roger, and Kevin and Dolly discuss their new assignment. Kevin looks rather uncertain about the whole thing, but Dolly declares if they make a success of this, they really will be the best team. They sing about working as a team, and Dolly promises that this time, she will do her share and not rely on Kevin to do it all.
Scene 3 - In a coffee shop
Kevin buys Dolly coffee and the discussion continues.
Dolly suggests that they go straight to the insurance company with their new product. Kevin expresses surprise at her boldness but she says she has changed and learnt a lot since she has been partnered with him. He looks embarrassed and fends off her compliments. She remarks that she doesn't know very much about him and asks if he was already opening safes in his previous job. He says not, but won't say anything specific about his past. She gives up and they get up to leave.
She suggests that this time they prove that their new type of safe cannot be opened at all. He doesn't seem to like the idea of botching the crack on purpose, but says in any case they need to be well-prepared for this big job. They say goodbye.
Kevin immediately gets accosted by an old acquaintance of his, Diane, whom he does not look happy to see. She flirtily asks how he's doing and he declares he's now doing honest work for a company. She scoffs, causing him to turn and ask her why she's here (definitely not by accident) and what Leroy (his old partner) wants of him. She merely drops hints and says she'll get in touch again. He stalks off, with her calling after him.
A strange individual calling himself Carito appears from the stairs laughing at Diane and tells her that Leroy employed him to be her driver. She is having none of it however and hits him round the head with her bag before running off.
Scene 4 - At the insurance company
Kevin and Dolly sit down with a representative of Glory Insurance, Virgil. He expresses interest in their company, but Dolly gets ahead of herself trying to sell the product and offers to show him the plans for the new safe, which are in her bag. Both Kevin and Virgil gasp, and Dolly quickly adds that the plans are of course top secret. Kevin tries to salvage the situation by saying that it is their complete confidence in the product which makes them so bold. Instead of the plans, he promises to bring a working model of the safe to their next meeting.
Virgil agrees, but says something about also being in negotiations with other safe companies and concludes the meeting asking for time to investigate and without signing anything.
Outside, Kevin starts shouting at Dolly, asking what she was thinking by offering to show the top-secret plans and why she even has them with her. She has made it look as if the company are desperate for this contract and put them in a situation where they'll have to provide a sample and even then not be sure to make the sale. Dolly sits down, shocked at having messed up so badly and Kevin shouts that this is no time to have a rest. She meekly says she's trying to think how to set things right and asks him to calm down, at which he shouts even more ("I'M NOT ANGRY!") until she starts crying. This makes him feel awkward and he runs off to buy coffee.
While he's gone and Dolly is crying, a man walks past and grabs her handbag, which contains the secret plans for the safe, without her being able to stop him. Kevin returns and runs off after the thief.
Scene 5 - Safetybox Industry
Kevin has failed to catch the thief and is apologising to his boss. He assures him he will work something out with Roger and produce a sample safe. The boss is furious with Dolly and demands to know why she's not here in person, but Kevin defends her and asks him not to be too hard on her.
Scene 6 - In the workshop
Roger is reading the paper, and helping his rather dull assistant Roosevelt solve crosswords. Kevin comes in to apologise about letting the plans get stolen, and to ask Roger to build a sample.
Roger refuses, saying the safe is still imperfect. Kevin agrees that it has weak points, whereupon Roger indignantly asks what an "amateur" would know about it and declares that it couldn't be broken into by anyone, save perhaps Boxman. "Boxman" is the nickname given to a legendary safe-breaker to whom "any safe is as a box". He has opened dozens of safes without ever leaving any trace of his work - except just one, which he blew the door off with nitroglycerine. After that, Boxman disappeared.
Kevin suggests some modifications to remove the weak points and improve the safe and Roger is amazed at how much he understands about safes - and after the discussion about Boxman, he gives Kevin some highly suspicious looks. Kevin laughs it off and claims he has simply loved metal since he was a child. This is something Roger can relate to and he and his assistant drag Kevin into a song about loving machines and walk off talking about forming a "Kikai Daisuki Kurabu" ("We Love Machines" Club).
Scene 7 - In a high-class old people's home
A woman named Teresa comes in with an assistant pushing a wheelchair. She is happily walking around and singing, until Dolly comes in, at which point she collapses in her assistant's arms and pretends not to be able to walk any further. It turns out this is Dolly's mother, who is living in an old people's home and is supposedly unable to walk.
Dolly reproaches her mother for hiring an assistant when they already don't have enough money to pay for the home and are in heavy debt to a certain Champion Dickens. Dolly borrowed money from him to pay for her mother's medical treatment but she intends to pay it back as soon as possible. Teresa insists that they needn't pay Champion back - he has proposed to Dolly, and she only needs to accept him for them all to live in luxury. She reminds her that before her illness, they both lived together happily, but since she has been in the home and they've been poor, they argue every time they meet. Dolly is upset about it and doesn't want to fight, but she protests she will not marry a man she doesn't love. She leaves her mother, saying "I don't live just for your sake."
Scene 8 - In a nightclub
Kevin is out with Diane, and she is reminding him of old times and trying to persuade him to partner up with Leroy again. Apparently Leroy has been cheated out of some money and wants Kevin's help to cut ties with the underground gang they used to be part of together. Kevin looks thoroughly unconvinced and says again that in any case he has stopped doing that kind of work.
Thereupon enters Dolly, in evening dress, accompanied by Champion Dickens. Kevin hides his face and Diane walks off as they sit down at the next table. Dolly is asking Champion to wait a little longer for her to repay the money she has borrowed from him. He tells her that he does not want to be repaid and asks her if she has thought about his offer of marriage. She has and she refuses, but instead of being discouraged, Champion merely reiterates it, while trying to push another expensive gift on her. Dolly tries to refuse it several times and ends up standing up and shouting "I refuse!"
At that moment, Roger comes in very drunk with two prostitutes, attracting everyone's attention. Kevin comments on it and Dolly sees him and is obliged to introduce Champion ("Call me Champ."). Diane returns just then and introduces herself as Kevin's "old friend". Kevin is annoyed and walks off with Diane running after him. Champion asks Dolly to dance, but she refuses and leaves.
Scene 9 - In the boss's office
The boss of Safetybox Industry reads in the paper that Glory Insurance have signed a contract with another safe company called Henderson Safes. Not only that but the contract concerns the development a new model of safe, which is exactly the same as the one designed by Safetybox Industry, the plans for which were stolen from Dolly.
The boss summons Kevin and Dolly and blames them for the loss of the plans. Kevin points out that the plans were only stolen yesterday and that even if Henderson got their hands on them immediately afterwards, they couldn't possily have had time to sign a contract with Glory Insurance and already be in a position to make this announcement. The leak of the plans must have happened much earlier and the contract between Glory and Henderson concluded before Kevin and Dolly had even been to Glory.
The boss yells that in that case Kevin must be the leak. Apparently he discovered a long time ago that Kevin lied about his past when he got the job at Safetybox and is suspicious of him. Kevin asks why, if he suspected him, he went on employing him for all this time - obviously Kevin and Dolly must have been useful to the company. Blaming them for this mess was just cowardice. The boss says in any case, he's firing both of them now.
Dolly then bursts in and starts yelling at the boss for suspecting Kevin. Why would Kevin have told him about the leak if he was responsible for it? Kevin has to grab Dolly and drag her away to stop her going too far.
Once outside however, he looks at her in awe, congratulates her on having stood up to the boss and takes her out for a drink to celebrate. She can't understand why he would want to celebrate getting fired, but he says they're celebrating ahead, because "even if there are bad times, good times always follow".
Scene 10 - In a club
Kevin and Dolly are discussing what to do next over a drink.
Dolly says it's all her fault, but Kevin says since it was a leak, there was nothing they could have done about it. Dolly might not have lost her job, but in any case, Kevin would have been suspected. He thinks they were set up.
Dolly starts worrying about how she's going to get a new job, and is led to telling Kevin all about her mother and Champion, wondering whether she should marry him after all. Even if she gets a job tomorrow, she says, she will still be in debt. She apologises for talking about her personal life so much and jokingly says:
"If only I could break into safes…"
Kevin replies gravely:
"A safe-cracker is a safe-cracker until death. Something is bound to go wrong at some point but there's nothing he can do but go on... until he dies. But a life of only that…"
"So you stopped?"
"Huh?"
"You're mysterious about your past, you can break into every safe you meet and you even talk about the safe-cracker's golden rules."
"So you think I'm…"
"No, no, never mind. Sorry. I was just chattering. I won't mention it again to anyone."
"What kind of wrong impression…"
"It's ok, never mind."
Dolly is flustered and changes the subject back to Champion.
After a pause, Dolly points out that since they're no longer working together, she and Kevin probably won't see each other again. Kevin replies with a non-committal "Maybe." and asks her to dance. Eventually, he pulls her close and makes sure she'll be alright now when she's yelled at, telling her again that after bad times come good times. She thanks him, but pulls away and says she's going home. At the door, she turns round and kisses him before running out.
Scene 11 - In the street
On his way home, Kevin is accosted by Leroy in person, who has a bad limp, accompanied by Diane and his henchman, Carito.
Kevin asks how "the guard" is and Leroy replies that he's in a coma. It appears that during his last job with the gang, Kevin was responsible for triggering an explosion despite knowing that a guard was nearby and might get hurt. Leroy argues that he had no choice, since he would otherwise have been killed himself. Kevin replies that he would do the same thing again to save himself - and that was exactly why he had stopped that kind of work.
Despite Kevin's protests, Leroy tells him he wants his help for a private job unrelated to the gang, who are pushing him aside. He's planning to break into, coincidentally, the new Glory/Henderson safe, which is going to contain money from the horse races the following Sunday.
When Kevin starts to walk off, Carito makes to pull a gun on him, but Kevin manages to grab it out of his hands. He tells Leroy he's disgusted with him and that he wants nothing to do with him. When they've gone, he violently throws the gun away in their general direction.
Act II
Scene 12 - In the reception room for the presentation of the new safe
Henderson Safes and Glory Insurance are holding a reception to celebrate their contract and introduce the new safe.
Dolly is there and she bumps into Virgil. She congratulates him on the contract with Henderson and points out how strange it is that their new safe is exactly the same as the one they were offered by Safetybox Industry. Virgil ducks the attacks, and then escapes as they are interrupted by Champion, who is here with Dolly. He goes off to some business talks, leaving Dolly alone, to be accosted by none other than Kevin.
The two are surprised but pleased to see each other, even though, as Kevin says, their last meeting was rather tense and serious. Dolly explains that she came with Champion, who has received invitations to the reception from both Henderson and Glory, as a major patron. Kevin has apparently come to "settle something".
Just then Leroy turns up with Diane and Carito, and is also pleased to see Kevin, but Kevin tells him they're definitely not here for the same thing.
There is an announcement saying that to prove the security of the safe, they are having a certain Mr X, a strange character who prances in in a mask, attempt to break into it. Kevin intervenes, declaring that the safe certainly can't be cracked by an amateur like Mr X, who was probably pulled straight out of Henderson's workshop, so they aren't proving anything at all.
He demands that they allow him to try and crack it. As a former employee of Safetybox Industry, from whom the idea was stolen, he knows the plans and knows that there were still defects in them, and thus the present safe should contain those defects. If he can break into it, it will prove the truth of his story.
In the buzz this has created among the guests, the Glory and Henderson representatives have to accept the challenge to avoid losing face. Kevin sets to work. He calms himself down, reminding himself it's just as before, but in a moment of panic, he realises that the weak points he remembers from the plans have been corrected. However, he concentrates again, and looks for another way. A moment later, he pushes down the lever and the door swings open.
The press mob him as he walks off, asking him more about his story, but he sends them to ask the boss of Safetybox Industry. He runs into Virgil, who is still reeling from the shock, and tells him that now he's got even with him and there are no winners. Next, he is stopped by Leroy, who is not very happy that he has broken into the safe now, thus spoiling their opportunity to rob it later, but Kevin tells him that since this new "uncrackable" safe will now certainly be scrapped, Leroy has no need of Kevin's particular talent. Leroy asks him what he's going to do when his picture is splashed all over the newspapers the next day, and Kevin answers that in any case he's not turning back to crime. Diane starts towards him, but Kevin tells her he and she are a different kind of person, and she leaves after Leroy.
Finally, Dolly comes up and asks him if he's settled what he wanted to settle. She tells him that seeing him again tonight has caused her to rethink her decision to marry Champion, and inspired her to make her own decisions in life, without attempting to accomplish the impossible, but concentrating on the things she can do. He replies that her future is hers to build.
Scene 13 - In the boss's office
The boss of Safetybox Industry and all his employees are reading the paper the next morning, and being questioned from all sides about the whole affair. The boss demands that Kevin and Dolly be found and brought back, and runs off to talk to Roger.
Scene 14 - In the workshop
Roger is sitting slumped when Kevin walks in. He's depressed that his safe has been cracked into so easily. Kevin retorts that it was not at all easy - especially since the weak points that were in the stolen plans had been corrected in the completed safe. And, he says pointedly, the only two people to have known about those weak points were Roger and himself.
Roger then admits that his conscience as a craftsman wouldn't allow him to let an imperfect safe be made; he had told Henderson about the faults. In fact, it was he who, last autumn, had sold the plans for the safe. He recounts that, although he and Farman (the boss) had founded Safetybox Industry together, Farman had stopped listening to Roger and become obsessed with making profits. That new safe was a project which had originally been rejected by Farman, who had thrown the plans in the bin. Roger, drunk, had then blabbed something about the new safe to a stranger in a bar, and the next day had been offered a lot of money for it. Out of spite towards Farman, Roger had accepted. When, much later, Farman declared he wanted to revive the project, it was too late. Roger vainly tried to stop him by saying the safe was unfinished.
Kevin asks if he knows who the stranger who bought the plans was, and Roger recalls hearing the name "Champ". Kevin leaps up and rushes off to warn Dolly against Champion.
Farman, who had been listening to the entire conversation from behind the door, comes in, but instead of accusing Roger, he says he wants his help.
Scene 15 - In the old people's home
Dolly comes to see her mother, to tell her that she's unemployed now and that she can't afford to keep her in the home anymore. Teresa protests, but Dolly says she wants to try living together again. She's not going to marry Champion so she can't pay for the old people's home, but she will always have a bed for her mother and she'll work for their living. Teresa finally just gets out of her wheelchair and says she had expected something like this to happen and she'd been training herself up for it. She takes Dolly off to have a cup of coffee.
Scene 16 - At Safetybox Industry
Roger is brought to see the boss (accosted en route by the tall idiot, who proudly shows him the completed crossword book), but Farman is still frantic about where Kevin and Dolly are.
Outside his office, Kevin is waiting for Dolly when she walks in. He asks her whether she has made a decision about marrying Champion, and she firmly declares she is going to refuse him. Kevin looks relieved, but won't explain why. Frustrated, Dolly asks him what he would have done if she had been going to marry Champ, and he merely says he was going to stop her. Dolly then asks him what she is supposed to think, since he won't explain anything, and eventually he tells her about Champion. Champion was the one who bought the plans from Roger and sold them to Henderson, and he was most likely behind the contract between Henderson and Glory, screwing over Safetybox in the process and putting Dolly out of a job (and making her more likely to accept his offer of marriage).
Dolly is understandably shocked at learning this. But Kevin continues: even if Champion had not been at fault, Kevin still wouldn't have wanted Dolly to get married. These are his real feelings, he says, but he is afraid that he would one day betray her. When Dolly asks why, he explains he has to leave town, because his photograph has been in the papers and the police will be after him.
The boss turns up and introduces his new partner, Roger. They have resolved their differences and are going to work together again. Farman wants Kevin and Dolly to come back to work too, but Kevin refuses. Dolly hesitates, but Kevin cuts in to say she will go back to work, and probably even do his share too.
Kevin starts to leave, but Roger stops him:
"Can I just ask you one thing? Are you... are you him after all?
"Who else could open that safe?"
"Yes, only one man could do that…"
Dolly rushes out after Kevin, and Roger walks out muttering "Legends foster new legends." Farman runs after him, not wanting to be left alone.
Scene 17 - In the street
Kevin sings about nostalgia at leaving this town and having to walk on alone.
Dolly catches up with him and asks him if this will really be the last time they meet. She tells him she's going to live with her mother again and was hoping to make a new start in life. She managed to overcome her weakness and learnt to stand up to people, but she realises now that it was all because he was there with her. If he leaves...
Kevin remains very silent, and Dolly makes him promise to at least write to her. She asks him if he thinks he'll get caught and suddenly runs to him. She says she'll be brave and quotes back to him his saying; "Even if there are bad times, good times always follow."
While they are still in each other's arms, two men from the FBI walk up and ask for Kevin Randall. Kevin lets himself be handcuffed without a fight and tells Dolly to calm down, promising he'll write.
Dolly, left alone and helpless, realises that she's been in love with Kevin all this time and resolves that she'll never give up until she can meet him and hold him again. (in song)
Kevin is in a room, being interrogated by the FBI. He says he's cut ties with the gang and doesn't know anything, but the FBI say they have more than enough to indict him with: the guard who was in a coma through Kevin's fault has died.
However the interrogation is interrupted and the agents get called away for some reason.
Scene 18 - In a club
Dolly is once again refusing Champion's offer of marriage. Champion is upset at her newfound ability to answer back. Dolly pushes on, telling him that she knows all about his selling the safe plans and screwing over Safetybox Industry. He replies that that was just business. He knew Dolly might lose her job, but after all he lent her money and he was intending to marry and support her. Can't they start over again?
But Dolly stands up and makes it clear once and for all that she refuses to marry him. Champion then gets angry, saying that Dolly led him along and took his money while never intending to accept him. He demands his money back, all in one go.
Just then, who walks in but Kevin, to the amazement of Dolly and Champion. Dolly tells him she's finally turned Champion down. Champion orders her to sit down, but she stands up to him, repeating that she'll pay him back. Kevin, however, says she needn't do so.
Champion is even worse than he had thought. Kevin has found out from the FBI that Virgil was in fact working for Champion and must therefore have told him about the plans in Dolly's bag. Champion then had the bag stolen by a street thief, so that it would appear that the plans had leaked because of the theft and Dolly and Kevin would be blamed for their loss. Champion's plan really was to put Dolly out of a job to get her to marry him.
Champion starts sweating and protests, but Kevin pushes him to the floor. Dolly declares that she's disgusted with herself for ever having let herself be pushed around by Champion. Kevin tells Champion to either make himself unrecognisable or never show his face in front of Dolly again. If he does, Kevin will denounce him to the police.
With a few desperate apologies to Dolly, Champion hurries out. Dolly looks suspiciously around for FBI agents to jump out of the shadows but Kevin tells her not to worry and shows her his new card - he's now employed by the FBI himself, on contract.
Kevin has to catch a fainting Dolly, and promises her that he's not going anywhere and they can be together forever.
They sing about living together and watching out for each other, through wealth and through poor.
Boxman - Review by Ekusudei
| | | | |
| --- | --- | --- | --- |
| Poster | DVD | VHS | CD |
| None Yet | | | None Yet |