Bluff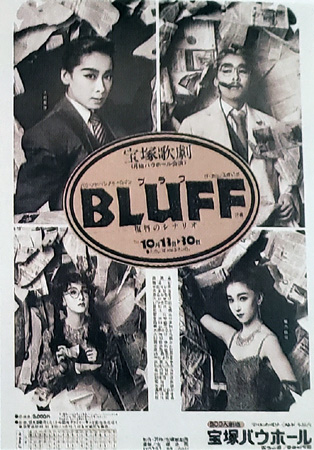 Picture Credit: April 1997 GRAPH
English Title:
Bluff -Revenge Scenario-
Japanese Title:
BLUFF (ブラフ) - 復讐のシナリオ -
Romanized Title:
Bluff (Burafu) -Fukushuu no Shinario-
Troupe:
Moon
Year:
1992
Performances:
Nippon Seinenkan, 5/7 - 5/12
Based On:
Influenced by the 1973 movie "The Sting"
Author/Director:
Masatsuka Haruhiko
Composer:
Terada Takio
,
Takahashi Kuni
Choreographer:
Sha Tamae
Available on DVD:
No
Other Cast:
Natsuki Mami
,
Natsukawa Yura
,
Mihara Shiho
,
Ujou Kaoru
,
Taiga Ren
,
Toki Yufuka
,
Kazusa Mahiro
,
Misato Maya
,
Akiji Shinobu
,
Yamabuki Sayo
,
Natsuno Saki
,
Yuuki Kaoru
,
Minazuki Shizuka
,
Aihara Serika
,
Wakae Yuki
,
Fujishiro Maki
,
Kazahana Mai
,
Takashou Mizuki
,
Nashiro Aoi
WARNING!! MAY CONTAIN SPOILERS!!
Influenced by the 1973 movie "The Sting". In the film, a group of swindlers entices a mafia boss into a private off-track betting setup. They begin by letting him win, and in the end he puts in a large amount of money. The FBI rush in and a firefight breaks out; the boss leaves the money and flees. The FBI were also swindlers, and the guns had bank cartridges. The guys who got shot gave convincing performances of being dead.
In the play, the betting setup is exchanged for a diamond manufacturing laboratory, and after that everything develops in the same way. They let the mafia boss overhear that by using a real diamond, they can produce large amounts of diamonds that are just as real. He brings all the diamonds that he has, and they are taken from him by deception.
None yet.
| | | | |
| --- | --- | --- | --- |
| Poster | DVD | VHS | CD |
| None Yet | None Yet | None Yet | None Yet |