At the End of a Long Spring/With a Song in My Heart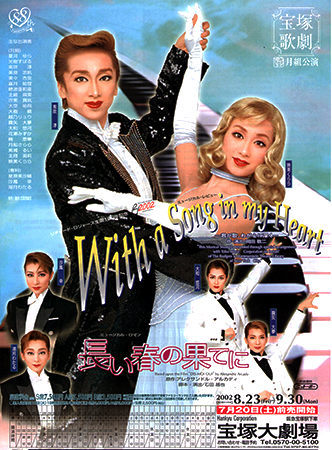 Picture Credit: V
English Title:
At the End of a Long Spring/With a Song in My Heart
Japanese Title:
長い春の果てに/With a Song in my Heart
Romanized Title:
Nagai Haru no Hate ni/With a Song in My Heart
Troupe:
Moon
Year:
2003
Performances:
Chunichi Theater, 2/1 - 2/20
At the End of a Long Spring:
Based On:
The Film "Dis moi oui" by Alexandre Arcady
Author/Director:
Ishida Masaya
Composer:
Nishimura Kouji
Choreographer:
Ai Erina
,
Maeda Kiyomi
Shinjin Kouen Director:
Koyanagi Naoko
With a Song in My Heart:
Author/Director:
Okada Keiji
Composer:
Yoshizaki Kenji
,
Takahashi Kuni
,
Kai Masato
,
Miyahara Tooru
,
Kikawada Shin
Choreographer:
Hayama Kiyomi
,
Tsukasa Konomi
,
Ootani Morio
,
Muromachi Akane
,
Miori Yumino
Available on DVD:
No
Other:
Honami Aria
,
Kitajima Mami
,
Taiju Maki
,
Koshino Ryuu
,
Arika Jun
,
Asama Moyu
,
Takigawa Sueko
,
Kusunoki Keika
,
Takaki Amane
,
Ken Ruisu
,
Natsume Rin
,
Fuuga Minato
,
Moeki Ayato
,
Shiina Aoi
,
Kajou Aria
,
Seo Mitsuki
,
Otoki Sunao
,
Suzushiro Marina
,
Amano Hotaru
,
Touka Yurino
,
Seijou Kaito
,
Shimizu Kyouka
,
Ayahashi Miyu
WARNING!! MAY CONTAIN SPOILERS!!
AT THE END OF A LONG SPRING
Based Upon The Film "DIS-MOI-OUI" by Alexandre Arcady
After graduating at the top of his class from medical school, Stephane became an exellent brain surgeon. He had been expected to be a leader in Parisian medical society in the days to come. But one day, while performing an operation, he loses a patient who was a promising actress. Since then, he has been unable to care for the living and has worked as a medical examiner exclusively dealing with the dead. He's lost his goal in life and under the influence of Brice, a bad companion, has fallen prey to alcohol and gambling. And yet, despite his immoral life, he longs for someone to come and change him from the bottom of his heart.
He comes home late from a nightclub just like other nights and finds a young girl sitting at the foot of the spiral staircase of his appartment. She says she had got lost during her school trip and plans to spend the night at a station. Stephane feels obliged to put her up for the night. When he wakes up the next morning, the young girl, named Eva, is playing a beautiful melody on the piano. Stephane enjoys an unusually happy morning until Eva, who shows no intention of going back home, hints at being ill-treated by her stepmother. Quite at loss with her revelation, Stephane talks about Eva to Florence, a lawyer and his girlfriend, asking for her advice. Eva suddenly flares up in anger and runs away.
A few days later, Stephane is shown an X-ray photograph by his father, who is the head of a hospital. Stephane identifies a badly located vascular tumor of the brain and concludes that its removal, even if successful, could result in defects of memory or loss of eyesight. A photo reveals the patient's identity---Eva! Stephane is filled with consternation. He believes Eva's frail life may bring in him the change that alcohol and gamble so far cannot. He asks his father to give him charge of her treatment. Stephane father entrusts Stephane's former lover Nathalie, a psychiatrist, to counsel Eva. Nathalie finds out that Eva's story of running away from home and ill treatments are totally fake, and she therefore supposes that Eva is trying to substitute Stephane for her late father. Sensing that Nathalie is still in love with Stephane, Eva sees Nathalie as a rival and refuses her counseling.
One day, when still a little child, Eva lost a shoe. Stephane, an intern at the time, helped her to put it back on. Eva felt she had met a prince and kept him in her heart. Stephane, who knows about Eva's feelings, realizes he no longer needs alcohol or to gamble since he met her. But Eva's ailment worsens, making the operation unavoidable. Stephane decides to perform a revolutionary operation designed by Arnaud, a fellow doctor. He visits Arnaud to ask for his cooperation, but Arnaud hesitates as the operation invilves heavy risks.
Stephane has a rival named Claude. One day, Jean, a journalist, accuses Claude of making medical mistakes and accepting bribes from the medical equipment industry. Claude did not have the easy life that Stephane enjoyed as a youth. Born in a poor family, he struggled to make his way to reach his present position. He lost his sick mother at an early age because his family could not afford an operation. This painful experience has made him a heartless man ready to sacrifice the life of a patient if his career is at stake. Dead men tell no tales. Confronted by Jean's accusations, he suddenly collapses while trying to reach some monetary agreement with the journalist. Stephane rushes to the hospital to see him. On the verge of death, Claude hands him his medical file, sincerely hoping it can be of help in Eva's operation. As a matter of fact, Claude suffers from a vascular tumor similar to Eva's. He goes so far as to offer his body for an autopsy, telling Stephane to perform a post-mortem on him. If Eva survives, he believes his spirit will go on. He dies four days later.
Eva is making arrangements for a dinner with Stephane when Florence suddenly knocks on the door. Eva has sent her a note in Stephan's name saying "I want to meet you at 8 tonight." The young girl has decided that she cannot match Nathalie or Florence. The dinner is her present to Stephane, her way to thank him. She hides in the next room to keep out of Florence's sight and watches Stephane and Florence have dinner. Although taken by surprise, Stephane manages to entertain Florence. But a small incident betrays Eva's presence to Florence who gets angry and leaves. Eva is upset because she didn't intend for things to turn out that way, but Stephane reassures her that he isn't angry and gives her a present of one of his necklaces from Africa for good luck. He promises to cure her. Very soon Eva's illness worsens. In the meantime, Florence has broken up with Stephane and flown to Brice, who has been in love with her secretly for a long time.
Nathalie at last has freed herself from her past with Stephane. She visits Arbaud, who has been thinking of her for a long time, and tells him she accepts his love. Upon hearing her confession, Arnaud decides to cooperate in Eva's operation.
The date of Eva's operation has come close. Eva is afreaid that the operation will cause her to lose her memories of Stephane, but she allows him to reassure her, sicne he is her "favorite person in the world". Stephane kisses Eva's brow, she points to her lips and tells him "You'll kiss me here when I'm grown up." Stephane nods with a smile and sees her to the operating room. He has regained his self confidence and pledged himself to save her.
The operation is a success. However, Stephane does not wait for Eva to wake up, and he leaves town. She probably will not remember him, and she is too young. He is gone from her life as suddenly as she appeared in his --
Six years later, Stephane, who opened a dispensary in a remote village, is in Spain at a medical conference. Suddenly all of his former acquiantances show up. They ask him if he saw in the paper that Eva, who is now a famous pianist, is giving a recital in town and will be at his hotel soon. Nathalie gives him a bouquet to give to the young woman, but he protests that she won't remember him. Indeed, when he gives her the bouquet she seems to not know him, despite wearing the necklace he gave her all those years ago. Stephane leaves in despair. As he reaches his hotel he hears a well-loved piano melody and sees a shoe lying on the stairs leading up to the second floor lounge. Eva is playing Cinderella again, but now she has grown into a beautiful young woman.
At the end of a long spring they exchange the promised kiss, the first of new memories they will create together.
---
A Musical Revue
WITH A SONG IN MY HEART
- Your Song Deep In My Heart -
"This Musical Show is presented through special arrangement with Toho Music Corporation on behalf of The Rodgers & Hammerstein Theatre Library of New York City."
A light, cheerful and powerful prelude begins. The curtain rises but there is no one on the stage. When a spotlight beam lights up a piano, it automatically starts playing. A man in tailcoat appears and dances around the piano. Gentlemen and gentlewomen come in and dance to With a Song in my Heart (from Spring is Here). The dance continues with the enhancing music. They all sing in chorus.
Gentleman of the Opening S 1
Shibuki Jun
Gentlewoman of the Opening S 1
Emi Kurara
Gentleman of the Opening S 2
Shiokaze Kou
Gentleman of the Opening S 3
Kozuki Wataru
Act 3 : Prologue-3 (I'm 100, together we're 200)
A swinging music is heard. A graceful old couple comes out. She sings I'm 100th in parodying I'm 16th going to 17th (from The Sound of Music). Several couples of vigorous old gentlemen and gentlewomen join them to sing and dance together.
Big Mama (Emma)
Kiriya Hiromu
Big Papa (Ed)
Yamato Yuuga
The remake of Hideo Yokozawa's Happy Tomorrow unfolds. The scene is laid between the 1910's and the 1920's, i.e., during Mr. Rodgers' boyhood.
When the stage lights up with a lilting ragtime-like music, New York's downtown shows up. Dick and his four playmates are playing hide-and-seek. Dick is "it", so he is blindfolded. He takes away the blindfold on the way and comes across Natalie. He follows her in spite of himself.
Dick
Shibuki Jun
Cole
Shiokaze Kou
Jeff
Kozuki Wataru
Chapter 3 : Memorable 40th
The atmosphere undergoes a change and a jazzy prelude sounds. Young men in costumes reminiscent of the 1940's and 1950's sing Blue Moon on the front bridge.
The Moons (solo)
Kiriya Hiromu
A man sings Manhattan (from Winkle Town).
Singer of Manhattan
Shibuki Jun
From a club in Manhattan, New York. The prelude sounds in the style of big band. The stage is literally fantastic with a big moon and skyscrapers. Many gentlemen and gentlewomen dance to an arrangement of Lover (from Love me tonight). Some couples make to dance to Blue Moon. All of them finish by splendidly singing in chorus.
Singer of Nostalgia
Kozuki Wataru
Act 10 : Memorable 40th-4
Blue Moon-Dancing Gentleman
Shibuki Jun
Blue Moon-Dancing Gentlewoman
Emi Kurara
Act 11 : Memorable 40th-5
Blue Moon-Dancing Gentleman
Shibuki Jun
Singer of Nostalgia A
Kozuki Wataru
Chapter 4 : Orient Fantasy

Act 12-14 : Orient Fantasy-1-3
A powerful prelude remindful of South Pacific, which represents the aspiration of Americans for the Orient, sounds out. Under a green arch, princesses of the South in beautiful ethnic costumes gaily sing and dance. When the music changes, marine officers turn up dashingly.
Princess (Ayutthaya)
Emi Kurara
A star playing a male part crosses the front bridge singing Sweetest Sound (from No Strings).
Singing Young Man
Shiokaze Kou
Act 16,17 : China Doll-1,2
China Doll
Shibuki Jun
China Mafia
Kozuki Wataru
China Doll
Shibuki Jun
China Guy A
Shiokaze Kou
China Guy (singer)
Kozuki Wataru
Chapter 6 : Climb Ev'ry Mountain

Act 18 : Climb Ev'ry Mountain-1
A cute and warm prelude flows out. Girl-S gently sings Edelweiss (from The Sound of Music)for the children.
Singing Girl S
Emi Kurara
Act 19 : Climb Ev'ry Mountain-2
When the curtain rises following the beautiful prelude, a singer starts singing Climb Ev'ry
Mountain (from The Sound of Music) at the center of the stage.
Singinig Girl S
Emi Kurara
Act 20 : Climb Ev'ry Mountain-3
People join the singer to sing in chorus. At each side of the stage, there is a screen on to which pictures of children laughing from around the world are projected one after another. The integrity of Richard Rodgers' music and the images of innocent children to build the future intermingle and create an impressive moment.
Singing boy S
Shibuki Jun
Singing girl S
Emi Kurara
Act 21,22 : Chorus Line-1,2
A young man who looks like an actor of westerns sings OKLAHOMA (from Oklahoma).
Man of Western
Shiomi Maho
/
Oozora Yuuhi
The grand finale consists of Richard Rodgers' musical gems in medley.
Etoile
Kajou Aria
Gentleman of Finale S 1
Shibuki Jun
Gentlewoman of Finale S 1
Emi Kurara
Gentleman of Finale S 2
Shiokaze Kou
Gentleman of Finale S 3
Kozuki Wataru
Any other interesting or important stuff.
None yet.
| | | | |
| --- | --- | --- | --- |
| Poster | DVD | VHS | CD |
| None Yet | None Yet | None Yet | None Yet |