A Sad Goodbye in the Thames Fog / C'est Magnifique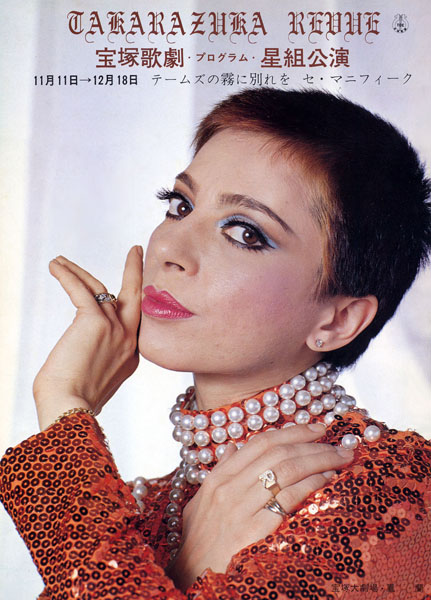 English Title:
A Sad Goodbye in the Thames Fog / C'est Magnifique
Japanese Title:
テームズの霧に別れを / セ・マニフィーク
Romanized Title:
Teemuzu no kiri ni wakare o / Se Manifiiku
Troupe:
Star
Year:
1977-78
Performances:
Takarazuka, 11/11 - 12/18 1977; Tokyo, 3/1 - 3/28 1978
Shinjin Kouen Performances:
Grand Theater, 11/25 & 12/09; Tokyo Theater, 3/12 & 3/19
A Sad Goodbye in the Thames Fog
:
Author:
Shibata Yukihiro
Director:
Shibata Yukihiro
Music:
Terada Takio
,
Irie Kaoru
,
Hirao Masaaki
Choreography:
Kita Hiroshi
,
Oka Masami
Conductor (Takarazuka):
Conductor (Tokyo):
Shijin Kouen Director:
C'est Magnifique
:
Author:
Sakai Sumio
Director:
Sakai Sumio
Music:
Terada Takio
,
Nakamoto Kiyozumi
,
Kawasaki Tsuneo
,
Nakagawa Akira
,
Tsutsui Hiroshi
Choreography:
Kita Hiroshi
,
Tsukasa Konomi
,
Agata Youji
,
Shuri Misao
Conductor (Takarazuka):
Conductor (Tokyo):
Other Cast:
Konohana Sakuya
,
Ashita Michiko
,
Chiga Teruko
,
Ritsu Tomomi
,
Hoshina Sawako
,
Wakazuki Kaoru
,
Uzuki Chika
,
Kiryuu Noboru
,
Byakudou Reina
,
Mikami Miyuri
,
Taki Azusa
,
Moegi Natsu
,
Sawana Moe
,
Haruka Kurara
,
Koujou Hiromi
,
Akechi Kiho
,
Mika Chieri
,
Tachibana Mariko
,
Koshi Fujiko
,
Sujaku Kaoru
,
Hoshizuki Misa
,
Rika Manami
,
Aida Machi
,
Houjou Sayuri
,
Fubuki Hitomi
,
Ayaha Romi
,
Akeho Memi
,
Shio Mitsuru
,
Haruno Mirika
,
Tomo Chifuyu
,
Natsumi You
,
Mizushima Sonoo
,
Wakana Kumi
,
Ebara Mikoto
,
Hanasaki Kaori
Grand Theater only:
Nachi Masaru
WARNING!! MAY CONTAIN SPOILERS!!
A Sad Goodbye in the Thames Fog
The scene is set in the 1680s, and Britain is engaged in a colonial struggle with Spain and France. Every day skirmishes and crises are breaking out in the West Indies and the Caribbean. The British Government is having great difficulty in solving all these problems, and although Britain is relying on her naval power which she has had since Viking days, no concrete solution has yet been found. But Britain has one last trump card, in the shape of Robert Clementine, whose powers of leadership are beyond doubt, but who has something of a reputation in his private life.
One evening in a Court Salon, a party is being held for Princess Anne, who has just arrived back in Eng!and from her travels in Vienna. All the young noblemen's hearts are beating fast as they wonder who will capture the beautiful young princess's affections. While they are talking about this, Robert Clementine makes a wager with Prince George of Denmark as to who will win her hand.
When the party is over Robert goes up to the Princess and invites her to go for a ride with him, but the Princess refuses, and pointedly invites Prince George to go riding with her. Robert, seeing this, assumes a supremely confident expression.
While these three are playing love-games, two strange people are standing and talking. One of them is Henry McBright, a government official, and the other is Lady Catherine Harley, Princess Anne's governess. The two are spies who have been sent by the French Government to gather information about the British Navy.
Robert tries harder and harder to win Princess Anne's heart, and meanwhile the situation between Britain and France gets worse and worse. Each government is secretly using pirates to further their ends, without openly declaring war. As Britain cannot fight the French openly, the government decides to use Robert as its trump card. The plan is that Robert is sent to Jamaica as the chief of the pirates.
Robert leads everyone to believe that he is bound for Plymouth, whereas in fact he is off to Jamaica. When he arrives in Jamaica he assumes the name Captain Black, and serves as second-in-command under the ex-pirate Henry Morgan. Living up to the British Government's expectations, he wins a great victory over the French fleet and returns home triumphant to England. When he left for Jamaica, he caused certain problems; Anne, realizing she would not see Robert again, was heartbroken — though she could not understand the reason why; also Catherine and Henry, who were suspicious about Robert's destination, started to snoop around. Just at this time a formal request came from the King of Denmark for his son Prince George to marry Princess Anne. But Princess Anne, unable to forget Robert, could not make up her mind.
Anne, hearing the news that Robert has returned to England, sends one of her ladies-in-waiting to tell Robert that she wants to see him.
At last the two meet in the gardens of Ihe King's Palace. Princess Anne tries to keep her feelings to herself, but in the end she cannot bear it any longer and she confesses her love for Robert to him. At last the barrier that has been separating them is swept away, and they fall in love. In contrast with their sweet love-affair, relations between Britain and France are teetering on the brink of total war. The British Government, seeing that a big sea battle with France is imminent, builds a fleet of pirate ships and makes Robert its admiral. The Government has high hopes that Robert, as admiral, will win a victory for Britain. However this means that Robert in fact becomes a pirate chief.
Robert, although he realizes that at last he is really in love, also realizes that without his aid the country will be in mortal danger. He gives up Anne and does his duty.
One stormy day, Robert tells Anne a pack of lies that he does not ever want to tell her, and says goodbye.
A few days later, just before he sets sail, Robert is drinking whiskey in a coffee house, when Anne comes in, hiding her face in her cloak, wishing to find out whether what Robert has told her is true or false. Robert, seeing the steadfast, serious look in Anne's eye, tells her the truth, and explains that he only lied to her so that he could do his duty, and that he planned to pray for her happiness from far away.
Robert, with sure evidence of their love remaining in his heart, boards his ship and sets sail.
---
C'est Magnifique
Strange, haunting music can be heard as dusk falls. The moon comes out, mysterious clouds float across the sky, and ghostly fireballs fly about. Then two demons appear. This is the beginning of a wonderful evening for the demons, as they are having a party tonight.
Dancer ~
Tajima Kumi
When all the demons, clad in cloaks, have gathered together, the Prince of Darkness appears. Then the whole stage turns into a large staircase, and the Prince of Darkness begins to sing: "I pray to the moon to grant you a fabulous evening now, and happiness always". All the demons form a parade.
Singers ~
Ootori Ran
,
Tamazusa Maki
,
Haruka Kurara
Suddenly a police whistle is heard, and some policemen run across the stage. A man, in fact a master burglar, sings a song as he walks across the stage.
A young gentleman (the burglar) appears, meets a girl, and as they start dancing together, the lights suddenly go out, and everybody starts shouting at once. The girl has fainted, and the gentleman has disappeared. The detective sets off in hot pursuit, with everyone following.
Burglar ~
Ootori Ran
Detective ~
Kamijou Akira
Female burglar ~
Haruka Kurara
It is evening and there is a beautiful red moon. A young man stands gazing at the red crescent moon, longing for some dream to come true. A number of girls and boys appear, all dancing together. There is a specially beautiful girl dancing among all the other girls, and the two start to dance together. Then everyone starts to dance violently and crazily. As time passes, the tide goes out and everyone disappears, leaving the young man alone again. "Was all that a dream? Or was it real?"
The red man ~
Tajima Kumi
The red woman ~
Daigo Katsura
There is a yellow moon shining on the rooftops of Paris, and a stray cat is singing, "Cats have a much better life than humans."
Stray Cat ~
Ootori Ran
Scenes 8-12. Silver Moon.
Guided by a stray cat, we visit the wonderful world of the Cats' Revue, where there are many fabulous acts, such as the cats' "Chanson de Paris" and the cats' "Folies".
Singer ~
Mine Saori
,
Kamijou Akira
,
Kazami Kei
,
Kiryuu Noboru
Dancer ~
Tajima Kumi
Singer ~
Ootori Ran
Lovers ~
Ritsu Tomomi
,
Tsukishiro Chiharu
)
Singer ~
Tajima Kumi
,
Tamazusa Maki
Singer ~
Ootori Ran
Etoile ~
Tamazusa Maki
Scenes 13-14. Black Moon.
The whole chorus sings.
A modern ballet dance is performed by the phantom of Salome from the world of "L'Art Nouveau". Salome, in a veil, starts to dance in the moonlight.
Chorus A ~
Shiki Izumi
Salome ~
Ootori Ran
Young man ~
Ritsu Tomomi
Scenes 15-18. Golden Moon.
In front of the lattice, 6 men and women dance rock. The stage is covered with black flame.
Dancer ~
Tajima Kumi
,
Tamazusa Maki
Everyone dances the Can-Can on the large staircase. A young man sings a song. All join the final parade.
Dancer A ~
Tajima Kumi
Singer ~
Ootori Ran
Any other interesting or important stuff.
| | | | |
| --- | --- | --- | --- |
| Poster | DVD | VHS | CD |
| None Yet | None Yet | None Yet | None Yet |