'Allo, 'Allo, Camelot?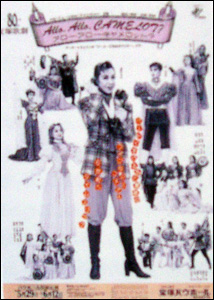 Picture Credit: caithion
English Title:
'Allo, 'Allo, CAMELOT?
Japanese Title:
アロー・アロー・キャメロット?
Romanized Title:
Aroo Aroo Kyamerotto?
Troupe:
Flower
Year:
1994
Performances:
Bow Hall, 5/29 - 6/6
Based On:
Mark Twain's "A Connecticut Yankee in King Arthur's Court"
Author/Director:
Oota Tetsunori
Music:
Yoshizaki Kenji
Choreography:
Akiko Kanda
Available on DVD:
No
Role
Cast
Hank Morgan (A Connecticut Yankee)
Kaikyou Hiroki
Sandy (a fairy pixie. a ladies' attendant who is a "captured beauty")
Nagisa Aki
Sir Launcelot (a fairy sprigan. knight of the lake.)
Takumi Hibiki
Merlin (a fairy urisk. the magician who is King Arthur's advisor)
Misa Noeru
King Arthur (a fairy muryan. king of Britain)
Amachi Hikari
Morgan le Fay (a fairy silkie. Arthur's half-sister)
Chiga Teruko
Rowena (a fairy cailleach. Morgan's sister)
Kokonoe Haruka
Queen Peles (a fairy banshee. Elaine's mother)
Machikaze Kana
Princess Elaine (a fairy buggane)
Sachimi Anna
Mordred (a fairy bargest. Morgan's nephew)
Asazono Miki
Clarence (a fairy capelthwaite)
Shiki Kaoru
Guinevere (a fairy duergar. King Arthur's wife)
Ayana Mai
Other Cast:
Hama Shioka
,
Shiraho Mari
,
Kazato Yuma
,
Sagami Rei
,
Otoki Mika
,
Sakuragi Emi
,
Nanase Kai
,
Yuuka Eri
,
Otowa Ryou
,
Sena Jun
,
Mao Natsuki
,
Utahana Yumi
,
Mizuhono Seika
,
Chihiro Reika
,
Eri Chiaki
,
Kikuho Rina
,
Asahina Kei
Summary Information here.
Any other interesting or important stuff.
None yet.
| | | | |
| --- | --- | --- | --- |
| Poster | DVD | VHS | CD |
| None Yet | None Yet | None Yet | None Yet |