The Last Snow of Spring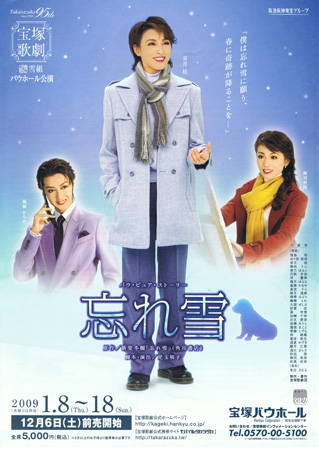 Picture Credit: Zephy
English Title:
The Last Snow of Spring
Japanese Title:
忘れ雪
Romanized Title:
Wasureyuki
Troupe:
Snow
Year:
2009
Performances:
Takarazuka Bow Hall, 1/8 - 1/18 ; Nippon Seinenkan Hall, 1/23 - 1/29
Based On:
Wasureyuki
by Shindou Fuyuki
Author:
Kodama Akiko
Director:
Kodama Akiko
Composer:
Tama Shouichi
Choreographer:
AYAKO
,
KATO
Conductor (Takarazuka):
Conductor (Tokyo):
Available on DVD:
Yes (
release date 7/27/2012
)
Others:
Maisaki Rin
,
Kaho Anna
,
Jin Reika
,
Hozuki Haruna
,
Mariki Towa
,
Saika Ryou
,
Satsuki Aina
,
Suzuse Miuto
,
Azusa Haruki
,
Touma Kazuki
,
Hinazuki Otoha
,
Toumi Sarasa
,
Ayanagi Shou
WARNING!! MAY CONTAIN SPOILERS!!
When Miyuki unexpectedly comes across a dying puppy, she trusts the words her grandmother taught her — "When you make a wish upon the
wasureyuki
(the last snow of spring), it will definitely come true" — and she prays for the puppy's recovery. Sakuragi, who is studying to be a veterinarian, passes by and heals it. These two who were drawn together by a mysterious power, are immediately attracted to each other. When the time comes for them to say goodbye at Miyuki's house, they promise to meet again in seven years' time, in the same place. And the two do accomplish the reunion that they spoke of so inevitably. However, when the memories of their younger days return to the space between them, Miyuki disappears. This is a fleeting, pure love story of the two who loved each other, and yet passed by each other...
None yet.
| | | | |
| --- | --- | --- | --- |
| Poster | DVD | VHS | CD |
| None Yet | None Yet | None Yet | None Yet |