Tsuki no Hokage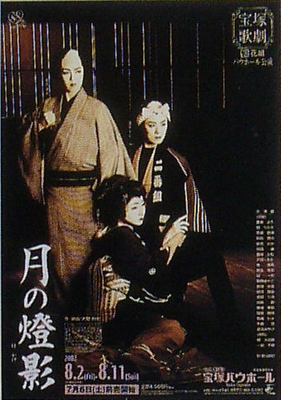 Picture Credit: Caithion
English Title:
Shadow of the Moon
Japanese Title:
月の燈影
Romanized Title:
Tsuki no Hokage
Troupe:
2002
Year:
Flower
Performances:
Bow Hall, 8/2 - 8/11; Nippon Seinenkan Hall, 8/16 - 8/22
Based On:
Author/Director:
Oono Takuji
Composer:
Takahashi Kuni
,
Kikawada Shin
Choreographer:
Yamamura Waka
,
Nishizaki Mine
Available on DVD:
VHS & DVD (release date 04/23/2010)
DVD Scene/Music Cuts:
None
WARNING!! MAY CONTAIN SPOILERS!!
"The late Edo era. A tale of a new, dangerous area & those washed up on the wrong side of the river, that draws on the pathos and beauty of the world of Edo."
On the Eastern bank of the Sumida River in old Edo, a new neighborhood known as Ookawa is forming. In this area, the hand of the law rarely reaches, and it has become a pleasure district full of whorehouses and gambling dens. It has also become a refuge for those not welcome on the western bank, in Edo.
Jiroukichi, a firefighter, goes with Uemon, his chief, to collect the debts at a gambling den, in order to help the younger sister of one of his fellow firefighters. When he crosses the river, he is attacked by a group of ruffians, and is surprised to be rescued by a gambler known as one of the gang, "Toori-mono."
Even more surprisingly, he thinks he recognizes the "Toori-mono." He believes it is none other than his childhood friend Sachizou, who also joined the firefighters, but then mysteriously vanished one day. Ignoring the advice of Uemon, Jiroukichi searches for his old friend in the dangerous world across the river...
This chance meeting also sets in motion Jiroukichi's meeting with the geisha known as Kinoji.
None yet.
| | | | |
| --- | --- | --- | --- |
| Poster | DVD | VHS | CD |
| None Yet | None Yet | None Yet | None Yet |