The Story Of a Sword, Love, and a Rainbow / Jubilation!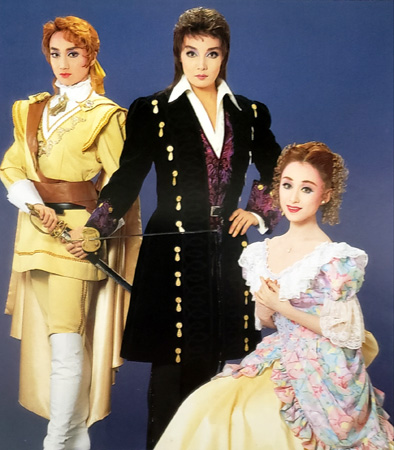 Picture Credit: Caithion
English Title:
The Story Of a Sword, Love, and a Rainbow / Jubilation!
Japanese Title:
剣と恋と虹と / ジュビレーション!
Romanized Title:
Ken to Koi to Niji to / Jubireeshon!
Troupe:
Star
Year:
1995-96
Performances:
Takarazuka Grand Theater, 9/29 - 11/6; Tokyo Takarazuka Theater, 3/4 - 3/31
The Story Of a Sword, Love, and a Rainbow :
Based On:
the play
Cyrano de Bergerac
by Edmond Rostand
Author/Director:
Oota Tetsunori
Composer:
Yoshizaki Kenji
Choreographer:
Akiko Kanda
Conductor (Takarazuka):
Conductor (Tokyo):
Shinjin Kouen Director:
Oota Tetsunori
Jubilation:
Author/Director:
Ishida Masaya
Composer:
Nishimura Kouji
,
Minami Yasuo
,
Bob Sakuma
,
Oomachi Tatsuto
Choreographer:
Ai Erina
,
Sekine Reiko
,
Ozawa Natsuko
Available on DVD:
VHS only
Other Cast:
Matsubara Midori
,
Sagikusa Kaoru
,
Maiji Haruka
,
Hara Miteki
,
Hibiya Megumi
,
Tsuzushiro Ai
,
Hanasaki Rika
,
Mizuhara Madoka
,
Natsukaze Rio
,
Shiran Masumi
,
Ayase Saki
,
Asazumi Kei
,
Kazu Yuuto
,
Matobu Sei
,
Yukiji Kaho
,
Yume Daiki
,
Hatsuki Kanade
,
Tsubaki Hiroka
,
Azusa Marin
,
Maihana Kyou
,
Masumi Urara
,
Yuuki Mayu
,
Ayame Hikaru
,
Yumesaki Minori
,
Asazora Riho
,
Miki Chigusa
,
Aimi Rise
,
Kuon Maya
,
Minase Ao
,
Kaihou Tamaki
,
Ayasaki Narumi
,
Tatsu Tsukasa
,
Hodaka Yuu
,
Tsukasa Yuuki
,
Kazaki Maya
,
Riri Seira
,
Fubuki Ayu
,
Machi Arisa
,
Hanasaki Rika
,
Kajika Kumi
,
Yoshino Kyouka
,
Hisato Rie
WARNING!! MAY CONTAIN SPOILERS!!
The Story Of a Sword, Love, and a Rainbow
Based on Edmond Rostand's Cyrano de Bergerac, with a few key differences.
The story opens on an argument, as the Comte Clavier accuses our hero Edmond of having taken something of his. Edmond protests that the comte is mistaken, and is drawn unwillingly into a fight when the comte draws his sword. During the scuffle, he accidentally kills the comte.
A few days later, he meets Christine when he saves her from some ruffians in an inn. He falls in love with her at first glance. But he learns she is traveling to Paris to consult with her older brother Philippe, after the death of her father by an unknown assailant. Her father, he realizes, is the Comte Clavier. It is a horrifying moment for Edmond, because although he loves Christine, he knows he can never woo the daughter of a man he has killed.
As the story continues, Christine and Edmond meet again in Paris, and Christine confides to Edmond that she feels he is like a second older brother to her. Trapped, Edmond agrees she is like a sister to him as well. She admits to Edmond that she likes the young Baron Gerard. Gerard, of course, is madly in love with Christine, but he's young and brains are not his strong point. Edmond realizes that he can use Gerard as a means of conveying his feelings to Christine; he writes her love letters, and then Gerard signs them and passes them on as his own.
Things progress, and Gerard goes to Christine's house one night to confess his feelings in person. He refuses to take Edmond's advice this time, all set to confess in his own words. What follows is a million "I love you"s, and Christine, bored, leaves him to go to bed. Gerard is crushed, and begs Edmond to help him. Edmond does, lending him words, and then taking his place in the dark as he speaks eloquently to Christine up on her balcony. Before things can go much further, Gerard and Edmond's senior officer de Guiche (a bit of a buffoon, and spiteful) arrives. Edmond distracts him, but in the process, learns that the cadets are setting out in the morning to fight the Spanish.
The cadets are faced with deteriorating conditions. De Guiche arrives, bringing with him Philippe. A glove was found which identified Edmond as the murderer of his father, and Philippe has come to accuse him. However, when he tries to start a duel, Edmond refuses. Suddenly, the Spanish attack, and Philippe is killed. Edmond and Gerard both realize that they might never see Christine again. Edmond gives Gerard one final letter to give to Christine. Gerard realizes that Edmond, too, loves Christine. Suddenly, surprisingly!, Christine and her ladies arrive, bringing food. She tells Gerard (in Edmond's hearing) that she loves his poetic soul, the soul that could write her such beautiful letters. After she leaves, Gerard tells Edmond that obviously Christine loves him, but Edmond won't listen and insists that Christine loves Gerard. Gerard declares that he will tell Christine the truth, when suddenly the enemy attack again. Gerard is killed in the confusion as he tries to get Christine to safety. She finds his final letter, and takes it. She collapses, crying hysterically. De Guiche and his men take her from the field, while Edmond and the cadets take what they believe to be their final stand. Edmond gives one of Christine's ladies a letter for her to read if he dies...
Five years later, Christine receives weekly visits from her only, her dear friend Edmond. De Guiche has finally realized the impossibility of his suit. This is Saturday, the day Edmond should come, but he is late. Christine's former lady arrives, and gives her the letter Edmond gave her long, long ago. She asks her to understand Edmond. The letter is a simple and heart-felt confession about the death of Christine's father and brother. Meanwhile, Edmond's friends are in uproar. He has taken a bad blow to the head, and should be in bed, but he has vanished. Not knowing this, Christine is not surprised when Edmond arrives as per usual. He walks stiffly, and his speech is halting — he says an old wound is paining him. They talk for a while, and then Edmond asks to read the last love letter that Gerard wrote. Christine gives it to him, and he begins reading it aloud. But the light is fading and he continues to recite it from memory. Christine realizes that it was Edmond, after all, who wrote all of those letters, and Edmond who spoke to her that night from under her balcony.
Just then, Edmond's friends reappear, and Edmond's wound is revealed to Christine. Edmond gives her his weekly status report: "This week's news — October 26th, Saturday. Edmond de Blagnac is murdered." He collapses into her arms, rises to hallucinate his duel with death, and falls again, this time to die.
---
Jubilation!
Prologue Man S2:
Minoru Kou
Prologue Man S1:
Asaji Saki
Prologue Woman S:
Shiraki Ayaka
Prologue Man:
Maori Yuki
Prologue Woman:
Marisa Hitomi
,
Ryou Akino
Scenes 4~6 Antarctic Illusion
Polar Explorer Member A:
Minoru Kou
Boat Captain:
Chiaki Shin
Spirit of the Aurora:
Shiraki Ayaka
Gambler S:
Asaji Saki
Lady Dealers:
Tomo Maika
,
Kujou Akira
Lady Gambler:
Tsukikage Hitomi
Gentleman S (singer):
Minoru Kou
Young Men S:
Kanda Tomo
,
Kozuki Wataru
Young Lady S:
Tsukikage Hitomi
Singer:
Maori Yuki
Dancer (man):
Senju Hikaru
,
Ema Naoki
Dancer (women):
Mari Yuzumi
,
Tomo Maika
Lady (singer):
Shiraki Ayaka
Singer:
Emao Yuu
Girls A:
Marisa Hitomi
,
Ryou Akino
Singing Gentleman:
Minoru Kou
Singers (men):
Maori Yuki
,
Emao Yuu
Young Men S:
Kanda Tomo
,
Kozuki Wataru
Young Lady S:
Tsukikage Hitomi
Dancing Gentleman:
Senju Hikaru
Dancing Lady:
Nozomi Kei
Dandies:
Asaji Saki
,
Minoru Kou
Miss Dandy:
Shiraki Ayaka
Kid 1:
Maori Yuki
Kid 2:
Emao Yuu
Combat A:
Maori Yuki
Detective A:
Emao Yuu
Announcer:
Natsumi You
Lucy:
Izumo Aya
Neko:
Mari Yuzumi
Father:
Minoru Kou
Mother:
Tsukikage Hitomi
Kid 1:
Maori Yuki
Kid 2:
Emao Yuu
Jewelry Man S:
Asaji Saki
Jewelry Woman S:
Shiraki Ayaka
Etoile:
Izumo Aya
Review by Ekusudei
| | | | |
| --- | --- | --- | --- |
| Poster | DVD | VHS | CD |
| | None Yet | | |