The Spirit of the Samurai / Super Voyager!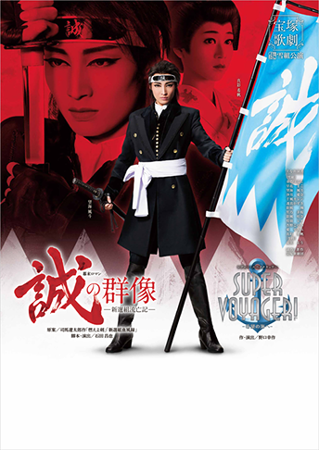 Picture Credit: coeuraubonheur | Official Chirashi
English Title:
The Spirit of the Samurai -Chronicles of Shinsengumi Wandering- / Super Voyager! -To the Seas of Hope-
Japanese Title:
誠の群像 -新選組流亡記- / SUPER VOYAGER! -希望の海へ-
Romanized Title:
Makoto no Gunzou -Shinsengumi Metsuboushou- / SUPER VOYAGER! -Kibou no Umi e-
Troupe:
Snow
Year:
2018
Performances:
National Tour, 03/23 - 04/15
The Spirit of the Samurai:
Based On:
Historical events of the Shinsengumi
Author/Director:
Ishida Masaya
Music:
Nishimura Kouji
Choreography:
Hanayagi Yoshijirou
,
Ai Erina
Super Voyager!:
Author/Director:
Noguchi Kousaku
Music:
Aoki Tomoko
,
Teshima Kyouko
Choreography:
Hayama Kiyomi
,
Masaki Rino
,
ANJU
,
ASUKA-TAKAHASHI
,
Mitsui Satoshi
Available on DVD:
Yes (
release date 06/21/18
)
Available on Blu-Ray:
No
DVD Scene/Music Cuts:
Yes
From "Super Voyager!":
Scene 9: "Ai no Makugire (La Rupture)" (Chikaze Karen) - music replaced
Scene 20: "Diamonds Are a Girl's Best Friend" (Maaya Kiho) - music replaced
Scene 24: "La Mer" (Himehana Yukino) - re-recorded with original lyrics
Other Cast:
Karen Emiri
,
Mika Monami
,
Arisu Himeka
,
Ichika Ao
,
Jun Hana
,
Mareha Rinto
,
Amasaki Rea
,
Soumi Haruma
,
Seimi Yuu
,
Rina Kurumi
WARNING!! MAY CONTAIN SPOILERS!!
The Spirit of the Samurai
This show follows the end of the Shinsengumi, as they are broken apart both from without and from within. In this Takarazuka version, Hijikata is portrayed as "the last true samurai" — a man who will stick with his ideals, no matter the cost to himself. He sees any man who fails to uphold his oaths as a rebel and a traitor. Thus he forces Serizawa to commit seppuku when the man looses himself too much to drinking and women.
We watch as the Shinsengumi lose popularity in Kyoto because of their behavior. Although Hijikata doesn't let it show, he feels the nickname of "demon" deeply. Yamanami, meanwhile, does not like the direction the Shinsengumi have gone and leaves. Hijikata is forced to send Okita after him as a traitor.
The temporary Republic of Ezo crumbles around them, and Hijikata sees no place for himself in the new Meiji government. He resolves to die in battle.
---
SUPER VOYAGER!
The "voyager" theme of SUPER VOYAGER! will celebrate a new Snow Troupe "setting sail."
Beginning with a dynamic prologue featuring the departure of luxury passenger ships, this show will be built around images invoked from the top star's name 「望(HOPE)」「海(OCEAN)」「風(WIND)」「斗(BIG DIPPER)」 that overflow with hope for the future. New scenes will be added for the national tour.
Please look forward to the ultimate form of entertainment that combines the otokoyaku aesthetics of Nozomi Fuuto and the charm of the new Snow Troupe.
Tour Schedule

Dates

Location

03/23 - 03/25
Umeda Arts Theater Main Hall (Osaka)
03/28
Rexxam Hall (Kagawa)
03/30 - 04/01
Sagami Women's University Green Hall (Kanagawa)
04/03
Niigata Prefectural Civic Center (Niigata)
04/04
Joetsu Cultural Center (Niigata)
04/05
Ueda City Santo Myuze Culture and Arts Center (Nagano)
04/07 - 04/08
IZUMITY 21 (Miyagi)
04/10
Tsuruoka City Cultural Center (Yamagata)
04/12
Kitakami Sakura Hall (Iwate)
04/14 - 04/15
Nitori Culture Hall (Hokkaido)
None yet.
| | | | |
| --- | --- | --- | --- |
| Poster | DVD | VHS | CD |
| None Yet | None Yet | None Yet | None Yet |