The End of Roaming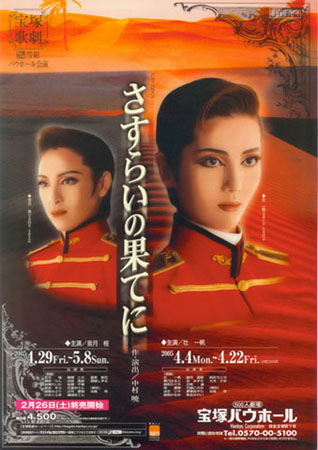 Picture Credit: Olivia
English Title:
The End of Roaming
Japanese Title:
さすらいの果てに
Romanized Title:
Sasurai no Hate ni
Troupe:
Snow
Year:
2005
Performances:
Bow Hall, 4/4 - 5/8
Based On:
Author/Director:
Nakamura Satoru
Composer:
Nishimura Kouji
,
Kuratomi Shinichi
Choreographer:
Hirasawa Satoshi
,
Wakao Risa
Available on DVD:
No
WARNING!! MAY CONTAIN SPOILERS!!
(Based on text on Official Homepage)
1880's England. Jeffrey, a second lieutenant, attends a ball at his parent's home in Brighton. There he is delighted to meet again his childhood friend Eleanor. But, that night, Jeffrey's father Lewis is accused of misappropriating city funds. Lewis says that it must be a mistake, and that the charges will soon be dropped, so Geoffrey returns to his regiment. But, under the stress of the continuing investigation, Lewis dies, and Geoffrey learns of it in a letter from Eleanor. The grief-stricken Geoffrey vows to investigate and restore his father's honor. The key to the mystery is Captain Clayton, and in pursuit of him Jeffrey and his friend Edwin travel to North Africa...
Any other interesting or important stuff.
None yet.
| | | | |
| --- | --- | --- | --- |
| Poster | DVD | VHS | CD |
| None Yet | None Yet | None Yet | None Yet |