Silver Rose Chronicle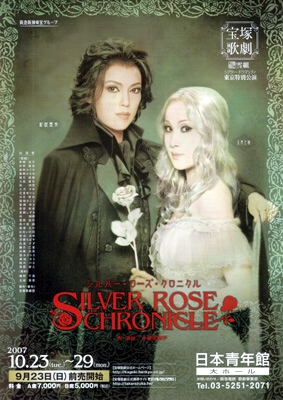 Picture Credit: caithion / promotional flier
English Title:
Silver Rose Chronicle
Japanese Title:
シルバー・ローズ・クロニクル
Romanized Title:
Shirubaa Roozu Kuronikuru
Troupe:
Snow
Year:
2007
Performances:
Theater Drama City, 10/5 - 10/17; Nippon Seinenkan Hall, 10/23 - 10/29
Based On:
Author/Director:
Koyanagi Naoko
Music:
Choreography:
Available on DVD:
Yes (
release date 01/20/08
)
DVD Scene/Music Cut:
None
WARNING!! MAY CONTAIN SPOILERS!!
A romantic tale of a young man who risks and grows up through his love for a female vampire.
The beginning of the 20th century, London. A young poet named Alan Jones has fallen in love with a silver-haired girl named Rose Cream. He turns his poetry into a film that she stars in. However, the girl is actually a vampire, and she is cornered by the vampire hunter, Professor Van Hellsing. She disappears, leaving only a silver rose.
Half a century later, the 1960s, London. Alan's grandson, Elliot Jones, was working for the general affairs section of the major blood product company, "Silver Rose Pharmacy". His parents died when he was young, and he was raised by his grandfather, who has also passed away. Elliot is always happy when he watches his grandfather's movie: "The Silver Rose".
Then one day, a girl named Anabelle moves in next door to him. He is shocked because she and the Rose from the film are as alike as two peas in a pod. Before long the two talk, and Elliot feels that someone understands him for the first time since his grandfather's death. Elliot writes a poem, using Anabelle as his model, and it is published in a love story magazine called "Mystery and Illusion". The poem gains fame, and is turned into the theme song of a movie by a popular musical group. Elliot confesses how he feels to Anabelle, but she only smiles sadly.
One day, Elliot's co-worker Brian calls out to him. Actually, Brian is Van Hellsing's grandson, and Van Hellsing started the Silver Rose Pharmacy company. Through the Secretary of Defense Terry Morton, Brian reveals that Anabelle and Rose are the same person, a vampire, and he undertakes to turn her over to Terry for military experiments so that he can raise his own position. Anabelle is taken in by Brian's trick, and Elliot and the band members plan how to rescue her...
Takarazuka Precious: Sakakihara Kazuko's Takarazuka First Night & Event Revue article
None yet.
| | | | |
| --- | --- | --- | --- |
| Poster | DVD | VHS | CD |
| None Yet | | None Yet | None Yet |