Shakespeare / HOT EYES!!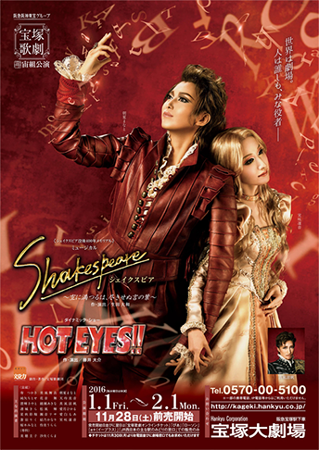 Picture Credit: coeuraubonheur | Official Chirashi
English Title:
Shakespeare ~The Sky Filled With Eternal Words~ / HOT EYES!!
Japanese Title:
Shakespeare 〜空に満つるは、尽きせぬ言の葉〜 / HOT EYES!!
Romanized Title:
Shakespeare ~Sora ni Mitsuru wa, Tsukisenu Kotonoha~ / HOT EYES!!
Troupe:
Cosmos
Year:
2016
Performances:
Takarazuka Grand Theater, 01/01 - 02/01; Tokyo Takarazuka Theater, 02/19 - 03/27
Shinjin Kouen Performances:
Takarazuka Grand Theater, 01/19; Tokyo Takarazuka Theater, 03/03
Shakespeare:
Based On:
The life of William Shakespeare
Author/Director:
Ikuta Hirokazu
Composer:
Oota Takeshi
Choreographer:
Miori Yumino
,
Sakuragi Ryousuke
Conductor (Takarazuka):
Sasada Aiichirou
Conductor (Tokyo):
Shinjin Kouen Director:
Ikuta Hirokazu
HOT EYES!!:
Author/Director:
Fujii Daisuke
Composer:
Aoki Tomoko
,
Teshima Kyouko
Choreographer:
Hayama Kiyomi
,
Miori Yumino
,
Wakao Risa
,
ANJU
,
Sakuragi Ryousuke
Conductor (Takarazuka):
Ooyagi Yasushi
Conductor (Tokyo):
Available on DVD:
Yes (
release date 03/17/2016
)
Available on Blu-Ray:
Yes (
release date 03/17/2016
)
DVD Scene/Music Cuts:
None
Role
Cast
Shinko Cast
William Shakespeare
Asaka Manato
Rukaze Hikaru
Anne Hathaway
Misaki Rion
Haruha Rara
George Carey, Lord Hunsdon
Makaze Suzuho
Sakuragi Minato
Elisabeth I
Miho Keiko
Ayaka Mari
Richard Burbage, the Lord Chamberlain's Men actor
Saou Kurama
Kazuki Sora
Henry Carey, George's father
Kotobuki Tsukasa
Asao Ren
Mary Shakespeare, William's mother
Mikaze Maira
Mamiya Ryouko
Henry Condell, the Lord Chamberlain's Men actor
Junya Chitose
Koharuno Sayo
Head Lady-in-waiting
Kanon Mai
Setohana Mari
Robert Cecil, Earl of Salisbury (courtier)
Tenrei Mion
Asahina Aoi
Thomas Pope, the Lord Chamberlain's Men actor
Sumiki Sayato
Mirei Jun
Lady-in-waiting
Ayase Akina
-
William Cecil, Baron Burghley (courtier)
Rinjou Kira
Akina Rui
John Shakespeare, William's father
Matsukaze Akira
Akine Hikaru
Henry Wriothesley, Earl of Southampton (courtier)
Aizuki Hikaru
Kihou Kanata
Ben Johnson, a poet
Hoshibuki Ayato
Nanao Maki
Lady-in-waiting
Seoto Risa
-
Lady-in-waiting
Aishiro Moa
-
Will Kempe, the Lord Chamberlain's Men actor
Sorahane Riku
Mizuka Ichi
Lady-in-waiting
Yuino Kanari
-
James Burbage, Richard's father
Fuuma Kakeru
Homare Seri
Edmund Tilney, Master of the Revels (courtier)
Mitsuki Haruka
Junna Subaru
Lady-in-waiting
Hanasaki Airi
-
Lady-in-waiting
Sakurane Rei
-
Baptisto Bassano, a composer
Hoshizuki Rio
Wakato Ritsu
Lady-in-waiting
Aisaki Maria
-
Robert Devereux, Earl of Essex (courtier)
Sakuragi Minato
Yuuki Shion
Henry Brooke, Baron Cobham (courtier)
Mirei Jun
Kazaki Shun
Lady-in-waiting
Ayaka Mari
-
Lady-in-waiting
Suzuka Maya
-
Bess, George's wife
Reimi Urara
Hoshikaze Madoka
Lady-in-waiting
Mamiya Ryouko
-
John Heming, the Lord Chamberlain's Men actor
Kazuki Sora
Sumikaze Nagi
Hamnet Shakespeare, Shakespeare's son
Haruha Rara
Hanayuki Rira
Robert Armin, the Lord Chamberlain's Men actor
Rukaze Hikaru
Manami Hikaru
Emilia Bassano, Baptisto's daughter
Hoshikaze Madoka
Hanaki Maia
The Lord Chamberlain's Men actor (shinko)
-
Suzuka Maya
Ladies-in-waiting (shinko)
-
Miou Erina
-
Risaki Shigure
-
Hanabishi Rizu
-
Amase Hatsuhi
-
Haruka Kokoro
-
Yukino Kasari
-
Maihana Miria
-
Koko Sakura
-
Mizune Shiho
-
Hanashiro Saaya
Other Cast:
Haruse Ouki
,
Sakuto Minaki
,
Kanato Miyabi
,
Takato Chiaki
,
Manase Mira
,
Ibuki Yuuha
,
Setsuki Renya
,
Sagise You
WARNING!! MAY CONTAIN SPOILERS!!
Shakespeare
An original Takarazuka show to celebrate the 400th anniversary of Shakespeare. About his love for his wife Anne Hathaway, his friendship with Lord Hunsdon, and the secret love affair which provided him with inspiration.
It's the late 16th century. This is an era when people have been forced to live in close quarters with death after an outbreak of the plague. In London, stage plays that make people forget about their daily lives are gaining in popularity, and so the residents flock to theatres day after day. One of the new productions is "Romeo and Juliet." The person who wrote the script is William Shakespeare, a new and still unknown playwright. Even so, he and his wife Anne are quite convinced that very soon all of London will know William's name. While watching the love stories played out on the stage, they reminisce about something from six years ago. It so happens that "Romeo and Juliet" is also a story of William and his wife.
Stratford-Upon Avon lies northwest of London. When he helped his father with his work, William used to spend each day writing poems and dreaming of becoming a playwright. One day, he is in the forest working on a poem when he encounters a woman. Her name is Anne Hathaway, and she is hiding in the forest to escape from her family that is trying to betroth her to a wealthy man. Anne is interested in William's poetry. She takes his parchment away from him and reads it aloud. William is startled, and he tries to take it back. Yet he is quickly captivated by her mystery. The fragments of words that have been filling his head take form, and he starts to weave his phrases together one by one. William's pen races along the paper as if moved by a wizard. Without a doubt, she is the goddess in his word. Sensing that meeting Anne was his destiny, William confides his love through his words. Anne is also taken with William, who can render the world around her into words. She embraces his thoughts and feelings, yet a wall stands in front of them. William is sentenced to permanent exile after causing disturbance in the city. The couple are caught in a bind, with no expectation of being allowed to marry. However, one person is able to extend a helping hand. George Carey is a London nobleman who is working on a plan to establish a theatrical company for the Queen, who happens to love the stage. He proposes that William join as one of its playwrights. William, seeing this as a chance to fulfill his dream, has no hesitation. His mind is definitely made up. On condition he must go to London alone, William holds a wedding with Anne with George's permission, and he heads off to the city alone after telling her he will be sure to come back for her.
William sees success in London, just as he had promised. He summons Anne and his son from his hometown, and the three settle down to a new life. The playwright is acclaimed not just by the people of London but by Queen Elizabeth I. William's confidence grows. However, one of his lines that has the power to move people's minds will become intricately entwined with the thoughts and feelings of the aristocrats who are concerned with making their own lives successful - and will eventually cause turmoil even to the lives of him and Anne.
---
HOT EYES!!
A glamorous, passionate show that pairs elegance and dynamism, creating various images inspired by the sparkle and passion of the eyes of Top Star
Asaka Manato
and the actresses of Cosmos Troupe.
Final performance for Sakuto Minaki.
Though announced to perform, Mizuki Mei retired on 11/15 without prior announcement.
Rui Makise will be absent from both Takarazuka and Tokyo runs (both hon and shinjin-kouen) due to injury.
None yet.
| | | | |
| --- | --- | --- | --- |
| Poster | DVD | VHS | CD |
| None Yet | None Yet | None Yet | None Yet |