Meet Again / Soul of Shiva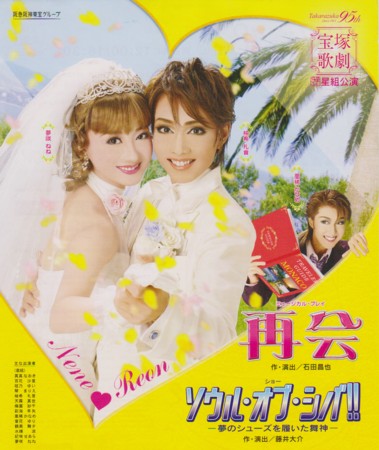 Picture Credit:
lokai
/ official flyer
English Title:
Meet Again / Soul of Shiva!!
Japanese Title:
再会 / ソウル・オブ・シバ!!
Romanized Title:
Saikai / Souru obu Shiba!!
Troupe:
Star
Year:
2009
Performances:
National Tour, 10/7 - 11/5
Meet Again:
Based On:
Author/Director:
Ishida Masaya
Composer:
Choreographer:
Conductor:
Soul of Shiva!!:
Author:
Director/Composer:
Fujii Daisuke
Choreographer:
Conductor:
Available on DVD:
Yes (
release date 01/01/10
)
DVD Scene/Music Cuts:
None
Other Cast:
Kitori Mariya
,
Otoha Minori
,
Senju Haru
,
Aimi Serena
,
Seki Yurito
,
Shizuki Otone
,
Serika Toa
,
Toa Reiya
,
Yumeshiro Eren
,
Tamahana Yufu
,
Oushina Yuu
,
Kaga Ririka
,
Hyuuga Ran
,
Sazanami Reira
,
Mao Yuuki
,
Hinami Fuu
† 
† Announced 09/24/2009: Due to poor health,
Miharu Ayaka
will be absent from the entire performance run.
Hinami Fuu
will appear in her place.
WARNING!! MAY CONTAIN SPOILERS!!
Meet Again
Gerard is a playboy novelist in New York, living off of his father and friends' money because none of his novels sell. He's a confirmed bachelor. One day, he gets a letter from his father in Monaco. His father is a very successful hotel owner, and the letter basically states that Gerard is to come home, buckle down and learn the business, and marry a woman of his father's choosing. Well, he's not too pleased with this idea, but he's running out of money. So he brings his two best friends Mark and Steve along. When he arrives, his father gives him some very strange orders. He's to seduce a woman named Sandrine, and once she's fallen in love with him, he is to dump her. And then he's to write a novel about it. If he doesn't do this, then his father will give the business to his younger half brother, Pierre.
Well, Gerard is confused, but he goes along with his father's orders. Sandrine is a very strange librarian, who is very awkward around men and very defensive. Gerard goes to work, giving her a make-over. They become "just friends", on Sandrine's insistence, but then what is this...? Gerard finds himself falling in love for the first time. The night he realizes this, Sandrine leaves a note and disappears. Hurt and angry, Gerard returns to New York.
He's now working to make ends meet, begging old friends for money. But then Mark and Steve arrive and show him not one, but two novels. Apparently it was all a set-up on his father's part to teach Gerard a lesson. There are two books, both best-sellers in France: one called "Until the Man Throws the Woman Away" and "Until the Woman Throws the Man Away." One was written by Gerard, the other by Sandrine. Happy about the money, but angry about the plot, Gerard returns to Monaco for the celebration party, and to find Sandrine.
At the party we find out that nothing was quite as it seems, including Sandrine. She is actually royalty (? I think. Or the daughter of a very rich man. Either works.). Eventually the two reconcile, and Gerard tells his father to give the business to Pierre, because he intends to keep writing... with Sandrine.
---
Soul of Shiva
Tour Schedule

Dates

Location

10/07 - 10/08
Umeda Arts Theater (osaka)
10/10 - 10/11
Kanagawa Prefectural Hall (Kanagawa)
10/14
Matsumoto Citizens Art Hall (Nagano)
10/15
Hokuto Cultural Hall (Nagano)
10/17 - 10/18
Izumity 21 (Sendai, Miyagi)
10/20
Koiriyama Cultural Center (Fukushima)
10/21
Utsunomiya Cultural Hall (Tochigi)
10/22
Kiryuu City Cultural Hall (Gunma)
10/24
Saitama City Cultural Center (Saitama)
10/25
Fuchuu no Mori Arts Theater (Tokyo)
10/27
Kimitsu Cultural Hall (Chiba)
10/29
Aomori Cultural Hall (Aomori)
10/31 - 11/01
Hokkaido Koseinenkin Hall (Hokkaido)
11/03
Iwate Prefectural Hall (Iwate)
11/05
Mori no Hall 21 (Matsudo, Chiba)
None yet.
| | | | |
| --- | --- | --- | --- |
| Poster | DVD | VHS | CD |
| None Yet | None Yet | None Yet | None Yet |