One Touch of Venus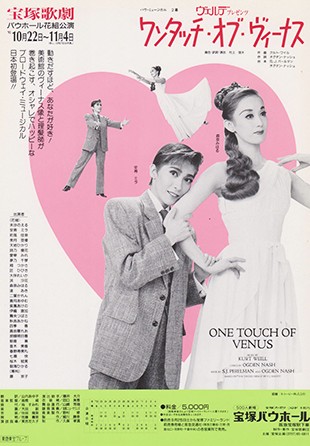 Picture Credit: V
English Title:
One Touch of Venus
Japanese Title:
ワン・タッチ・オブ・ヴィーナス
Romanized Title:
Wan Tacchi Obu Viinasu
Troupe:
Flower
Year:
1993
Performances:
Art Sophia, 10/2 - 10/14; Bow Hall, 10/22 - 11/4
Based On:
"One Touch of Venus" by Kurt Weill
Adaptor/Director:
Murakami Nobuo
Lyrics:
Ogden Nash
Script:
S. J. Perelman
Composer:
Kurt Weill
Musical Director:
Takahashi Kuni
Choreographer:
Shou Sumire
Available on DVD:
No
Other Cast:
Machikaze Kana
,
Yumeno Chikoto
,
Shou Tsukasa
,
Ootomo Reika
,
Hama Shioka
,
Futaba Karen
,
Kizuki Ayumu
,
Shihou Akeno
,
Iori Naoka
,
Maio Tsubasa
,
Akiyoshi Akane
,
Shiki Kaoru
,
Mayuka Reo
,
Kochou Asuka
,
Asakura Aoi
,
Otoki Mika
,
Haruno Sumire
,
Nanase Kai
,
Sakuragi Emi
,
Asami Hikaru
WARNING!! MAY CONTAIN SPOILERS!!
(original musical summary)
A long-lost, priceless statue of the goddess Venus is found and placed on display in an art museum in New York. A slow but good-hearted barber, Rodney Hatch, kisses the statue when intoxicated. The sculpture comes to life, and the two fall in love, although Rodney is already engaged. Farcical complications ensue, and Rodney takes "Venus" to the model-display house in the store, where the store's boss finds her. He, too, falls in love with her and makes her Glamour Girl Number One. Rodney and Venus dance in Central Park, but Rodney is arrested for stealing the statue.
Venus then goes to the boss to convince him to drop charges against Rodney. Unfortunately, she must return back to her marble state, so Venus goes back to her pedestal and Rodney is released.
While Rodney is sadly preparing for another unveiling of a now-marble Venus, a new employee asks him a question where the model-display house is. She tells him her name is Venus Jones, and she is an exact double of the sculpture Venus. Surprised, Rodney takes her to see the model home himself.
Any other interesting or important stuff.
None yet.
| | | | |
| --- | --- | --- | --- |
| Poster | DVD | VHS | CD |
| None Yet | None Yet | None Yet | None Yet |