Oklahoma!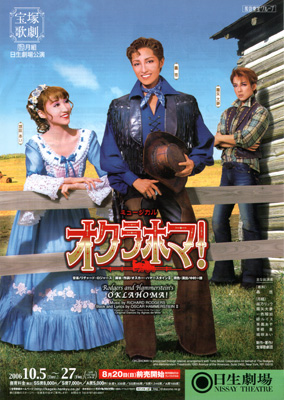 Picture Credit: caithion / promotional poster
English Title:
Oklahoma!
Japanese Title:
オクラホマ!
Romanized Title:
Okurahoma!
Troupe:
Moon
Year:
2006
Performances:
Nissay Theater, 10/5 - 10/27
Based On:
Oklahoma!
by Rodgers and Hammerstein
Author:
Oscar Hammerstein II
Director:
Nakamura Kazunori
Music:
Richard Rodgers
Choreography:
Agnes de Mille
Available on DVD:
Yes (
DVD release date 12/20/06
)
DVD Scene/Music Cut:
None
WARNING!! MAY CONTAIN SPOILERS!!
Oklahoma! takes place at the turn of the twentieth century between the Oklahoma land rushes in 1889 and 1893, and statehood in 1907. Curley, a cowhand, and Jud Fry, a farmhand, are in love with Laurey. She is in love with Curley, but after an argument with him agrees to go to a dance with Jud Fry, whom she secretly fears. At the dance Curley puts up his entire belongings to buy Laurey's box lunch. She and Curley admit their love for each other and are married. After the wedding Jud fights with Curley and is killed with his own knife during the struggle. Laurey's Aunt Eller engineers a trial at the scene and Curley is acquitted, enabling the young couple to begin married life happily. A second, more comic subplot involves man-crazy Ado Annie, her true love cowboy Will Parker, and her temporary interest, peddler Ali Hakim. Like Laurey and Curley, Ado Annie and Will work out their problems and settle down to married life.
(Summary from
BookRags
.)
ENAK Sumire Style Stage GRAPH
Oklahoma! (2006) - Review by Ekusudei
| | | | |
| --- | --- | --- | --- |
| Poster | DVD | VHS | CD |
| None Yet | | None Yet | None Yet |