Oath of the Midnight Sun / PHOENIX Takarazuka!!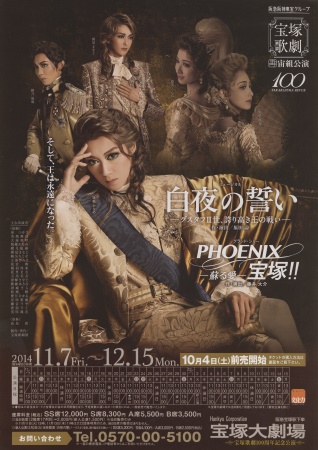 Picture Credit: Zaraphena // Official Chirashi
English Title:
Oath of the Midnight Sun - Gustav III: A Battle by a Proud King- / PHOENIX Takarazuka!! -Love Resurrected-
Japanese Title:
白夜の誓い ―グスタフIII世、誇り高き王の戦い― / PHOENIX 宝塚!! ―蘇る愛―
Romanized Title:
Hakuya no Chikai - Gusutafu III Sei, Hokoritakaki Ou no Tatakai- / PHOENIX Takarazuka!! - Yomigaeru Ai -
Troupe:
Cosmos
Year:
2014-15
Performances:
Takarazuka Grand Theater, 11/7 - 12/15; Tokyo Takarazuka Theater, 01/02 - 02/15
Shinjin Kouen Performances:
Takarazuka Grand Theater, 12/02; Tokyo Takarazuka Theater, 01/29
Oath of the Midnight Sun:
Author/Director:
Harada Ryou
Composer:
Oota Takeshi
Choreographer:
Masaki Rino
Conductor (Takarazuka):
Sasada Aiichirou
Conductor (Tokyo):
Terashima Masao
Assistant Director:
Tani Takaya
Shinjin Kouen Director:
Harada Ryou
PHOENIX Takarazuka!!
Author/Director:
Fujii Daisuke
Composer:
Aoki Tomoko
,
Teshima Kyouko
Choreographer:
Hayama Kiyomi
,
Shou Sumire
,
Miori Yumino
,
Wakao Risa
,
Sakuragi Ryousuke
Conductor (Takarazuka):
Ooyagi Yasushi
Conductor (Tokyo):
Misaki Megumi
Assistant Director:
Tabuchi Daisuke
,
Sashida Shuko
Available on Blu-Ray:
Yes (
release date 02/05/15
)
Available on DVD:
Yes (
release date 02/05/15
)
DVD Scene/Music Cuts:
No
†
Rinjou Kira
was absent from Gustav III from 11/06-11/28. Her return to PHOENIX Takarazuka!! is yet undecided.
Other Cast:
Hanasato Mana
,
Aishiro Moa
,
Yuino Kanari
,
Setohana Mari
,
Risaki Shigure
,
Miou Erina
,
Hanayuki Rira
,
Hanaki Maia
,
Kihou Kanata
,
Wakato Ritsu
,
Mizuki Mei
,
Sakuto Minaki
,
Amase Hatsuhi
Ken 1 - Group D
:
Hoshikaze Madoka
,
Kazama Yuno
,
Haruka Kokoro
,
Sakuraba Mai
,
Kiwami Shin
,
Hana Yuuki
,
Izumi Maira
,
Sorashiro Yuu
,
Maihana Miria
,
Aotsuki Ren
WARNING!! MAY CONTAIN SPOILERS!!
Oath of the Midnight Sun
English taken from the
official website
A young man named Vasa once rose up for the sake of the independence of his motherland of Sweden, in an era when it was under Denmark's control. He won his country's freedom and became King, by using a golden sword given to him by a white eagle. It is said the sword, which Vasa kept in a deep recess of his castle, is only effective when in the hands of a King who saves this country. No one has ever seen this sword.
In 1770, Sweden's Crown Prince Gustav together with a childhood friend Anckarstrom are students in Paris. While there, he has been affected by liberal ideas, "Humans are born to be free." Gustav is convinced that a new era will arrive, one forged by the hands of the citizens, even though he himself is in line to a country's throne.
Gustav was captivated by Isabel, widow of Count Egmont. She was not only beautiful but wise, with a progressive way of thinking. Soon, Gustav will become consumed by thoughts of her until the day he confesses his love for her. But one day, he receives news of the death of his country's King. He wants Isabel at his side when he returns to Sweden, but after she learns his true social position, she firmly refuses. Leaving word that he will be certain to meet up with her again, he heads homeward together with Anckarstrom.
Back in Sweden, Gustav is aware how Minister Kranz, who belongs to a faction friendly to Russia, takes a dismissive view of the late King and is using the government to his own ends. During his trip, Gustav witnesses how farmers are struggling under the tyranny, and pledges an oath to resurrect Sweden. In the meantime, Kranz orders Lilliehorn, the Commander of the Imperial Guard, to act as a spy to monitor Gustav's movements.
A coronation ceremony is held May 29, 1772, for Gustav III, the new King. At the event, Kranz attempts to damage Gustav's pride as Sweden's King, and he warns that if Gustav fails to abide by the policies of the state, he will be forced to abdicate. Furthermore, Kranz goes to meet with Sophia, Princess of Russian ally Denmark, to prepare arrangements that would make her Queen of Sweden. Gustav, with thoughts of Isabel still on his mind, could never be expected to accept such a political marriage of convenience. But even he does not have the right to reject this arrangement. On Sophia's wedding day, Gustav remains aloof, confiding to her that he never intended to be part of this marriage.
Having found out that Kranz and his associates have received a huge bribe from Denmark, Gustav is determined to rise up together with Anckarstrom and other members of his inner circle to take power back from Kranz. He discloses his plan to Lilliehorn, telling him outright that the Commander's cooperation will be key in having the corrupt aristocrats allied to Russia arrested. The day for revolt arrives.
---
PHOENIX Takarazuka!!
This show is called "Phoenix," which contains the concept of "regeneration." It is being staged in a period that connects to the era beyond our centenary, which will mark our magnificent history.
Ouki Kaname
, a top star in the Cosmos Troupe, has been chosen for the Phoenix role. So please enjoy and look forward to this gorgeous, spectacular grand show, a hallmark of Takarazuka, which is composed of scenes that convey a sense of the beauty and gallantry characteristic of our male roles.
Ouki Kaname "The Last Day" DVD (release date 04/22/2015) - includes a digest of the final Tokyo performance, Ouki's sayonara show, speech, press conference, and entering and exiting the theater.
None yet.
| | | | |
| --- | --- | --- | --- |
| Poster | DVD | VHS | CD |
| None Yet | None Yet | None Yet | None Yet |