Mozart, the Rock Opera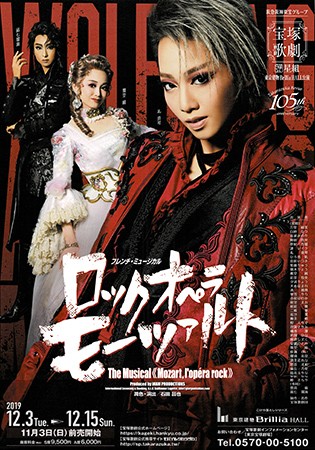 Scan from personal collection | Official chirashi
English Title:
Mozart, the Rock Opera
Japanese Title:
ロックオペラ モーツァルト
Romanized Title:
Rokku Opera Mootsaruto
Troupe:
Star
Year:
2019
Performances:
Umeda Arts Theater, 11/20 - 11/27; Toshima Arts & Culture Theater, 12/03 - 12/15
Based On:
the musical "Mozart, l'opéra rock"
Adaptor / Director:
Ishida Masaya
Composer:
Dove Attia, François Castello, Rodrigue Janois, Nicolas Luciani, Wolfgang Amadeus Mozart, Jean-Pierre Pilot, William Rousseau, Antonio Salieri, Olivier Schultheis
Music Adaption:
Tama Shouichi
Choreographer:
AYAKO
,
Hirasawa Satoshi
,
Momoka Sari
Conductor:
n/a
Available on DVD:
No
Available on Blu-Ray:
Yes (
release date 03/07/20
)
DVD Scene/Music Cuts:
n/a
Role
Cast
Wolfgang Amadeus Mozart, a young and talented composer
Rei Makoto
Constanze, wife of Mozart
Maisora Hitomi
Antonio Salieri, an Italian composer who is jealous of Mozart's talent
Nagina Ruumi
Leopold, father of Mozart
Yuuma Rin
Anna Maria, mother of Mozart
Mari Yuzumi
Princess of Orange
Shirotae Natsu
Cäcilia, mother of Aloysia and Constance
Otoha Minori
Hieronymus von Colloredo-Mannsfeld, the archbishop of Salzburg
Kizaki Reo
La Cavalieri, a diva
Yumeki Anru
Fridolin, father of Aloysia and Constanze
Sazanami Reira
Emperor Joseph II
Hiroka Yuu
Josepha, sister to Aloysia and Constanze
Otosaki Itsuki
Count Rosenberg, Steward to Emperor Joseph II
Shidou Ryuu
Lange, Aloysia's husband, an actor
Asamizu Ryou
The Stranger, Salieri's underling who blackmails Mozart
Toudou Jun
Lorenzo Da Ponte, librettist for "The Marriage of Figaro"
Iroha Reo
Gottlieb Stephanie, librettist for "The Abduction from the Seraglio"
Yuunagi Ryou
Aloysia, Mozart's first love; sister to Constanze
Kozakura Honoka
Nannerl, sister to Mozart
Sakuraba Mai
Süssmayr, originally a student of Salieri, becomes a student of Mozart
Kiwami Shin
Sophie, sister to Aloysia and Constanze
Seira Hitomi
Other Cast:
Amaki Homare
,
Minato Rihi
,
Hanayuki Rira
,
Ouri Mao
,
Nijou Hana
,
Kisa Kaoru
,
Kou Erise
,
Aomi Sario
,
Sayaka Rin
,
Ayazono Hina
,
Asakura Shizuku
,
Sakishiro Kei
,
Ruri Hanaka
,
Emika Rena
,
Aone Towa
,
Maoka Noa
,
Ouka Rurina
,
Hoshikage Nana
,
Hitomi Kirari
WARNING!! MAY CONTAIN SPOILERS!!
Summary Information here.
Top debut for Rei Makoto and Maisora Hitomi.
Following this performance Seira Hitomi transferred to Senka where she performed in a TV drama before retiring, making this her final stage performance.
None yet.
| | | | |
| --- | --- | --- | --- |
| Poster | DVD | VHS | CD |
| None Yet | None Yet | None Yet | None Yet |