Legend of the Phoenix / Crystal Takarazuka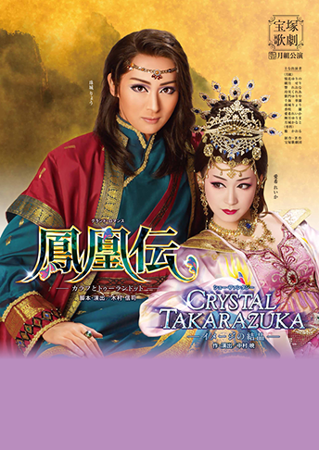 Picture Credit: coeuraubonheur | Official Chirashi
English Title:
Legend of the Phoenix -Calaf & Turandot- / Crystal Takarazuka -Crystal Image-
Japanese Title:
鳳凰伝-カラフとトゥーランドット- / CRYSTAL TAKARAZUKA-イメージの結晶-
Romanized Title:
Hououden -Calaf to Turandot / CRYSTAL TAKARAZUKA -Image no Kesshou-
Troupe:
Moon
Year:
2017
Performances:
National Tour, 11/17 - 12/10
Legend of the Phoenix:
Based On:
The opera
Turandot
by Giacomo Puccini
Author/Director:
Kimura Shinji
Composer:
Kai Masato
Choreographer:
Hayama Kiyomi
,
Takemura Rui
,
Momoka Sari
Crystal Takarazuka:
Author / Director:
Nakamura Satoru
Composer:
Nishimura Kouji
,
Kuratomi Shinichi
,
Aoki Tomoko
Choreographer:
Mirori Yumino
,
Wakao Risa
,
Hirasawa Satoshi
,
AYAKO
Available on DVD:
Yes
(release date 03/30/18)
DVD Scene/Music Cuts:
Yes
From "Crystal Takarazuka":
Scene 3C "Viva La Vida" - music replaced
Other Cast:
Akane Konatsu
,
Hiumi Arisa
,
Natsukaze Kiki
,
Sorashiro Yuu
,
Hisumi Rin
,
Hanatoki Maika
,
Amana Ruria
,
Nanano Ari
,
Hiiragi Ayato
,
Issei Kei
WARNING!! MAY CONTAIN SPOILERS!!
Legend of the Phoenix
Prince Calaf leads a vagabond life with his page Zelim ever since his country was destroyed by war. He is heading for Peking as he has heard a rumor that his long lost father, King Timur, now lives there. On his way, he rescues Princess Adelma of Khorasan from an attack by robbers. Princess Adelma is very much impressed by Calaf's dignity and valor. However, Calaf keeps his identity secret and leaves her, ignoring her feelings.
Peking is filled with a strange excitement. Princess Turandot, the only daughter of the Emperor of China, poses three riddles to any foreign prince seeking to marry her. The foreign princes are attracted by her unrivaled beauty — but if they fail to answer the riddles correctly, they are mercilessly beheaded. Her latest suitor, the young and handsome Prince of Persia, has failed and is to be executed at the rise of the moon. Though suffering from tyranny, the citizens of Peking are excited over the bloody spectacle. Amid the crowd, Calaf encounters Timur. The aged king is looked after by Tamal, an ex-slave girl. She says she once gazed upon Calaf's profile on the occasion of his triumphal return. As this was in violation of the law of their country, she is caring for the king in order to atone for the offense. While Calaf thanks her, she keeps her head down. Calaf does not know that Tamal fell in love with him on that day.
Calaf and Timur cannot rejoice over the reunion, as Tang and Tong, the two robbers who assailed Princess Adelma, suddenly come out to kill Calaf in revenge. Their chieftain, Barak, arrives to stop them, and apologizes to the prince. When Calaf reveals that he is the prince of the destroyed country, Barak confesses that he was the Prince of Lhasa. Barak feels sympathy for Calaf, as he sees that they share the same fate. He advises Calaf to stay awhile longer and watch the execution of the Prince of Persia. When at last the Prince of Persia appears, all the onlookers call upon Turandot to spare his life. However, Turandot indifferently calls for the execution. Turandot sings the story of her ancestor Princess Lou-Ling who was assaulted and slain by a foreign soldier. In revenge, Turandot devised this game of riddles. As soon as Calaf sees Turandot, he stands still as if he has fallen under the spell of her extraordinary majesty and beauty.
Calaf, captivated by Turandot, decides to attempt the riddles. Timur and Zelim desperately discourage him, but to no avail. Calaf is enraptured by his love for Turandot. Despite the plea of the tearful Tamal, Calaf strikes the gong that proclaims the arrival of a new challenger to the riddles.
The Emperor of China reprimands his daughter for executing foreign princes one after another. She coldly retorts that there is no end to her revenge upon foreign soldiers who harassed her ancestor. The Emperor asks the prince to give up his quest in the hope of stopping his daughter, but Calaf is not swayed. Turandot proclaims that the bold foreign prince will lose his head. Calaf, undeterred, stares hard at her and declares that he will win her as his bride. The Emperor wishes that the bloody game of riddles will finish once and for all, and prays for Calaf's victory. The prince is successful in solving all the three riddles. Turandot, shaken by the unexpected outcome, cries that none can ever possess her. Calaf says that he wants Turandot to love him, and offers her a riddle of his own. If she can learn his name by dawn, he will forfeit his head. If she fails, she will marry him as promised. Turandot reluctantly accepts his offer.
Everyone in Peking searches tirelessly for a person who knows the name of the prince. A proclamation has been issued — on pain of death, no one in Peking will sleep until Turandot learns the prince's name. The citizens are worried by the nearing dawn and the staff members of the court make a desperate effort to find the right person. Adelma comes to Calaf and tells him that she is trapped in Peking, since Khorasan was vanquished by China. She begs him to escape with her from Peking. Calaf rejects her entreaty and her love as well. She threatens suicide, but Calaf remains indifferent. She is deeply hurt and leaves him.
While Barak's followers keep watch, Calaf promises Timur, Tamal and Zelim that he will see them again the next day. Calaf discloses his proper name to Barak, who undertakes the protection of Timur, Tamal and Zelim. Altough both Barak and Calaf have the misfortune to lead as vagabonds, they still maintain a relationship of virtue and trust. Amin and Mahmud, Adelma's attendants, spy on Calaf and Barak at her order. Adelma does not wanto to see another woman marrying Calaf since he refused her love. She therefore determines to learn Calaf's proper name by all means in order to hinder Calaf from marrying Turandot. Just after Calaf leaves, the royal guards arrive to arrest Timur and the others. Barak bid his followers to run away with Timur and Tamal, fiercely fighting to kill all the guards before he dies.
Turandot is troubled by Calaf, as he is quite different from any of the prededing princes and is passionately pursuing her. She does not yet realize that it is because she has begun to fall in love with him. Adelma then arrives with the news that she has caught persons who know the prince's name.
Timur, Tamal, Tang and Tong are brought forth. Tamal declares that she will never reveal the prince's name, and that she alone knows it. Turandot, furious, orders an officer to whip her. She remains silent. When Calaf arrives, Adelma whips Tamal even more furiously. Suddenly, Tamal snatches a dagger from the officer and stabs herself. With her last breath, Tamal gasps, "Loves wins, you should know it". Impressed by her dedication, the people grieve her death. The Emperor ousts Adelma, instructs the officers to bury Tamal reverently, and leaves his daughter to her fate. Turandot is left alone, seized with panic. Calaf passionately takes her in his arms and kisses her. Moved by Tamal's sacrifice and Calaf's embrace, Turandot's icy heart is finally melted. Calaf, believing in Tamal's declaration, tells Turandot his name and puts trust in his love.
At dawn, there is a crowd of soldiers and citizens. Turandot announces tho everyone that the prince's name is "Love". Turandot kneels down before Calaf. As they kiss, the people hail them and rejoice. Calaf asks the citizens of Peking to heartily mourn for all of the lives lost until now, and to unite in efforts to make China ever greater. China is about to be reborn with a brilliant future.
---
Crystal Takarazuka
Based on the concept of "a show as crystal images," this is an energetic performance centered on dancing and comprised of scenes of a "love crystal," "passion crystal," "dream crystal," and others. This production, brimming with brilliance and liveliness, is ideal for embellishing the centennial of the Takarazuka Revue, which has emphasized both tradition and innovation throughout its history.
Tour Schedule

Date
Theater Location
11/17 - 11/19
Umeda Arts Theater (Osaka)
11/22 - 11/23
Niigata Prefectural Civic Center
11/25 - 11/26
Olympus Hall Hachioji (Tokyo)
11/28
Matsumoto Performing Arts Centre (Matsumoto, Nagano)
11/29
Colony Cultural Hall, Yamanashi Kenritsu Kenmin Bunka Hall
12/1
Kitakyushu Soleil Hall (Kitakyushu, Fukuoka)
12/2 - 12/3
Fukuoka Civic Hall (Fukuoka)
12/5
Hiroshima City Cultural Exchange Hall
12/6
Kurashiki Community Hall (Kurashiki, Okayama)
12/8
Yokosuka Arts Theatre (Yokosuka, Kanagawa)
12/9 - 12/10
Ichikawa City Cultural Hall (Ichikawa, Chiba)
None yet.
| | | | |
| --- | --- | --- | --- |
| Poster | DVD | VHS | CD |
| None Yet | None Yet | None Yet | None Yet |