Le Mistral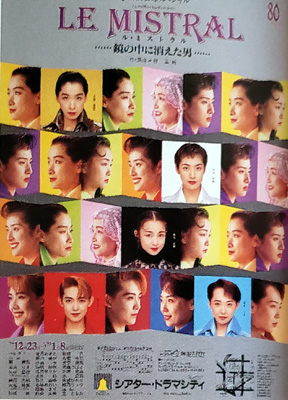 Picture Credit: caithion
English Title:
Le Mistral - The Man who Disappeared in the Mirror-
Japanese Title:
ル・ミストラル - 鏡の中に消えた男
Romanized Title:
Ru Misutoraru - Kagami no Naka ni Kieta Otoko
Troupe:
Moon
Year:
1994-95
Performances:
Theater Drama City, 12/23 - 1/8
Based On:
Author / Director:
Tani Masazumi
Composer:
Yoshizaki Kenji
,
Takahashi Kuni
Choreographer:
Hayama Kiyomi
,
Kurotaki Tsukio
Conductor:
Available on DVD:
VHS only
Others
:
Wakae Yuki
,
Nashiro Aoi
,
Suzuna Mio
,
Ayaki Nao
,
Sonomiya Reina
,
Oozora Yuuhi
,
Ootaka Tsubasa
,
Kitahara Rima
,
Mizu Natsuki
,
Minashiro Hikari
WARNING!! MAY CONTAIN SPOILERS!!
On a certain evening, a lot of human drama is taking place around a resort hotel. First, the only daughter of the president of an industrial conglomerate (Cybele Rosenthal) has become engaged to Francois, one of the rising young men in her father's company. Next, a mysterious assassin known as Mistral has been hired to kill Rosenthal by his secretary, Claude.
But the silent and brooding Mistral becomes trapped in the revolving door of the hotel, along with the chattering and cheerful Cybele, who nearly manages to break him out of his shell. While trapped there, they see the murder of Claude, Rosenthal's secretary. He is shot, and his last words are "Le Mistral", when he recognized Mistral by the flower in his buttonhole.
Police Inspector Perrier has arrived from Paris, specifically following rumors that place Mistral in this town. Of course, he construes Claude's last words to mean that he was shot by Mistral. He takes over the investigation from the harried local police.
Seconds after Mistral and Cybele are freed from the door, a hotel worker runs out with the horrible news that Rosenthal is dead, from poison!
Despite the close scrutiny of the Parisian police inspector, Mistral tells his underling that he intends to stay in town and find the murderer himself, to restore Cybele's lost smile.
Mistral, we learn, is actually Michel Brasseur, once a gentleman in a well-to-do family who simply disappeared one day. His ex-fiancee is after him for revenge for her wrecked life.
Time passes. Mistral begins to close in on the real killer, a man named Andre whose father had been a business partner of Rosenthal's. Andre's father had been disposed of by Rosenthal so that he could get solo ownership of the conglomerate, and his son Andre is out for revenge. But no one knows what Andre looks like, or who he could be posing as.
Meanwhile, Cybele is struggling, as a young lady, to take up the reigns of her father's company, over the protests of the shareholders. Her strongest support is from her fiance Francois and her father's lawyer Julian. She and Francois get married.
We eventually learn that Julian has been plotting to make Francois president, by discrediting Cybele as a hopeless female after her marriage. But more than that, the next level of Julian's plan is to discredit Francois by revealing to Cybele that Francois is actually Andre. Jealous of Julian's love for Cybele, Julian's girlfriend poisons him. She has been incited to it by Francois, who then stabs her and arranges it to look a suicide. He plants the gun that killed Claude and the poison that killed Rosenthal on the scene, wrapping up all loose ends neatly.
Next, Francois intends to kill Cybele. He'll make her suffer, and then kill her. Cybele meets him, and tells him that she has learned of the existence of a photo of Andre as a child. She wants them to go look at the photo together. He prepares to pull out his gun, but Mistral shoots first. Cybele rails against what she sees as a deliberate murder as Inspector Perrier handcuffs Mistral and leads him away.
But before it is too late, Cybele learns the truth, and asks the inspector for a moment to talk to Mistral. He asks her not for words or promises, but just that she smile for him as he is led away, and not despair again.
Any other interesting or important stuff.
None yet.
| | | | |
| --- | --- | --- | --- |
| Poster | DVD | VHS | CD |
| None Yet | None Yet | None Yet | None Yet |