Gin-chan no Koi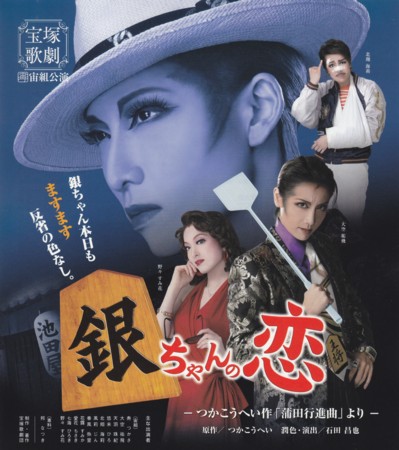 Picture Credit:
lokai
/ official flyer
English Title:
Gin-chan's Love
Japanese Title:
銀ちゃんの恋
Romanized Title:
Gin-chan no Koi
Troupe:
Cosmos
Year:
2010
Performances:
National Tour, 09/04 - 09/26
Based On:
Tsuka Kouhei's "Kamata Koushin Kyoku"
Author/Director:
Ishida Masaya
Composer:
Takahashi Kuni
,
Kai Masato
Choreographer:
Shou Sumire
,
Maeda Kiyomi
Available on DVD:
No
WARNING!! MAY CONTAIN SPOILERS!!
A human interest tale of the kind you've never seen before. It all starts when the egoistic actor Gin-chan's girlfriend Konatsu gets pregnant, and he forces his underling, the stunt actor Yasu, and Konatsu to get married against their wills....
Tour Schedule
Date
Place
9/4 - 9/5
Umeda Arts Theater (Osaka)
9/7
Isesaki City Culture Hall (Gunma)
9/8
Kawaguchi Sougo Culture Center (Saitama)
9/9
Musashino City Bunka Kaikan (Tokyo)
9/11 - 9/12
Chukyo University Citizens Hall, Aura Hall (Aichi)
9/14
Kitakami Sakura Hall (Iwate)
9/16 - 9/17
Nitori Culture Hall (Sapporo, Hokkaido)
9/19 - 9/20
Izumity 21 (Sendai, Miyagi)
9/22 - 9/23
Akita City Culture Hall (Akita)
9/25 - 9/26
Green Hall Sagami Oono (Sagamihara, Kanagawa)
None yet.
| | | | |
| --- | --- | --- | --- |
| Poster | DVD | VHS | CD |
| None Yet | None Yet | None Yet | None Yet |