Ganryuu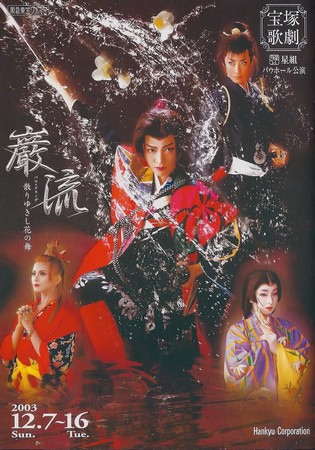 Picture Credit: carmila
English Title:
Ganryuu
Japanese Title:
巌 流 -散りゆきし花の舞-
Romanized Title:
Ganryuu -Chiriyukishi Hana no Mai-
Troupe:
Star
Year:
2003
Performances:
Bow Hall, 12/7 - 12/16; Nippon Seinenkan Hall, 12/21 - 12/27
Based On:
The life of Sasaki Kojiro (also known as "Ganryuu")
Author/Director:
Saitou Yoshimasa
Composer:
Takahashi Kuni
,
Tama Shouichi
,
Aoki Tomoko
Choreographer:
Hayama Kiyomi
,
Wakao Risa
,
KAZUMI-BOY
Available on DVD:
VHS
and DVD (
release date 03/27/09
)
DVD Scene/Music Cut:
None
WARNING!! MAY CONTAIN SPOILERS!!
(Summary courtesy of jenebi)
Japan in the early Tokugawa/Edo period (Action takes place roughly 1590s-1612).
ACT I
Kanemaki Jisai, a loner still bitter over the loss of his son, finds a boy washed up on the beach along with a strange sword - a longsword known as a nodachi. He names the boy Kojiro and raises him as his adopted son. Kojiro grows up to be a talented young swordsman - so talented that when his young friend is killed by an unknown wandering samurai, he kills the man easily. Kojiro is horrified by what he's done, but Jisai is delighted, declaring that the young man is a "tiger" that no man can defeat.
Kojiro is in love with Tsubaki, the daughter of his kenjutsu (swordsmanship) instructor, Itosai. She loves him too, but unknown to either of them, Jisai secretly carries a grudge against Itosai. He convinces Kojiro to help him exact revenge, although Kojiro is horrified at the idea of grieving his beloved Tsubaki.
Late at night, Itosai has just sent his pupil Seira off to bed when Jisai and Kojiro attack. The noise wakens Tsubaki and Seira who come running downstairs. In the confusion, Kojiro accidentally strikes Tsubaki in the face - while Jisai kills Itosai. Kojiro and Jisai escape, leaving a grief-stricken Tsubaki determined to exact revenge.
The most exciting new entertainment at the time is kabuki theater - recently invented by the flamboyant Okuni, who proudly declare her and her troupe the best to anyone who will listen. Okuni is delighted to meet Kojiro, who bests her and her troupe at swordplay, and develops an enthusiastic crush on him. Kojiro is becoming well-known as a swordsman, so his adoptive father gives him the fighting name "Ganryuu" ("School of Rock").
Meanwhile, the most dangerous samurai around is Miyamoto Musashi - who is demanding duels with every great samurai he meets in an effort to improve himself. Through a flashback, we learn that this obsession comes from his father, who accepted nothing but the best. But when Musashi meets famous swordmaster Yoshioka Seijuro, he is defeated handily.
Musashi is developing a reputation - and a lot of enemies. After her elder brother is killed by Musashi, young Mari determines she will exact revenge, so disguises herself as a boy and goes off in pursuit. After briefly mistaking Kojiro for Musashi, she becomes his follower - as does Seijuro, who also is none-to-fond of Musashi.
Seijuro takes Kojiro to a geisha-house, where he meets the beautiful but melancholy foreign geisha Anna. The two share an attraction, and a friendship, but Kojiro is still in love with Tsubaki.
Musashi and Mari meet at last, but Mari is easily defeated by the far more experienced Musashi. Just as things look bad, young Ichizo interferes to save her, declaring that Mari is his life. Laughing, Musashi releases her. Mari boldly declares that he's nothing compared to Sasaki Kojiro. Musashi becomes obsessed with fighting this swordsman he keeps hearing so much about...
One evening, Kojiro is attacked - by none other than Tsubaki and Seira, who have been pursuing him. Tsubaki is still angry both over the loss of her father, and for the terrible facial scar she carries from Kojiro's attack. But in the end she finds she can't make herself kill her former love and the pair run away. Kojiro is horrified to find that Tsubaki now hates him so.
Tsubaki asks Seira how he feels about her, and he confesses that he's been in love with her for a long time. She asks if he likes her as a woman, in spite of her terrible scar, and he says yes. The two agree to wed. When he finds out about the pair's marriage, Kojiro is mad with grief.
ACT II
Kojiro visits Tsubaki, who claims to be happy in her marriage with Seira. After Kojiro leaves, we find otherwise: Seira has taken to drinking, and he becomes enraged after seeing Tsubaki and Kojiro embracing. Tsubaki runs away to join Kojiro.
No sooner is the pair reunited, than they are caught in an ambush. Musashi's follower Shinda has convinced Seira, Ichizo, and Seijuro's younger brother to attack Kojiro in order to get their loved ones back. With the help of Okuni and her troupe, it looks like Kojiro will win - but then Ichizo and Seira capture Tsubaki, and Kojiro prepares to surrender. Ichizo attacks him, but Mari runs in and strikes him a deadly blow. The fighting starts anew, and Seira accidentally kills Tsubaki when she runs between him and Kojiro. Horrified, Seira kills himself.
With the death of Tsubaki, Kojiro's world is falling apart around him. Musashi challenges Seijuro again, this time defeating him - Seijuro is not killed, but decides to give up fighting and become a monk. Then Kojiro's adoptive father Jisai dies. And all this time Musashi keeps demanding a duel...
The only bright spot in all this is that Anna wins her freedom. Leaving the geisha house to become a nun, she begs Kojiro not to give up, and to go on living.
Mari, on the other hand, still intent on her revenge, begs Kojiro to fight Musashi. She declares that he's a tiger, a statement that jars him. In the end he agrees to the duel. He leaves Mari a letter in which he tells her, "A tiger must face a tiger's fate." Kojiro's fate is to take part in one of the most famous samurai duels of all time. Even as Anna prays for him, Kojiro waits quietly for Musashi - who arrives late and, rather than a real sword, carries a wooden oar - a weapon even longer than Kojiro's nodachi.
The battle is long, but its outcome seems predestined: Kojiro falls, dying on the sands of the island.
This play is a fictionalized account of the life of Sasaki Kojiro (also known as "Ganryuu") a swordsman famous for his use of the nodachi (a long two-handed sword) and his duel with Miyamoto Musashi, author of "The Book of Five Rings" and one of the most famous samurai ever. Other well-known historical figures are also featured in the story, such as samurai Yoshioka Seijuro and kabuki-founder Izumo no Okuni. (Thanks to jenebi for this summary.)
Ganryuu (Star 2003) - reviewed by jenebi
| | | | |
| --- | --- | --- | --- |
| Poster | DVD | VHS | CD |
| None Yet | | None Yet | None Yet |