Valencian Passion / HOT EYES!!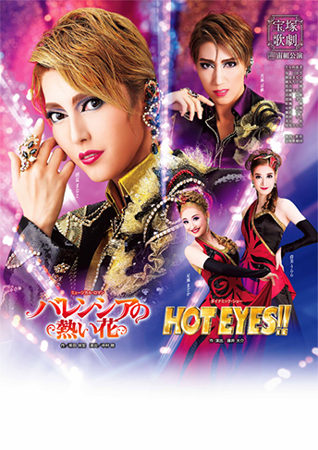 Picture Credit: coeuraubonheur | Official Chirashi
English Title:
Valencian Passion / HOT EYES!!
Japanese Title:
バレンシアの熱い花 / HOT EYES!!
Romanized Title:
Barenshia no Atsui Hana / HOT EYES!!
Troupe:
Cosmos
Year:
2016
Performances:
National tour, 11/18 - 12/11
Valencian Passion:
Author:
Shibata Yukihiro
Director:
Nakamura Satoru
Composer:
Yoshida Yuuko
,
Terada Takio
,
Kawasaki Tsuneo
Choreographer:
ANJU
,
Ran Konomi
HOT EYES!!
:
Author/Director:
Fujii Daisuke
Composer:
Choreographer:
Available on DVD:
Yes (
release date 3/31/2017
)
DVD Scene/Music Cuts:
None
Other Cast:
Risaki Shigure
,
Hanayuki Rira
,
Amase Hatsuhi
, and
Manami Hikaru
.
WARNING!! MAY CONTAIN SPOILERS!!
Valencian Passion
A larger-than-life musical about revenge and love set in Spain, at the beginning of the 19th century.
At the beginning of the nineteenth century, political unrest is prevailing in Spain. After Napoleon invades the country and enthrones his elder brother Joseph as King of Spain, people are rising in revolt everywhere against the French rule. The Lord of Valencia Prince Lucanor is listening to Colonel Lucas, Captain of the royal guards at his castle. The colonel tells Lucanor that his spy Jorge has divulged secret information about General Leon preparing some rebel action in Valencia. However, Lucanor does not believe the news, saying that the general is enjoying his retired life too much to take such action. Celestina comes in during the meeting and complains to Lucanor about the distress of the citizens. In her position as the marquise and widow of the ex-lord of Valencia, Celestina cannot overlook the situation. He gives no ear to her warning that the citizens may riot against the heavy taxes that are squeezing them. When he learns that Celestina's son Fernando Delvarez has come home after a two-year absence, he remains indifferent.
As the news of Fernando Delvarez' return is reaching Lucanor, Fernando is already meeting with General Leon. The general tells him of a letter that the robber Don Juan Caldero stole. It proves that Prince Lucanor plotted the assassination of Fernando's father and sent the assassin to carry out the plot. Fernando burns with hatred against Lucanor and vows revenge. The general advises him to leave the army and pass himself off as a playboy. He also suggests that Fernando not tell his mother and his fiance Margarita of his intentions until he has attained his end. Although he cares about Margarita who has been patiently waiting for him during his service in the Majorca Island, Fernando decides to retaliate against Lucanor first.
A pompous soiree is held at Prince Lucanor's castle. In a corner of the hall, Prince Lucanor's second wife Sylvia is with the prince's nephew Rodrigo Granados, who was her lover. Sylvia's father had been arrested for treason, and was released in exchange for her marrying the prince. She chose to marry the prince although she loved Rodrigo. Rodrigo still deeply loves Sylvia. Fernando, who is also present at the soiree, notices the burning hatred against Lucanor in the eyes of his friend Rodrigo, and invites him to the downtown bar El Patio.
Ramon and Isabella are singing while dancers are dancing the flamenco at El Patio. Rodrigo, drinking at a table, rudely declines the invitation of Isabella to dance and provokes a brawl with Ramon who loves her. Fernando arrives just as Rodrigo and Ramon agree to settle their quarrel with a duel. They make quite a commotion in the bar. Fernando immediately intervenes and is successful in reconciling them. In a small room of the bar, Fernando reveals to Rodrigo his plan to bring down Lucanor. Fernando tells Rodrigo that the time has come to rise up now that the anti-Lucanor volunteers are increasing. Rodrigo wholeheartedly agrees with Fernando, vowing to fight together with him.
People talk about the Black Angels that attack Lucanor's followers. In fact, Fernando and Rodrigo assassinate the prince's followers one by one every night under the name of Black Angels. Fernando is perhaps too sure that the identities of the Black Angels are kept secret, given that the whole town is talking about the Black Angels. Isabella finds out that one of the Black Angels is Fernando. When she first met him, Fernando's smoldering personality captivated her. He is aware that he was naturally drawn to Isabella from the moment he first saw her. They feel strongly attracted to each other. However, he recognizes in his heart that Margarita awaits him, trusting him completely.
Fernando and other volunteers get together on the outskirts of the city of Valencia. Ramon arrives, dressed just like Fernando. Ramon has decided to join Fernando and the volunteers to seek his own revenge against Lucanor: a follower of Lucanor has shot dead Ramon's younger sister Lola during a nighttime festival.
More volunteers join together in order to fight for the sake of their Valencia. Soon begins the decisive battle that Fernando and his company have been anticipating. When General Leon orders the volunteers to set out, they start marching toward Lucanor's castle, united by their aim of assuring a new future for Valencia.
---
HOT EYES!!
A glamorous, passionate show that pairs elegance and dynamism, creating various images inspired by the sparkle and passion of the eyes of Top Star Asaka Manato and the actresses of Cosmos Troupe.
Schedule

Dates

Location

11/18 - 11/20
Umeda Arts Theater (Osaka)
11/23
Matsudo Mori-no-Hall 21 (Matsudo, Chiba)
11/25
Fuchu Forest Art Theater (Toyko)
11/26 - 11/27
Kanagawa Kenmin Hall (Yokohama, Kanagawa)
11/29
Himegin Hall (Matsuyama, Ehime)
11/30
Saijo City Total Community Hall (Saijo, Ehime)
12/02
Kitakyushu Soleil Hall (Kitakyushu, Fukuoka)
12/03 - 12/04
Fukuoka Civic Hall (Fukuoka)
12/06
Saga City Community Hall (Saga)
12/07
Arkas SASEBO (Sasebo, Nagasaki)
12/10 - 12/11
Houzan Hall (Kagoshima)
None yet.
| | | | |
| --- | --- | --- | --- |
| Poster | DVD | VHS | CD |
| None Yet | None Yet | None Yet | None Yet |