The Wild Meets the Wild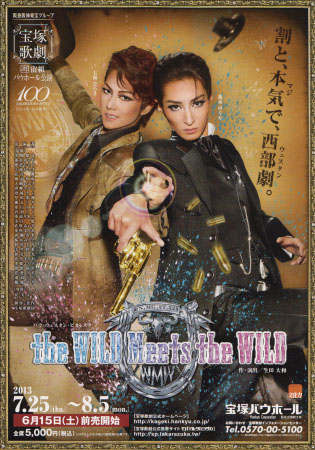 Picture Credit: zaraphena | official chirashi
English Title:
The Wild Meets the Wild ~WMW~
Japanese Title:
the WILD Meets the WILD -W.M.W.-
Troupe:
Cosmos
Year:
2013
Performances:
Bow Hall, 07/25 - 08/05
Author / Director:
Ikuta Hirokazu
Composer:
Oota Takeshi
,
Aoki Tomoko
Choreographer:
Miori Yumino
,
Hirasawa Satoshi
Available on DVD:
No
WARNING!! MAY CONTAIN SPOILERS!!
Southwest America in the late 19th century, during the Gold Rush. An adventure story of two young men who grew up together and then followed different paths, set in Tombstone. David Northbrook, leader of the miners, is so caught up in the gold fever that he pays little heed to his younger sister Monica, who has fallen on hard times and become very ill. When she dies, her son Jeremy is taken up by a former miner turned priest, who sends him away to school. While away, Jeremy begins to receive strange letters that purport to come from his dead mother. At first they ask him to do small favors, but soon he finds himself acting as a vigilante (the masked cowboy "Killer Bee") with tragic consequences. Meanwhile, Benjamin is caught up by the darker side of the city and becomes an outlaw cowboy. Shortly after Jeremy returns to Tombstone, there is a shooting incident in the "Bird Cage" theater, and he takes up the role of sheriff to deal with it. But what he sees inside is Benjamin being brought down by the "Bird Cage" actress Emma, who is actually a bounty hunter.
Any other interesting or important stuff.
None yet.
| | | | |
| --- | --- | --- | --- |
| Poster | DVD | VHS | CD |
| None Yet | None Yet | None Yet | None Yet |