The Two Noble Kinsmen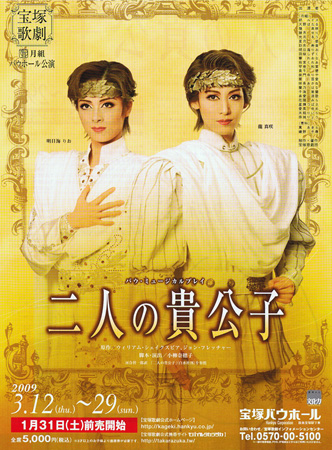 Picture Credit: Zephy, original chirashi
English Title:
The Two Noble Kinsmen
Japanese Title:
二人の貴公子
Romanized Title:
Futari no Kikoushi
Troupe:
Moon
Year:
2009
Performances:
Bow Hall, 3/12 - 3/29
Based On:
The Two Noble Kinsmen
by John Fletcher and William Shakespeare
Script / Direction:
Koyanagi Naoko
Composer:
Yoshida Yuuko
Choreographer:
AYAKO
Music:
Takarazuka New Sounds
Available on DVD:
No
WARNING!! MAY CONTAIN SPOILERS!!
The setting is ancient Greece. Palamon and Arcite, nephews of King Creon of Thebes, and bosom friends, are captured when Thebes looses a war against Athens. From the window of their prison cell, the two see Emilia, sister-in-law of Theseus of Athens, and fall in love with her. From that moment on the two become bitter enemies, each willing to betray and insult the other. At last it comes to a duel where they will risk their lives to gain the princess's love in return....
Any other interesting or important stuff.
Ekusudei's
| | | | |
| --- | --- | --- | --- |
| Poster | DVD | VHS | CD |
| None Yet | None Yet | None Yet | None Yet |