The Labyrinth of Loving You!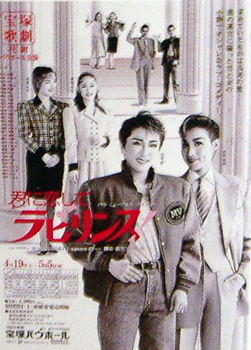 Picture Credit: Caithion
English Title:
The Labyrinth of Loving You!
Japanese Title:
君に恋して ラビリンス!
Romanized Title:
Kimi ni Koi Shite Labyrinth!
Troupe:
Flower
Year:
1997
Performances:
Bow Hall, 4/19 - 5/5
Based On:
Marivaux's "The Game of Love and Chance"
Author/Director:
Nakamura Satoru
Composer:
Yoshida Yuuko
,
Nishimura Kouji
Choreographer:
Hayama Kiyomi
,
Anju Mira
,
Wakao Risa
Available on DVD:
No (VHS only)
Other Cast:
Futaba Karen
,
Sakuragi Emi
,
Utahana Yumi
,
Mao Natsuki
,
Mutsuki Mao
,
Masaki Kazusa
,
Ayukawa Natsuki
,
Saki Nozomi
,
Kiriya Hiromu
,
Mei Karen
,
Anri Michiru
,
Haruka Ikki
,
Nazuki Mika
,
Hayase Ayu
,
Yuuma Rin
,
Mimori Sayaka
,
Hosaki Rinna
,
Ranju Tomu
,
Sawaki Kurumi
WARNING!! MAY CONTAIN SPOILERS!!
Rudy, a young man who has been fired from his job and broken up with his girlfriend, is resting on a park bench when another young man walks by. At that moment a gangster named Marty demands their money. Rudy replies that he has none, but just as the gangster turns on the other young man, the two are able to escape through the help of a passerby.
The two young men fall into conversation. Ovid is actually the son of a rich businessman, on his way to the Carrington Hotel to meet the young lady Patricia Hammond that his parents have chosen to be his fiancee. He has been told that she is a good match, but he would like to see for himself. He offers Rudy five thousand dollars, if he will switch places for three days. Of two minds, Rudy agrees to undertake the job.
Rudy becomes Ovid, and Ovid becomes a chauffeur named Rudy. A dancer named Marie, having seen this, pulls Patricia into conversation. Wanting to know more about the fiance her parents have chosen, Patricia asks Marie to also change places with her. Since she will soon be the wife of a rich man, she offers five thousand dollars.... In a dreamy state of mind, Marie accepts.
In his role as the chauffeur, Ovid goes to Patricia with greetings. In the role of Marie, Patricia's secretary, Patricia meets him. While sounding out each others' hearts, they feel an attraction.
In time, Rudy as Ovid and Marie as Patricia meet. Unable to keep up the appearance of being an elite businessman, Rudy gives up putting on airs and invites Marie out for a night on the town, which they both enjoy. Returning to the hotel, Marie tells Patricia that she believes Ovid (actually Rudy) is great, and Patricia says that Rudy (actually Ovid) is quite charming.
On their side, Rudy has come to love Patricia (actually Marie), and Ovid has fallen for Marie (actually Patricia). Anguished to be lying to the one they love, all four are thrown into turmoil....
None yet.
| | | | |
| --- | --- | --- | --- |
| Poster | DVD | VHS | CD |
| None Yet | None Yet | None Yet | None Yet |