The Eagle with Two Heads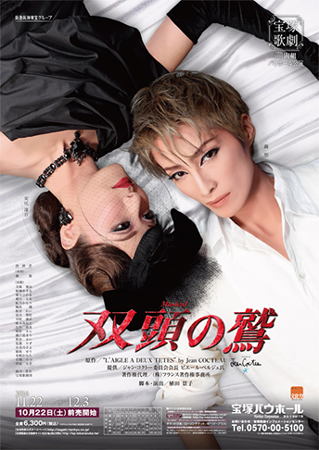 Picture Credit: coeuraubonheur | Official Chirashi
English Title:
The Eagle with Two Heads
Japanese Title:
双頭の鷲
Romanized Title:
Soutou no Washi
Troupe:
Senka / Cosmos
Year:
2016
Performances:
Bow Hall, 11/22 - 12/03; Kanagawa Arts Theater, 12/09 - 12/15
Based On:
L'Aigle à deux têtes, a play (1946) and a screen adaptation (1948) by Jean Cocteau
Director:
Ueda Keiko
Composer:
Saitou Tsuneyoshi
Choreographer:
Ooishi Hiroka
Available on DVD:
Yes (
release date 02/27/17
)
DVD Scene/Music Cuts:
None
WARNING!! MAY CONTAIN SPOILERS!!
Based on the brilliant French playwright Jean Cocteau's 1946 play "Double-Headed Eagle," which he also adapted for film.
(Synopsis from
Wikipedia
.)
On the 10th anniversary of the assassination of the King, his reclusive widow, the Queen, arrives to spend the night at the castle of Krantz. Stanislas, a young anarchist poet who seeks to assassinate her, enters her room, wounded; he looks exactly like the dead king, and the Queen shelters him instead of handing him over to the police. She sees him as the welcome embodiment of her own death, calling him Azraël (the angel of death). An ambiguous love develops between them, uniting them in a bid to outwit the machinations of the court politicians, represented by the Comte de Foëhn, the chief of police, and Édith de Berg, the Queen's companion. In order to remain true to their ideals and to each other, the Queen and Stanislas have to play their parts in a bizarre private tragedy, which the world will never understand.
The play L'Aigle à deux têtes is considered a direct inspiration for the world-famous 'Elisabeth' by Kunze and Levay, with Cocteau's Queen being, in her turn, based on pop-cultural image of Sissy. For example, Queen names her lover Azraël (Angel of Death) and greets him because she's in love with death and is willing to embrace it.
None yet.
| | | | |
| --- | --- | --- | --- |
| Poster | DVD | VHS | CD |
| None Yet | None Yet | None Yet | None Yet |