The Brothers Karamazov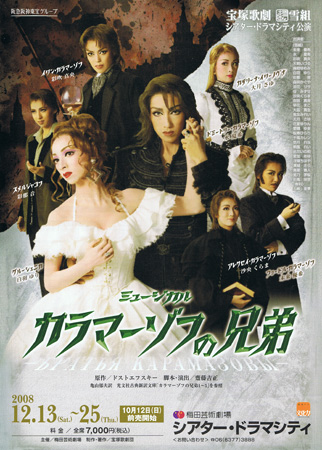 Picture Credit: Zephy
English Title:
The Brothers Karamazov
Japanese Title:
カラマーゾフの兄弟
Romanized Title:
Karamaazofu no Kyoudai
Troupe:
Snow
Year:
2008-09
Performances:
Theater Drama City, 12/13 - 12/25; Akasaka ACT Theater, 1/6 - 1/13
Based On:
The Brothers Karamazov
(Братья Карамазовы) by Fyodor Dostoevsky
Director:
Saitou Yoshimasa
Composer:
Terashima Tamiya
,
Teshima Kyouko
Choreographer:
KAZUMI-BOY
,
AYAKO
Available on DVD:
Yes (
release date 03/05/09
)
DVD Scene/Music Cut:
None
WARNING!! MAY CONTAIN SPOILERS!!
Act I
The musical begins mid-way through the trial of Dmitri Karamazov (Mizu Natsuki) for the murder of his father Fyodor (Mirai Yuuki). Dmitri maintains his innocence, and we are then taken back in time to see how things reached the point they are at now. First we have a small interlude, where Grigory Kutuzov (Shiyuu Mirei) and his wife Marfa (Asaki Yumemi) discover a dead woman still clutching a crying baby. The woman is a local unfortunate known as Reeking Lizaveta, and the two Karamazov servants suspect they may know the child's father. They take the baby away with them.
The rest of act I is taken up with introducing us to the unhappy Karamazov family. They have been summoned by their father: Dmitri (a wild, angry young soldier who still remembers how his father's profligate ways drove away his mother), Ivan (an atheist and a revolutionary who is determined to change the world... and who is a little bit mad), and Alyosha (a young novice at a monastery, easily flustered but seemingly content with his lot in life). Their father Fyodor gleefully tells them that although they thought he was summoning them to talk about inheritance, instead he is there to tell them that he will soon be getting married. Dmitri explodes, because his father is planning to marry Grushenka (Shirahane Yuri). Dmitri is madly in love with Grushenka, a woman of loose morals and hot temper, who mocks him and tells him she will only have a man with money and power. Dmitri, however, is held back by the presence of his fiancee Katerina Verkhovtseva (Ootsuki Sayu). Although neither of them love the other, they feel bound to honor the engagement. Dmitri, in particular, because he has borrowed a large sum of money from Katerina. He is torn between using the money and giving it back.
Meanwhile, Ivan (Ayabuki Mao) is preaching his gospel of "no god" which he says means people can do whatever they want without limits. Ivan is constantly tormented by a Hallucination (Itsumine Aki) who urges him on to selfish and reckless actions. Ivan has an avid pupil in young Pavel Smerdyakov (Ayana Oto), a family servant whom we quickly begin to suspect is more than he seems.
We also meet sweet Alyosha (Saou Kurama), who gently argues with his brother on the existence of god and who seems sweet on wheelchair-bound Liza Khokhlakov (Manaka Ayu), daughter of Katarina Verkhovtseva's friend Katerina Khokhlakov (Amase Izuru).... And we learn that Dmitri's fiance Katarina Verkhovtseva is actually in love with Ivan (and vice-versa).
Along with stealing away Grushenka, Fyodor also tries to trick Dmitri over debts. Enraged, Dmitri swears to kill his father. Ivan departs to return to Moscow, and Dmitri attempts to force his way in to see Grushenka or his father. When Dmitri runs into Pavel, he forces him to reveal the secret knock that Grushenka uses to crawl in his bedroom window and surprises his father that way. There is a struggle, during which Dmitri strikes the servant Grigory over the head. Grigory falls and Dmitri is horrified. He flees with his father shouting "killer!" in his wake.
Meanwhile, Grushenka has taken a step back and looked closely at her life and doesn't like what she sees. It was the abandonment of a past Polish lover, Pan Mussyalovich (Oonagi Mao) which broke her heart and made her swear she would never be hurt or controlled by a man again. However, Pan returns and is boorish and obsessed with money, going so far as to start a sword-fight with Dmitri. Dmitri protects Grushenka, and the two reach an agreement. Dmitri spends the 3000 rubles he borrowed from Katarina in a big party to impress Grushenka, and the two finally admit their love. However, it is just at that moment that the police arrive and arrest Dmitri for his father's murder, and the theft of 3000 rubles that his father had on him at the time of his death. Grigory has survived the blow on the head, and names Dmitri as the attacker, which is very damning.
Act II
Although Dmitri admits to attacking Grigory, he claims he is innocent of his father's murder. He also says that the 3000 rubles are from Katerina, but she is angry at his treatment and refuses to speak out for him. Alyosha visits Dmitri in jail and tells his brother that he knows he is innocent because he is not a killer.
A letter finds Ivan in Moscow plotting revolution. He quickly returns, but shocks Alyosha when he says he believes Dmitri is their father's killer.
Grushenka is out drinking when she has another confrontation with Pan. After he leaves the tavern, she learns that he as fleeced a young lawyer at cards and the young man cannot pay his bill. She comes to the young lawyer's rescue, and hires him to act in Dmitri's defense. The two visit Dmitri in jail, and they are gleefully optimistic, especially when Grushenka tells Dmitri that she has convinced Katarina to appear and testify on the matter of the money.
Meanwhile, Liza confesses her love to Alyosha and begs him to marry her. Alyosha agrees, but they are interrupted by her mother Katarina, who points out that her daughter is a cripple and that the Karamazov family is not one she wants her daughter involved with. She orders Alyosha to stay away from her daughter.
The trial continues, and the testimonies fly both for and against Dmitri. As it goes on, Ivan meets with Pavel, who in a slightly crazed ramble admits that he is the actual murderer, and that he did it all so that Ivan could have the power, money, and woman that he wanted. He believed that this was what Ivan had instructed him to do. He also reveals who his mother is, and that he is also the son of Fyodor Karamazov. Stricken, Ivan declaims all responsibility and turns his back on Pavel. Ivan runs to the courthouse and tells them that Pavel is the murderer. The court calls on Pavel to appear, but the horrified servants arrive with the news that Pavel has killed himself. The mood of the court turns against the Karamazovs, and Ivan has a complete mental breakdown.
Katarina arrives suddenly, but instead of testifying about the money, she has brought what she calls the most damning piece of evidence against Dmitri, a letter he wrote in which he talked about his plans to kill his father. Dmitri admits that he had intended to kill his father, but had not been able to carry out his plan. However, he is sentenced to be exiled to Siberia.
Alyosha waits for his brother at the train station where the prisoners are to board for their trip to Siberia. While he is waiting, Liza arrives, smuggled away from her mother by a mutual friend. She comforts Alyosha. Dmitri and the other prisoners arrive, and he has a heartfelt talk with his brother. He also makes Liza promise to look after Alyosha. Just before he boards the train, Grushenka arrives. They have a passionate conversation, and Grushenka swears she will never leave him, even if it means following him to Siberia.
Review by yukinojou
Review by michiru42
| | | | |
| --- | --- | --- | --- |
| Poster | DVD | VHS | CD |
| None Yet | None Yet | None Yet | None Yet |