Shangrila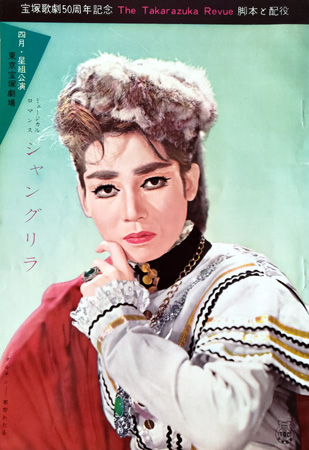 Picture Credit: jenebi, Original Show Program
English Title:
Shangrila
Japanese Title:
シャングリラ
Romanized Title:
Shangurira
Troupe:
Star
Year:
1964
Performances:
Takarazuka Tokyo Theater, 4/4 - 4/29; Takarazuka Grand Theater, 10/31 - 11/30
Based On:
Author/Director:
Kikuta Kazuo
Director:
Kamogawa Seisaku
Music:
Irie Kaoru
,
Nakai Mitsuharu
,
Totoki Kazuo
,
Terada Takio
Choreography:
Kawakami Gorou
,
Oka Masami
Conductor (Takarazuka):
Conductor (Tokyo):
Nakamura Kanefuji
,
Izawa Ichirou
Available on DVD:
No
Role
Tokyo Cast
Grand Theater Cast
Dawar, crown prince
Kasugano Yachiyo
Kamiyo Nishiki
Tal Chin, second-born prince
Nachi Wataru
Nachi Wataru
Julia, princess
Yodo Kaoru
Yodo Kaoru
Dorju, the king
Kamiyo Nishiki
Uchibuki Misa
Zorbon, minister
Miyoshi Sakuko
Jigme, Zorbon's secretary
Miyama Shinobu
Garbo, interior minister
Narumi Ushio
Dawa, head lady-in-waiting
Mizushiro Tamamo
Sawan, war minister
Takadono Yukari
Takadono Yukari
Shapa, interior minister
Shinonome Akemi
Lozhan, Tal Chin's friend
Chinami Jun
Chinami Jun
Dorje, Tal Chin's friend
Takashiro Juri
Takashiro Juri
Priest Basan
Amagi Tsukie
Amagi Tsukie
Julia's Father
Narumi Ushio
Narumi Ushio
Julia's mother
Wakazakura Kaoru
Kessel, Julia's nurse
Tachibana Kimiko
Bimba, Dawar's fiancee
Wakayama Kazumi
Nina, Tal Chin's fiancee
Akira Sayumi
Lukala, nobleman's daughter
Tachibana Kakuko
Sonamo, nobleman's daughter
Benizono Yurika
Doona, nobleman's daughter
Oozora Midori
Maguna, younger sister
Kisaragi Miwako
Kisaragi Miwako
Kelchi, retainer
Aki Hiromi
Aki Hiromi
Other Cast:
Chibune Asako
,
Rijou Mariko
,
Yoshihara Haruto
,
Kasuga Kiyoshi
,
Chihaya Tamayo
,
Kamiji Chizuru
,
Kokonoe Sakiko
,
Nazuki Hitomi
,
Sanjou Chika
,
Takashiro Juri
,
Tsukinoe Madoka
,
Hoshi Misa
,
Akino Konomi
,
Ibuki Naoko
,
Ogura Momiji
,
Kuni Mizuho
,
Kotobuki Mika
,
Tamazusa Rumi
,
Tsukasa Konomi
,
Fuji Kimino
,
Matsukage Yurika
,
Mine Yukari
,
Mimuro Toshimi
,
Amazuki Teruyo
,
Sanjou Ayako
,
Naoki Tamami
,
Hayama Kiyomi
,
Benizono Yurika
,
Yashi Natsumi
,
Waka Miyuki
,
Wakahara Michi
,
Anjou Yuka
,
Kaoru Kuniko
,
Kugou Nami
,
Sen Natsuki
,
Chigusa Mikage
,
Nagisa Ayumi
,
Nanbara Misao
,
Nijou Sachimi
,
Matsubara Miho
,
Matsuho Misa
,
Moe Izuru
,
Yachiyo Tamaki
,
Yui Midori
,
Yuki Hitomi
,
Yukishiro Chizuru
,
Yoshimoto Kayoko
Ken-2:
Akemiya Reiko
,
Misono Chisato
,
Hatsuhi Fujiko
,
Suzaku Hiromi
,
Niou Kyouko
,
Yasaka Mitsuru
,
Sawa Misato
,
Azumaji Hikaru
,
Shibuki Naomi
,
Saho Hikari
,
Nashiro Kuniko
,
Mizunose Akira
,
Yamaji Hiromi
,
Kuni Sayuri
,
Irodori Nanako
,
Gou Chigusa
,
Hodaka Shigemi
,
Itoi Shidare
WARNING!! MAY CONTAIN SPOILERS!!
Professor Higgins discovers the land of Shangrila, hidden deep amid the mountains. However, at the border he is met by an old man, who tells him a tale of sixty years ago....
Then, Crown Prince Dawar returns from his time studying in France with news that he will be marrying a French noblewoman he fell in love with named Julia, rather than Bimba, who he has been promised to since they were babes. Julia's parents had opposed the match, since Dawar had been very secretive about his homeland. Shangrila is protected by the gods, and is an insular, secretive country.
Dawar and Julia are married, despite the protests of the ministers and priests. However, these same ministers and priest come to drive a wedge between Dawar and Julia. After a state meeting, Dawar does not go to see Julia for over six days, and Julia hears rumors from the servants that she will be set aside and that Dawar has agreed to re-marry. Prince Tal Chin comes to her room to speak with her, and when she tells him these rumors, he refuses to give them credence without speaking to his brother first. He sins to Julia and reassures her.
However, it turns out that the rumors are true, and that Dawar has been convinced to set her aside for the sake of the sacred peace of Shangrila. Tal Chin is furious, and says that he has fallen in love with Julia, and if Dawar is going to treat her like this, that she should rather leave him. Julia refuses to leave Dawar, who she still loves. Dawar, angry, draws his sword, and he and his brother fight. Tal Chin wounds Dawar, and is sent from the palace in disgrace.
On the day of the wedding, Dawar meets with Julia for what he tells her will be the last time, as he cannot see her after his wedding to his new wife. He arranges for her to leave the country, and arranges for word of her return to France to reach his brother's ears. Tal Chin meets Julia's traveling party and although Julia says that she still loves Dawar, she feels for Tal Chin's kindness and steadfast love for her, and invites him to come with her to France. They begin to head over the Himalayas. However, the ministers and priests have conspired to mislead them onto an unsafe path, as they cannot be allowed to leave and bring word of Shangrila to the outside world.
Tal Chin and Julia, abandoned and betrayed, struggle to find their way through the pass, and eventually do manage to reach the Indian side. Unfortunately, they are then killed in an avalanche.
The old man telling the story reveals that he is Dawar, and says that it is time to break the secrecy which has bought a false peace for his country. He leads Higgens into Shangrila.
Any other interesting or important stuff.
None yet.
| | | | |
| --- | --- | --- | --- |
| Poster | DVD | VHS | CD |
| None Yet | None Yet | None Yet | None Yet |