The Rose of Versailles: Oscar and Andre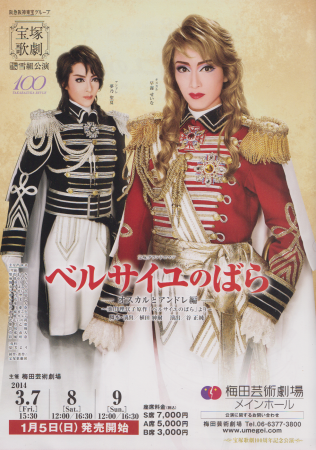 Picture Credit: Zaraphena | Official Chirashi
English Title:
The Rose of Versailles: Oscar and Andre
Japanese Title:
ベルサイユのばら-オスカルとアンドレ編-
Romanized Title:
Berusaiyu no Bara - Osukaru to Andore Hen
Troupe:
Snow
Year:
2014
Performances:
National Tour, 03/07-03/26
Based On:
Manga by Riyoko Ikeda
Author:
Ueda Shinji
Director
Ueda Shinji
,
Tani Masazumi
Composer:
Yoshida Yuuko
,
Terada Takio
,
Irie Kaoru
,
Kuratomi Shinichi
,
Kawasaki Tsuneo
,
Hirao Masaaki
Choreographer:
Hayama Kiyomi
,
Shou Sumire
,
Wakao Risa
,
Oka Masami
,
Kita Hiroshi
Available on DVD:
Yes (
release date 06/06/14
)
DVD Scene/Music Cuts:
No
Other Cast:
Shiramine Yuri
,
Saizuki Tsukushi
,
Mizusa Ruru
,
Houka Haruna
WARNING!! MAY CONTAIN SPOILERS!!
On December 25, 1755, a sixth daughter was born to General Jarjayes, a count whose family has served the French Royal Family as a royal guardsman for generations. The general who was wishing for a son and heir decides at last to designate her as his heir and gives her a boy's name, Oscar, which means God and spear in Hebraic. In addition, he determines to bring her up as a boy, teaching her swordsmanship and giving her a high education then reserved for noblemen.
Andre Grandier who lost his parents in his childhood comes up from Provence to be placed under the care of his grandmother, Marronglace, Oscar's wet nurse. He is Oscar's senior by one year. The general accepts him as Oscar's playmate and raises him for her guard as well. Oscar and Andre grow up as if they are brothers regardless of the difference in birth.
The Bourbon Dynasty glorious for two hundred years is showing signs of decline in the time of Louis XVI. The king, fond of hunting and locksmithery, is sober and extremely shy. On the other hand, Queen Marie-Antoinette, one year younger than the king, is jovial and as pretty as to match the red roses in all their glory in the garden of the Palace of Versailles. The kingdom's financial difficulties carried over from the late king's days are facing a critical situation, and the queen's extravagance serves to worsen the situation. The weight of taxation bears ever harder on the French common people who groan under the famine successive for several years.
The king's opponents meet almost every day and night to elaborate a plot. This is done at the Palais Royal, the Parisian residence of the Duke of Orleans, the king's cousin. The Count of Provence, the king's younger brother, reproaches the duke for his attitude. However, the duke argues that there is no way left other than to make an ally of the common people in order to save the Bourbon Dynasty now that they are blaming the queen for the heavier taxation and their misery.
Marie-Antoinette, totally ignorant of the outside world, is preoccupied by her love affair with Hans Axel von Fersen, a Swedish Count she first met when she was eighteen at a masquerade at the Opera House in Paris. Although she still has great esteem for Louis XVI whom she married at the age of fourteen and to whom she has so far bore three children, she has fallen in love in the true sense of the word for the first time in her life.
One day in the spring of 1788, at the Palace of Versailles, Oscar in men's attire attends as captain of the royal guards in charge of the queen who is surrounded by some ladies. Quite a few of them cannot be indifferent to Oscar, tall and handsome as sin with long blond hair. Just when the ladies tempt Marie-Antoinette into a bet, Oscar dismisses them to be left alone with the queen. Then, Oscar tries to persuade her to let Fersen go back to Sweden on the ground that even among nobles, some try to exploit the rumor about her relations with Fersen with the view of agitating the malcontents. However, Marie-Antoinette barely listens to Oscar, although she feels badly about her infidelity to the king.
On the night of the same day, Oscar finds Fersen secretly meeting Marie-Antoinette. Oscar begs him to immediately return to Sweden if he really cares about the queen. However, Fersen ignores Oscar and goes away.
Watching him go far off, Oscar is seized by a mixture of feelings. In fact, since Oscar first met him at the masquerade held at the Opera House in Paris, she, too, loves Fersen and is conscious that her love should remain unanswered.
Marie-Antoinette and Fersen meet again in the garden of the palace. All of a sudden, a robber representing himself as Black Knight appears before Oscar and Andre standing guard on the queen. Black Knight is said to rob only the residences of nobles and is winning popularity as a chivalrous robber. When Oscar and Andre arrest him, Black Knight turns out to be a journalist named Bernard Chatre. He appeals to them to learn the realities of France.
Oscar and Andre visit Paris guided by Bernard and witness the miserable conditions in Paris. Oscar resolves to stand up for the common people accounting for ninety-six percent of the French population and applies for a transfer to the captaincy of the French Guards. Colonel Girodelle tries in vain to dissuade her from becoming captain of the French Guards composed largely of rough fellows. Andre, bred to protect her, makes a fresh decision to guard her under any circumstances. Meanwhile, Fersen goes back to Sweden complying with Oscar's request and thinking of the troubles likely to hurt the queen.
The members of the French Guards are indeed wild. All of them including Alain de Soissons disobey Oscar, their new captain, because she is a woman and ask her to leave. Oscar defies Alain to expel her by sword, and after a fierce fight, she defeats him. In consequence, they recognize her as their captain and gradually trust in her love of country.
In Paris, the Third Estate disregard the king's order to dissolve the National Assembly and stay on in the assembling hall. General Bouillet orders the French Guards to disperse its representatives by force. However, Oscar refuses the general's order for the reason that the French Guards are not allowed to fire off at the people whom they are charged to protect.
Schedule

Dates

Location

3/07 - 3/09
Umeda Arts Theater (Osaka)
3/12
Matsumoto Performing Arts Centre (Matsumoto, Nagano)
3/13
Colony Bunka Hall (Kofu, Yamanashi)
3/15 - 3/16
Japanese Ceramic Industry Civic Hall Forest Hall (Nagoya, Aichi)
3/18
Ise City Kanko Community Hall (Ise, Mie)
3/19
Mie Prefecture Culture Hall (Tsu, Mie)
3/21
Kitakyushu Soleil Hall (Kitakyushu, Fukuoka)
3/22 - 3/23
Fukuoka Civic Hall (Fukuoka)
3/25
Arkas SASEBO (Sasebo, Nagasaki)
3/26
Nagasaki Brick Hall (Nagasaki)
None yet.
| | | | |
| --- | --- | --- | --- |
| Poster | DVD | VHS | CD |
| None Yet | None Yet | None Yet | None Yet |