Portrait of the Heir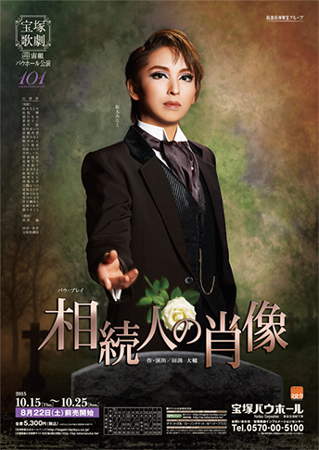 Picture Credit: coeuraubonheur | Official Program
English Title:
Portrait of the Heir
Japanese Title:
相続人の肖像
Romanized Title:
Souzokunin no Shouzou
Troupe:
Cosmos
Year:
2015
Performances:
Bow Hall, 10/15 - 10/25
Based On:
Author/Director:
Tabuchi Daisuke
Composer:
Saitou Tsuneyoshi
Choreographer:
Miori Yumino
Available on DVD:
No
† Although originally scheduled to appear as Arthur,
Rui Makise
was absent from the entire run due to an injury.
Mizuka Ichi
took the role, and
Sumikaze Nagi
took her role of Robert.
Other Cast
:
Amase Hatsuhi
, ,
Manami Hikaru
,
Yukino Kasari
,
Manase Mira
,
Hanashiro Saaya
,
Koko Sakura
WARNING!! MAY CONTAIN SPOILERS!!
The story unfolds in England in the beginning of the 20th century. The protagonist is a young noble called Charlie. Soon after his mother's death his father George married another woman called Vanessa, and Charlie severed relations with him. Now that his father has died too, Charlie comes back to the family mansion called Barrington House as a legal heir. But there are two obstacles: terms made in the father's will, and also Vanessa and her daughter Isabel trying to claim their rights to inherit.
Any other interesting or important stuff.
None yet.
| | | | |
| --- | --- | --- | --- |
| Poster | DVD | VHS | CD |
| None Yet | None Yet | None Yet | None Yet |