Partial Time Travel: To the End of Space-Time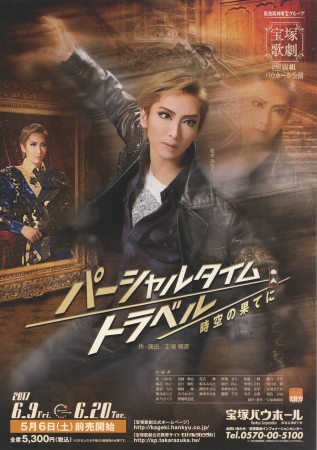 Picture Credit: zaraphena / official flyer
English Title:
Partial Time Travel: To the End of Space-Time
Japanese Title:
パーシャルタイムトラベル 時空の果てに
Romanized Title:
Paasharu Taimu Toraberu Jikuu no Hate ni
Troupe:
Cosmos
Year:
2017
Performances:
Bow Hall, 06/09 - 06/20
Based On:
Author/Director:
Masatsuka Haruhiko
Composer:
Takahashi Kuni
,
Tama Shouichi
,
Takahashi Megumi
Choreographer:
Available on DVD:
No
WARNING!! MAY CONTAIN SPOILERS!!
Jean, who hopes to become a singer-songwriter, spots a mysterious lump of metal at an antique shop he was led to by a girl. Possessed by the metallic object's strange charm, Jean purchases it. It makes a quiet noise as if a machine is running, and Jean is struck by a feeling of vertigo. An instant later, medieval Europe unfolds before Jean's eyes, like something straight out of a history class.....
A fantastical love comedy, where the hero discovers what is truly important amid unpredictable space-time travel, falling in love, and living.
On April 4th, 2017 it was announced that despite being originally scheduled to appear in this show, Matsukaze Akira would be absent due to injury.
None yet.
| | | | |
| --- | --- | --- | --- |
| Poster | DVD | VHS | CD |
| None Yet | None Yet | None Yet | None Yet |