Osaka Samurai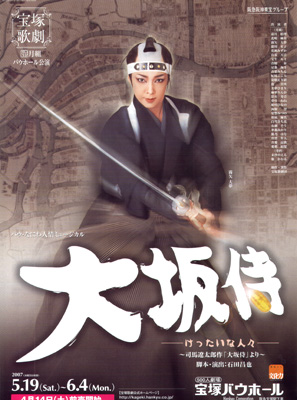 Picture Credit: Caithion / promotional flier
English Title:
Osaka Samurai
Japanese Title:
『大坂侍』-けったいな人々-
Romanized Title:
Oosaka Zamurai - kettaina hitobito -
Troupe:
Moon
Year:
2007
Performances:
Bow Hall, 5/19 - 6/4; Nippon Seinenkan Hall, 6/9 - 6/15
Based On:
Shiba Ryoutarou's short story
Osaka Zamurai
Author/Director:
Ishida Masaya
Music:
Nishimura Kouji
,
Kuratomi Shinichi
Choreography:
Hanayagi Yoshijirou
,
Ai Erina
Available on DVD:
Yes (
release date 08/05/07
)
DVD Scene/Music Cut:
None
WARNING!! MAY CONTAIN SPOILERS!!
Before explaining the characters and the story, we must explain the local color of Osaka at the end of the Edo era. The Bakufu government's own system was, of course, a hierarchy of samurai, farmers, artisans and merchants. Osaka was called "the merchant town" because of the money it had, and the wealthy merchants did not follow the Bakufu.... they even went so far as to loan money to imperialist sympathizers in Satsuma. "The shogunate faction and the imperial sympathizers may prattle, but the the thing which really keeps Japan moving is the money of Osaka," is what they had pride in. Therefore the samurai were not respected like they were around Edo Castle, and there was a phenomenon of the merchants thinking their own sons better than those of the samurai. Osaka was under direct control of the shogunate, and so wasn't a clan domain at the time. The lord of Osaka Castle was the Tokugawa shogun. In other words, the protagonist of the story, Torii Matashichi, was a poor retainer of Tokugawa.
However, it was the end of the Edo era, and most of the Osaka samurai were born and raised in Osaka, and they themselves had a diluted sense of being retainers of Tokugawa, and of their loyalty. However, although Matashichi was of the same mind as these, he worked policing the riverside and banks, and although he was called the "two-sworded samurai", he seemed like a staff member of the ward office. However, Matashichi was a hard worker, sometimes lending a hand to the laborers repairing the embankment. The heirless Yamatoya Genemon said: "Matashichi really works hard, even if he is a samurai. If it's possible, I want to adopt him as my son in law — have him marry Osei and succeed me in the business." By various means he conspires with his beloved daughter Osei in a plan to "Acquire Matashichi!"... Although originally quarrelsome, Matashichi is a shy and serious person around women. His move in response to Osei's aggressive Kansei-ish proposal is to flee as slippery as an eel. Osei suddenly shows up at Matashichi's workplace and declares: "If you won't marry me, I'm gonna throw myself in the river and die!" She causes a big commotion by jumping into the river with large stones in her kimono sleeves, and tries to fulfill her love by overbearingly bribing Matashichi's follower Gokuraku no Masa and his fencing instructor Watanabe with "the power of money".
But it was a time when things were getting tense. As a man of Osaka, Matashichi was a retainer of the Tokugawa shogunate. On his deathbed, Matashichi's father requests that his son go to Edo, and join the Shogitai (an army of former Tokugawa retainers) to confront the imperial army. At first Matashichi refuses, as he doesn't feel that strongly his loyalty to the Tokugawa, but after his father has died, he learns that his poor father had been scrimping and saving in order to have enough money to send his son to Edo. Then Matashichi is torn.
Another plot point focuses Matashichi's dislike for Amano Genba, a sword-for-hire currently working for the local yakuza. Matashichi hates killers, to the point that his own longsword is actually a blade without edges. He and Amano get along like oil and water. Amano works to draw away the members of the yakuza and overthrow their old boss, Kuromon, by promising them better pay with the imperial army. They all join, and with that power behind them, become lawless bullies.
Another subplot follows Matashichi's younger sister, and her fiancée, Kazuma. Kazuma is the son of a merchant family, and so Matashichi's father required him to set aside his money-grubbing past and become a samurai before he would allow him to marry his daughter. Although agreeing on the surface, Kazuma soon secretly returns to being a merchant, assuring Kinue that her father will understand that it is money that makes Osaka run. Her father dies soon after, saving them from a confrontation. Amano and his goons run into Kazuma one day, and although Kazuma tries to explain that he is a merchant again, not a samurai, they think this is highly suspicious and drag him off. Amano soon decides that as a merchant, his family must be willing to pay a lot of money for his safe return, and ransoms him for 300 ryo.
Matashichi refuses to pay it. He is thoroughly disgusted with Osaka's obsession with money, and determined to leave for Edo. But before he leaves, there is one man, one killer, one scoundrel, whom he cannot forgive. With the help of a fellow policeman, a geisha who is in love with him, and the revenge-minded yakuza Kuromon, he sets his trap. Kazuma's mother pays the ransom, and Kazuma is returned safely. The geisha, Mameyakko, lures Amano out alone, and Matashichi and he face off, finally uninterrupted. At first Amano taunts him and his well-known sword without an edge, but Matashichi replies that tonight he carries his father's sword. The two fight, until Matashichi has Amano pinned. Still unwilling to kill a man, he offers to let Amano go if Amano apologizes and returns the 300 ryo. Amano refuses. The two fight further, and Amano is finally killed.
Matashichi tries to give away the 300 ryo, but no one will touch it now that it is "dead" money. In the end, he gives it to Kinue and Kazuma, and tells Kazuma to make his sister happy. Matashichi finally leaves Osaka, and joins with the Shogitai to confront the imperial army at Ueno, Edo. What will be Matashichi's fate, and what of Osei's love...?
Takarazuka Precious: Sakakihara Kazuko's Takarazuka First Night & Event Revue article
Osaka Samurai - Review by Ekusudei
| | | | |
| --- | --- | --- | --- |
| Poster | DVD | VHS | CD |
| None Yet | None Yet | None Yet | None Yet |