Mei's Butler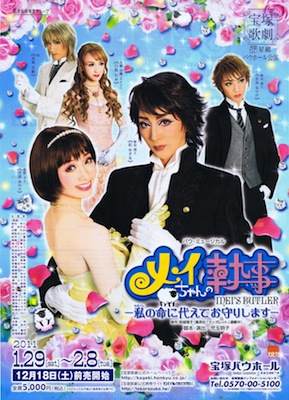 Picture Credit: official flier
English Title:
Mei's Butler ~I Will Protect You With My Life~
Japanese Title:
『メイちゃんの執事−私の命に代えてお守りいたします−』
Romanized Title:
Mei-chan no Shitsuji -Watakushi no Inochi ni Kaete Omamori Itashimasu-
Troupe:
Star
Year:
2011
Performances:
Bow Hall, 01/29 - 02/08; Nippon Seinenkan, 02/15 - 02/21
Based On:
the girls' comic series by Miyagi Riko
Director:
Kodama Akiko
Composer:
Choreographer:
Conductor:
Available on DVD:
Yes (
release date 07/27/12
)
Available on Blu-Ray:
Yes (
release date 07/30/19
)
Other Cast:
Outsu Risa
,
Seo Yuria
,
Renju Kouki
,
Shidou Ryuu
,
Shiratori Yuriya
,
Takuto Rei
WARNING!! MAY CONTAIN SPOILERS!!
A musical version of the popular girls' comic being serialized in "Margaret". Shinonome Mei, an extremely ordinary girl living in the countryside of Shikoku, loses her parents in a traffic accident. On the day of funeral, a butler by the name of Shibata Rihito comes from her family home to meet her. He tells her that her father was the eldest son of the Hongo family and thus the heir to the multi-millionaire Hongo Group — with her father's death this makes her the formal successor. Having become an heiress overnight, Mei enrolls in St. Lucia Girls' Academy to train to be a lady — as well as protect herself and those around her. At St. Lucia Girls' Academy, the ultimate school for young ladies, each female student has a personal butler. There Mei must confront her own fate and love...
Any other interesting or important stuff.
None yet.
| | | | |
| --- | --- | --- | --- |
| Poster | DVD | VHS | CD |
| None Yet | None Yet | None Yet | None Yet |