MY HERO (Flower 2017)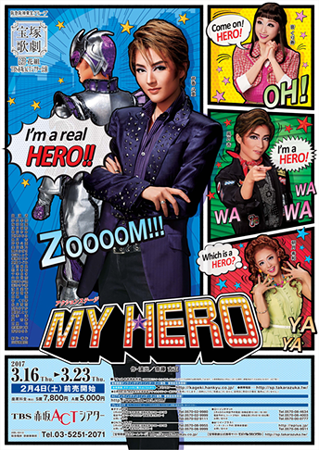 Picture Credit: coeuraubonheur | Official Chirashi
English Title:
MY HERO
Japanese Title:
アクションステージ - MY HERO
Romanized Title:
Akushon Suteeji - MY HERO
Troupe:
Flower
Year:
2017
Performances:
Akasaka ACT Theatre, 3/16 - 3/23; Theatre Drama City, 4/02 - 4/10
Author/Director:
Saitou Yoshimasa
Composer:
Teshima Kyouko
Choreographer:
Wakao Risa
,
Minato Yurika
Available on DVD:
Yes (
release date 2017.8.24
)
DVD Scene/Music Cuts:
No
Other Cast:
Taou Shun
,
Naoto Akira
,
Suzumina Natsuki
WARNING!! MAY CONTAIN SPOILERS!!
The setting is Los Angeles, at the end of the 20th century. Noah has grown up idolizing his father, the legendary costumed TV action hero "MASK☆J." Noah intends to follow in his father's footsteps, and is climbing from obscurity to become a top actor. However, before he knows it Noah has lost sight of his goal, and the scandals from his dissipated life cause his talent agency to fire him. In these circumstances, he at last finds a job as a costumed actor with a masked face. In fact, it's almost as if he is playing his father's role "MASK☆J"....
Although he had been stuck in a rut, clinging to his past glory, when he crosses paths with a young woman who has endured many difficulties, he once more determines to shape up his life, following the themes a hero teaches, such as "courage," "never giving up," and "love."
Any other interesting or important stuff.
None yet.
| | | | |
| --- | --- | --- | --- |
| Poster | DVD | VHS | CD |
| None Yet | None Yet | None Yet | None Yet |