Lovers' Suicide: Love in Yamatoji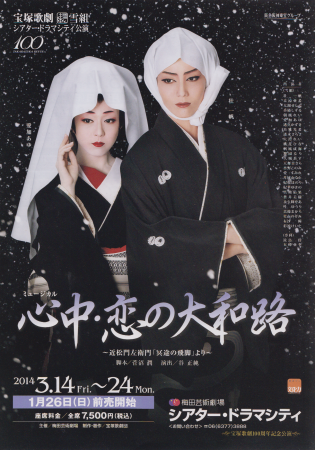 Picture Credit: Zaraphena | Official Chirashi
English Title:
Lovers' Suicide: Love in Yamatoji
Japanese Title:
心中・恋の大和路
Romanized Title:
Shinjuu: Koi no Yamatoji
Troupe:
Snow
Year:
2014
Performances:
Theatre Drama City, 03/14 - 03/23; Nippon Seinenkan, 04/15 - 04/21
Based On:
The Courier for Hell
by Chikamatsu Monzaemon
Author:
Suganuma Jun
Director:
Suganuma Jun
,
Tani Masazumi
Composer:
Yoshizaki Kenji
Choreographer:
Matsumoto Shoume
,
Mine Saori
(as Nishizaki Mine)
Available on DVD:
Yes (
release date 06/30/14
)
DVD Scene/Music Cuts:
No
Other Cast
:
Hizakura Honori
,
Himehana Yukino
,
Aoi Miki
,
Seina Nozomi
,
Arisa Hitomi
,
Ayanami Keito
WARNING!! MAY CONTAIN SPOILERS!!



CONTENT WARNING(S):
Romanticizing suicide/death
Chuubei is a young master of a courier service. He is in love with Umegawa, an indentured courtesan. However, he cannot pay off her contract, and she will soon be sent away to a rich man in the country. In despair, he takes money entrusted to his business and opens the seal. The penalty for stealing money is death, and his friends try to talk him out of it. But he is resolute, and pays off Umegawa's contract. When she learns the truth, Umegawa offers to die then and there. Chuubei argues that they should stay alive, as dying is easy, and they can do it at any time. The two set flee the city, heading for Yamatoji. Chuubei hopes to find his real father and get them aid.
On the road, they evade their pursuers. Chuubei's friend Hachiemon is also after them, determined to help them. In the end, the exhausted couple finds awful rumours have come ahead of them. Chuubei's father gives Umegawa what small money he has, saying he doesn't want for them to die, but will have no more to do with them. Just as their pursuers catch up, Hachiemon reaches them. He talks the pursuers out of following, because it is certain that the two will die in the cold snows that they have headed into....
None yet.
| | | | |
| --- | --- | --- | --- |
| Poster | DVD | VHS | CD |
| None Yet | None Yet | None Yet | None Yet |