Love Insurance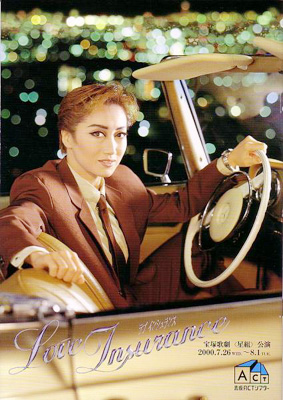 English Title:
Love Insurance
Japanese Title:
Love Insurance
Troupe:
Star
Year:
2000
Performances:
Theater Drama City, 3/12 - 3/21; Akasaka ACT Theater, 7/25 - 7/31
Based On:
Author/Director:
Masatsuka Haruhiko
Composer:
Takahashi Kuni
Choreographer:
Ueshima Yukio
,
Iga Yuuko
Conductor:
Available on DVD:
VHS only
Other Cast:
Miki Chigusa
,
Yuuho Satoru
,
Mizuno Chiharu
,
Takamiya Chinatsu
,
Emi Kurara
,
Shikibu Iroha
WARNING!! MAY CONTAIN SPOILERS!!
Montgomery, who has opened his own detective agency, cannot forget the face of his lover, Gloria, who passed away from leukemia. He goes to see a therapist for treatment. One day, while waiting for his aunt at a hotel, Montgomery meets a woman who looks exactly like Gloria. He calls out to her without thinking, but she takes him for a suspicious person and runs away.
When he returns to his office, he finds one of his detectives, Jeff, waiting there along with the girlfriend (Priscilla) of his friend, and his brother Jim. "My friend since high school, Paul, has disappeared," he says. Paul had been confirmed to have leukemia, and after going to have a word with city councilman Simon Austen, had been very depressed. Montgomery promises to help, and goes to the police station to search the recent incident reports. There, unexpectedly, he again meets the woman he had called out to at the hotel. She is an insurance company investigator named Cecil, and today she is looking into the auto accident death of Councilman Austen's wife, Loretta. This is a large claim to be paid out, and a suspicious point has been noted, but the police detective in charge of auto accidents (McGovern) is indecisive about investigating deeply into suspicions against the wife of a councilman. However, McGovern is an old acquaintance of Montgomery's, and he helps Cecil, and it is decided that the investigation will be carried out again. Montgomery realizes that there are surprising links between the death of the councilman's wife and the disappearance of Paul. Cecil in turn comes out with information for Montgomery. Montgomery continues to be disturbed by Cecil's resemblance to Gloria, but the two work together to solve the investigation.
Montgomery and Cecil begin to puzzle out the mystery-- Simon had been reduced to poverty by his wife's debts. Also, she had a lover, and the two were constantly fighting. Then Simon thought of setting up something that looked like an accident to kill her and get the insurance payout. Paul came to Simon to talk about his prospects, but when Simon learned he had no future, he incorporated Paul into his murder plans. Paul thus became the murderer's accomplice. In order to keep his mouth closed, was he was kidnapped? Or was he perhaps murdered....?
How will the two mysteries be clarified? And what of Montgomery and Cecil's love...?
Any other interesting or important stuff.
None yet.
| | | | |
| --- | --- | --- | --- |
| Poster | DVD | VHS | CD |
| None Yet | None Yet | None Yet | None Yet |