Le Petit Jardin (Cosmos 2005)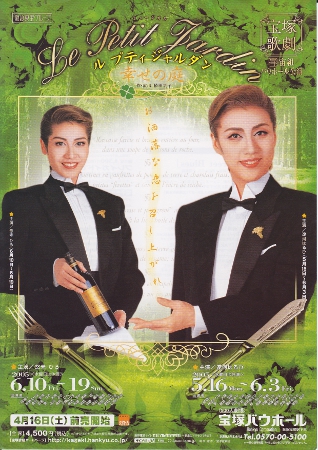 Picture Credit: official flyer
English Title:
Le Petit Jardin ~The Garden of Happiness~
Japanese Title:
Le Petit Jardin―幸せの庭―
Romanized Title:
Le Petit Jardin -Shiawase no Niwa-
Troupe:
Cosmos
Year:
2005
Performances:
Bow Hall, 5/16 - 6/3; 6/10 - 6/19
Based On:
Author / Director:
Ueda Keiko
Composer:
Yoshida Yuuko
,
Teshima Kyouko
Choreographer:
Aoki Miho
,
Suganuma Imari
Available on DVD:
No
(name romanizations are approximated)
Ten years ago a man named Michel Chandy died, and since that time Alain has been the director of Michel's restaurant, "Le Petit Jardin". It's a cosy little restaurant in France, where the staff puts all their heart into their work and strive to make their guests happy.
One day a woman comes to visit and introduces herself as Cecile Chandy, the daughter of Michel Chandy and the true owner of "Le Petit Jardin". It is the first time she has returned to the restaurant since her parents' messy divorce. Alain and the staff kindly try to show her how much work they have put into her father's beloved restaurant during all the intervening years, but Cecile and her partner Louis have come on a mission. They announce that they want to transform "Le Petit Jardin" into a three-star restaurant, with a completely new image - and new employees. Everyone is shocked, and Alain tells Cecile that surely this isn't what her father would have wanted. She doesn't care in the least and says it is
her
restaurant and she can do whatever she likes with it.
One night Alain finds Cecile asleep in the lobby and, just as he goes to put a blanket over her, she wakes up. They talk about her father Michel and Cecile tells the story of her childhood. She grew up loathing her father for putting the restaurant before everything else, for caring more for the happiness of his customers than for his own family. Alain tries to tell her that Michel was a good person but she still won't listen to him.
When Alain notices it's already the next morning, he goes to make breakfast for himself and Cecile. They are beginning to grow closer, and are still sitting together when the rest of the restaurant's employees arrive at work for the day.
"Le Petit Jardin" is bustling with life when Louis enters. He has tracked down Alain's contract and discovered that it has only a few days left to run, and then there'll be no one standing in the way of his and Cecile's plans for the restaurant.
Alain makes one last attempt to win over Cecile. He announces that on his last day at "Le Petit Jardin", he shall prepare a special dinner for her. All will be made according to Michel Chandy's most loved menu, which is entitled "Cecile's Garden".
None yet.
| | | | |
| --- | --- | --- | --- |
| Poster | DVD | VHS | CD |
| None Yet | None Yet | None Yet | None Yet |