Kean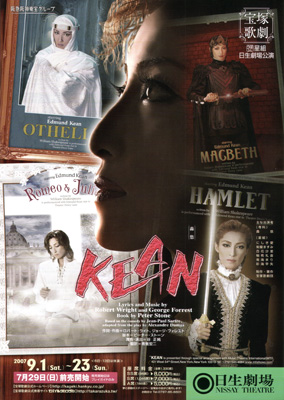 Picture Credit: caithion / promotional flier
English Title:
Kean
Japanese Title:
キーン
Romanized Title:
Kiin
Troupe:
Star
Year:
2007
Performances:
Nissay Theater, 9/1 -9/23
Based On:
The life of Shakesperean actor Edmund Kean. From a Comedy by JEAN-PAUL SARTRE (Based on the Play by ALEXANDRE DUMAS)
Author:
PETER STONE
Director:
Tani Masazumi
Music:
Lyrics & Music by ROBERT WRIGHT and GEORGE FORREST
Choreography:
Available on DVD:
Yes (
release date 12/05/07
)
DVD Scene/Music Cut:
None
Others
:
Otoha Minori
,
Aimi Serena
,
Hishiro Yua
,
Shizuki Otone
,
Yumeki Anru
,
Yumeshiro Eren
,
Serika Toa
,
Tamahana Yufu
,
Oushina Yuu
WARNING!! MAY CONTAIN SPOILERS!!
The show concerns the adventures of Sir Edmund Kean, considered the greatest Shakespearean actor of the 18th century. The show focuses mainly on his wild behavior offstage. Trouble ensues as Kean desperately tries to juggle two women in his life: the Danish Ambassador's wife, Elena, and a young aspiring actress, Anna. —
StageAgent.com
Based on a play by Jean-Paul Sartre, which is based on an Alexandre Dumas comedy which is in turn based on the life of the legendary Shakesperean actor Edmund Kean, "Kean" is a portrait of a tormented genius who can no longer distinguish between real life and that of the plays he creates.
Act I opens with a peddlar on Drury Lane selling portraits of Kean ("Penny Plain"), before showing the man in action, performing the final act of "Hamlet" in a play within the play. Kean's performance rivets and moves his audience, but once offstage he changes character completely, drinking, harrassing the other actors, and wondering about how his seduction of the Countess Elena is proceeding. His valet, Salomon, delivers him a letter—not a love letter from Elena, as he hopes, but a fan letter from an aspiring actress named Anna Danby. Unimpressed, and with his queries to Salomon interrupted by the repeated necessity to head back onstage for curtain calls, Kean wonders whether he is more real than the characters he portrays ("Man and Shadow").
Kean attends a ball at which he knows Elena will be in attendance. Standing out as being of a much lower class than the rest of the guests, and targeted by the Prince of Wales, who also wants Elena's favors, Kean is accused of having improper relations with the young Anna Danby. Contriving to use the accusations as an excuse to be alone with Elena, arguing that she must read in private the innocuous letter he had received from Anna in order to spare the other girl's dignity while still proving Kean's innocence, Kean confesses his feelings for Elena ("Sweet Danger"). The two arrange to meet the next evening through a secret entrance in his dressing room.
The next morning, Drury Lane is buzzing with news of Kean and the local townspeople hail him as their "king" ("King of London"). Kean, in his dressing room, meditates impatiently on how he longs to see Elena, while Salomon tries to remind him to be concerned that his debts have put him on the verge of bankruptcy ("To Look Upon My Love"). Kean is visited by the Prince of Wales, who is confident Elena will not keep her promise and arrive to see him; he tells Kean that he knows the words of love he gave Elena in "Sweet Danger" are part of the same canned speech he gives to every girl.
A girl does arrive through the door, however, and Wales departs in what both men believe is romantic defeat. Kean is shocked to discover that the girl is not Elena after all, but Anna Danby, who still wants to be an actress and for Kean to be her mentor. Kean, now aware that Elena has not come, takes out some of his frustration on Anna by acting out a scene of sexual coercion ("Let's Improvise"). Anna is undeterred, and, impressed against his will by her sincerity, Kean agrees to take her on as a pupil.
Once she is gone, however, he laments over Elena's abandonment of him. Intending to practice for "Romeo and Juliet," he keeps confusing Juliet with Elena, and his own failed wooing of her as a mockery of his performance as a forty-year-old Romeo. He demands of the spirit of Shakespeare why he had not written a part called "Kean" instead ("Elena").
That night, many of Kean's fans go out for a night at the tavern ("The Fog and the Grog"). Kean joins the revelry eventually, as does Anna Danby. Together Kean and the townspeople save her from the salacious schemes of a Lord Neville, but the moment sours when Kean, in a fit of hysterical laughter, notices that this is the perfect place for an Act I finale.
Act II begins with Kean and Anna practicing a scene from "Othello" where, thanks to Kean, Anna will be billed as Desdemona. Elena, who has finally come to visit Kean, discovers Anna in his dressing room. Each woman is disconcerted by the other's existence, and Kean attempts with little success to keep the proceedings cordial ("Civilized People"). Despite Kean's attempts to explain that Anna is merely his pupil, Elena is affronted by his refusal to abandon his post as teacher, and she leaves ("Service for Service"). During the production of "Othello," she and the Prince of Wales taunt Anna until she forgets her lines and is booed off the stage in disgrace. Kean, to everyone's astonishment, retaliates by breaking character to launch into a thinly-veiled diatribe against Elena and the Prince.
The next day, Drury Lane is in tumult, as the majority of Kean's once-ardent fans now turn against him. His few loyal supporters rally after a scuffle in the streets ("King of London reprise/Chime In"). Kean parts ways with Anna, who tells him she is grateful for his guidance, and plans to go to America and build a career as an actress there. The Prince of Wales visits Kean again, to tell him he will be forgiven for his insult to royalty only if he publicly apologizes.
Kean's third visitor is Elena, who tells him she is willing to be persuaded to forgive him. Kean, who is aware that his interactions with Elena have been a sort of elaborate dual performance from the start, and that he was not in love with her but merely acting out the role of a man who loved her, tells her that he is finished with acting and will no longer carry on this charade. Elena does not understand him, and attempts to single-handedly create a scene of romantic persuasion without Kean's involvement ("Swept Away"). The moment becomes absurd and Kean eventually sends her away.
Kean steps forward to deliver his apology to the Prince, but instead of coming up with his own words, he strings together a listing of quotes from the various roles he has played: he lets Shakespeare apologize for him ("Apology"). By the time his performance is over, he has come to an epiphany about himself and his relationship to acting: his performances and the characters he brings to life lend meaning to his life. They are what make him real.
A summary of Sartre's play, which the musical is based on, can be found
here
.
Takarazuka Precious: Sakakihara Kazuko's Takarazuka First Night & Event Revue article
ENAK Sumire Style Stage GRAPH
None yet.
| | | | |
| --- | --- | --- | --- |
| Poster | DVD | VHS | CD |
| None Yet | None Yet | None Yet | None Yet |