Hopscotch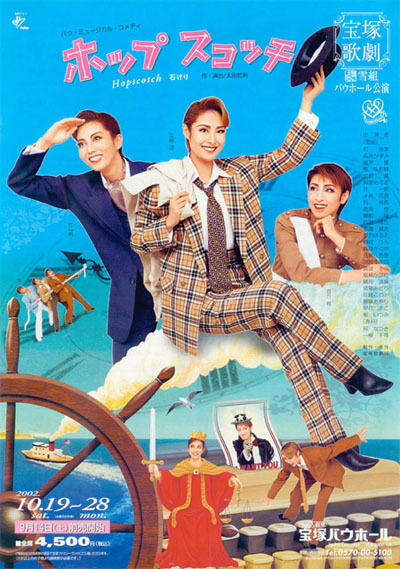 Picture Credit: original chirashi
English Title:
Hopscotch
Japanese Title:
ホップ スコッチ
Romanized Title:
Hoppusukocchi
Troupe:
Snow
Year:
2002
Performances:
Bow Hall, 10/19 - 10/28; Nippon Seinenkan Hall, 11/1 - 11/7
Based On:
Author / Director:
Oota Tetsunori
Composer:
Yoshizaki Kenji
,
Maeda Shigemi
,
Kikawada Shin
Choreographer:
Miyazaki Atsumi
Available on DVD:
VHS only
WARNING!! MAY CONTAIN SPOILERS!!
A small town in New Jersey, just after the end of World War I. During the revolutionary war, this town was headquarters for General Washington, and the prison from that time has now become a restaurant and is a famous spot for tourists. The town has many old homes and old families.
To this town come three young men: Bernard Stein (a newspaper reporter who paints as a hobby), Christopher Wren (a law student who enjoys playing piano), and Peter Ferguson (an army supplier whose hobby is archaeology). By chance, at the same time they each meet a woman and become engaged. To celebrate the end of their bachelorhood, they arrange to take a short boat trip south. Just as the boat is leaving, they each receive a letter from the same mysterious sender.
Shipboard, all three open their letters. Inside they say the same thing: "I'm taking off with your fiancee." The shocked three are trapped on the departing boat and can do nothing. The three begin to think back on their relations with their fiancees, and become uneasy. "Maybe I wasn't rich enough, or smart enough? I love her but does she love me?" They think of when they all first met, when they first arrived in that town.
The engine breaks down and the ship must return for repair. And waiting for the three when they reach the town is...
A romantic mystery/comedy about three young men and the meaning of loving and living.
None yet.
| | | | |
| --- | --- | --- | --- |
| Poster | DVD | VHS | CD |
| None Yet | None Yet | None Yet | None Yet |