Hallelujah GO! GO!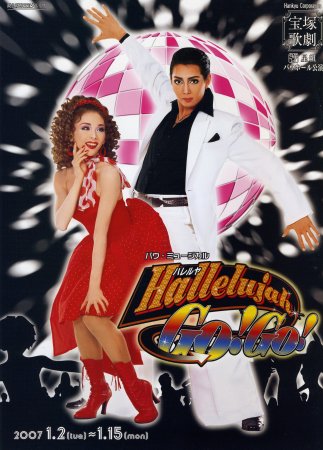 Picture Credit: quinquin (Program book)
English Title:
Hallelujah GO! GO!
Japanese Title:
ハレルヤ GO! GO!
Romanized Title:
Hareruya GO! GO!
Troupe:
Star
Year:
2007
Performances:
Bow Hall, 1/2 - 1/15
Based On:
n/a
Author/Director:
Inaba Daichi
Music:
Choreography:
WARNING!! MAY CONTAIN SPOILERS!!
A love story about a young man with disco music taste who aims to win a dance contest.
In the back-country of America, the recently graduated Dennis spends every day fooling around. His only interest is disco dancing every night with his friends. Then one day he hears from a disco friend about the famous TV show "New Years Dance Contest", and resolves to get on it and win.
Three months before the contest, while out dancing, he meets a woman who is the perfect partner and whose style matches his perfectly. However, his girlfriend Monica becomes jealous and breaks them apart.
From then on Dennis can't forget about the woman and searches for her every night. His girlfriend Monica, who had believed that they would go into the contest together, notices the change in him and dumps him. She begins practicing with Brian.
A month after first dancing with the woman, Dennis finds her again. But they get so caught up in dancing that they forget to talk and she disappears once more. Dennis is certain that she is the only partner for him.
And then one day the two meet again in the most unexpected circumstances...
Final performance for Senka member
Chiga Teruko
(retired 02/26).
Takarazuka Precious: Sakakihara Kazuko's Takarazuka First Night & Event Revue article
Hallelujah Go! Go! - Review by Ekusudei
| | | | |
| --- | --- | --- | --- |
| Poster | DVD | VHS | CD |
| None Yet | None Yet | None Yet | None Yet |