Dream Shakespeare (Bow Hall Shakespeare Series #5)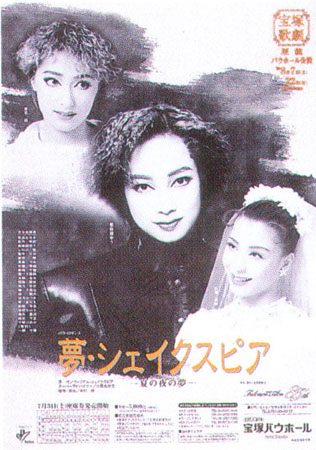 Picture Credit: Caithion
English Title:
Dream Shakespeare (Bow Hall Shakespeare Series #5)
Japanese Title:
夢・シェイクスピア
Romanized Title:
Yume Sheikusupia
Troupe:
Star
Year:
1999
Performances:
Bow Hall, 8/7 - 8/22; Nippon Seinenkan Hall, 12/1 - 12/8
Based On:
Shakespeare's
A Midsummer Night's Dream
Adaptor/Director:
Nakamura Satoru
Composer:
Nishimura Kouji
,
Kuratomi Shinichi
Choreographer:
Hayama Kiyomi
, Seri Machika,
Wakao Risa
Available on DVD:
VHS only
WARNING!! MAY CONTAIN SPOILERS!!
Peter is a young actor without roots. He returns to Minneapolis, where his friend Clive is struggling to find someone to fill a request from the city hall. They need an actor to take the lead role in the city's production. Peter reluctantly agrees, and when he arrives at the city hall he finds out that the other "Actors" are all locals with big aspirations and little talent. Moreover, he learns that he is expected to direct. The show will be "A Midsummer Night's Dream".
His former girlfriend, Aria, has found him a steady job, but Peter is stubborn and wants to live his life as he wants, even if being a poor actor means no money, no food, and being dumped by his girl. They break up.
As practices continue we find out that Bart, who will be playing Theseus and Oberon, thinks he's the greatest thesperian since the dawn of time, but completely overacts. Manuela, who is playing Titania, is the local unmarried librarian, and gets along with Bart about as well as oil and water. The girl who will play Hermia has absolutely no confidence when faced with Peter's experience, but loves the stage and truly wants to try. Bill, who will play Puck, seems to fit the character a little too well, and Cily makes the silliest Helena in history, managing to always drop her contacts and forget her lines.
Frustrated by the unprofessional bickering, Peter announces that he will quit. But everyone draws together and convinces him to stay. Just at that moment Aria returns. This time she brings news of an acting job. A famous actor has taken suddenly ill and they need a quick replacement. This will be PEter's big chance. But once again he refuses, saying he'll live his life his way.
Practices continue and things begin to come together, when suddenly the mayor appears. He's very unhappy with the craziness he sees around him, and angry that the town's money didn't go to getting a more famous actor to provide a draw to crowds. He tells them the play is finished.
Everyone thinks quickly, and they chose a different venue than the town hall. The day of the performance, Bart gets cold feet, but Peter talks him back into his self confidnce with the help of Manuela.
The play is a hit! Manuela and Bart, Bill and Cily happily leave as couples. Millie looks everywhere for Peter, and when she finds him he is sneaking away with a bag in hand, ready to return to his former life. Suddenly the mayor appears. He's absolutely thrilled by how the play turned out, and demands that Peter lead the next performance at the town hall.
There are three very clever magic tricks in this performance. Can you figure out how they were done?
Dream Shakespeare - Review by Ekusudei
| | | | |
| --- | --- | --- | --- |
| Poster | DVD | VHS | CD |
| None Yet | None Yet | None Yet | None Yet |