Don Juan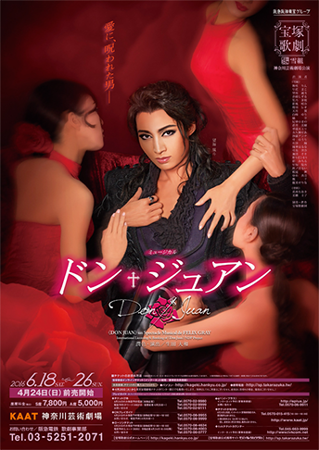 Picture Credit: coeuraubonheur | Official Chirashi
English Title:
Don Juan
Japanese Title:
ドン ・ ジュアン
Romanized Title:
Don Juan
Troupe:
Snow
Year:
2016
Performances:
KAAT Kanagawa Arts Theater, 06/18 - 06/26; Theater Drama City, 07/02 - 07/12
Based On:
French musical
Don Juan
un Spectacle Musical written by Félix Gray in 2003
Original Author:
Félix Gray
Adaptor/Director:
Ikuta Hirokazu
Composer:
Oota Takeshi
Choreographer:
Sakuragi Ryousuke
,
Ooishi Hiroka
,
Satou Hiroki
(flamenco)
Available on DVD:
Yes (
release date 2016/10/07
)
Available on Blu-Ray:
Yes (
release date 07/17/20
)
DVD Scene/Music Cuts:
None
Other Cast
:
Aoi Miki
,
Karen Emiri
,
Sara Anna
,
Houka Haruna
,
Kanami Sena
,
Seika Rian
,
Manomiya Rui
,
Yume Maoto
, and
Yumi Serina
WARNING!! MAY CONTAIN SPOILERS!!
This work, adapted into a play by Molière and an opera by Mozart called "Don Giovanni," is more commonly known throughout Europe as "The Legend of Don Juan." A passionate gem of a masterpiece made into a musical, it is set in Spain and rooted in Flamenco. In 2004, it premiered in Canada, was later staged in Paris and South Korea, and was extremely well-received. This will be Japan's first rendition of the French musical "Don Juan."
Women and wine. Always seeking pleasure. Captivating the hearts of countless maidens is the sexy playboy, Don Juan. One night while enjoying the company of a woman as usual, Don Juan angers the Grand Master, the woman's father, which leads to a duel. Don Juan emerges victorious but the Grand Master's dying words are: "Someday
love
will punish you..." Before long, those ominous words manifest themselves as a curse and an apparition haunts Don Juan.
After the incident, unheeding the curse, Don Juan continues to lust insatiably. But as it just so happened, by fate Don Juan meets Maria, the daughter of a sculptor who is creating a statue of the slain Grand Master. And the "curse of love" begins to afflict Don Juan...
Any other interesting or important stuff.
None yet.
| | | | |
| --- | --- | --- | --- |
| Poster | DVD | VHS | CD |
| None Yet | None Yet | None Yet | None Yet |