Die Räuber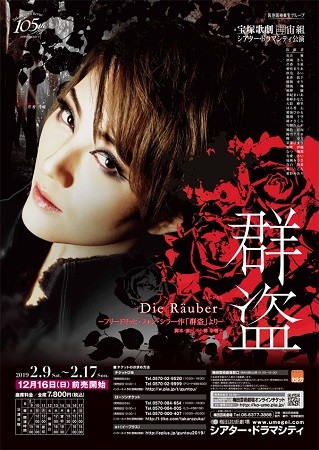 Picture Credit: Rosalynn | Official Chirashi
English Title:
The Robbers -Die Räuber-
Japanese Title:
群盗 -Die Räuber-
Romanized Title:
Guntou -Die Räuber-
Troupe:
Cosmos
Year:
2019
Performances:
Theater Drama City, 02/09 - 02/17; Nippon Seinenkan, 02/26 - 03/04
Based On:
the play
Die Räuber
by Friedrich von Schiller
Author / Director:
Koyanagi Naoko
Composer:
Teshima Kyouko
Choreographer:
Miori Yumino
,
AYAKO
,
KAZUMI-BOY
Available on DVD:
No
Available on Blu-Ray:
Yes (
release date 05/25/19
)
DVD Scene/Music Cuts:
No
WARNING!! MAY CONTAIN SPOILERS!!
Summary of the play from Wikipedia.
The plot revolves around the conflict between two aristocratic brothers, Karl and Franz Moor. The charismatic but rebellious student Karl is deeply loved by his father. The younger brother, Franz, who appears as a cold, calculating villain, plots to wrest away Karl's inheritance. As the play unfolds, both Franz's motives and Karl's innocence and heroism are revealed to be complex.
None yet.
| | | | |
| --- | --- | --- | --- |
| Poster | DVD | VHS | CD |
| None Yet | None Yet | None Yet | None Yet |