Débutante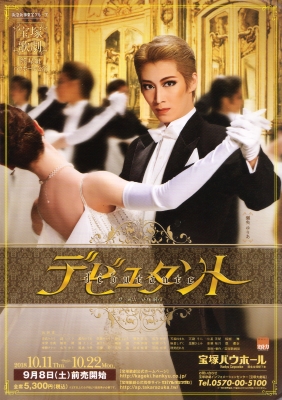 Picture Credit: Zaraphena | official chirashi
English Title:
Débutante
Japanese Title:
デビュタント
Romanized Title:
Debyutanto
Troupe:
Star
Year:
2018
Performances:
Bow Hall, 10/11 - 10/22
Author / Director:
Masatsuka Haruhiko
Composer:
Tama Shouichi
Choreographer:
Iga Yuuko
,
Hirasawa Satoshi
Available on DVD:
No
Available on Blu-Ray:
No
DVD Scene/Music Cuts:
n/a
Other Cast:
Miono Saki
,
Amaki Homare
,
Nanase Miki
,
Akashi Reima
,
Kou Erise
,
Hazuki Riran
,
Asakura Shizuku
,
Kusanagi Kizuki
,
Miyako Yuuna
,
Soua Takeru
,
Houma Toa
,
Yuran Sui
,
Hoshisaki Nozomi
,
Hiroki Yuzuha
,
Harei Yuka
,
Emika Rena
WARNING!! MAY CONTAIN SPOILERS!!
Yves, a young man with many acquaintances in society, is asked one day by a Marquise who is organizing a debutante ball (a ball where girls make their debut in society) to be the escort of a Vicomtesse, Mireille. Yves is bewildered and asks his friend Burette, who is much more acquainted with the manners of high society, for lessons. Yves does his best during the lessons, with the assistance of Burette's younger sister Natalie as well as his girlfriend Nicole, but Burette, who knows that Yves can sometimes be rash and indiscreet, warns him to be cautious. The day of the ball finally comes, but Mireille turns out to be extremely shy; Yves loses his temper and leads her forcefully in the dance, putting the entire dance hall in pandemonium. Afterwards, Yves is in danger of being entirely rejected by society and is very depressed. Natalie, wanting to be kind to him, asks him to help her with something else. Yves, who has just begun reconsidering what he actually wants to do with his life, accepts the request to investigate a certain incident that happened during the debutante ball…
Any other interesting or important stuff.
None yet.
| | | | |
| --- | --- | --- | --- |
| Poster | DVD | VHS | CD |
| None Yet | None Yet | None Yet | None Yet |